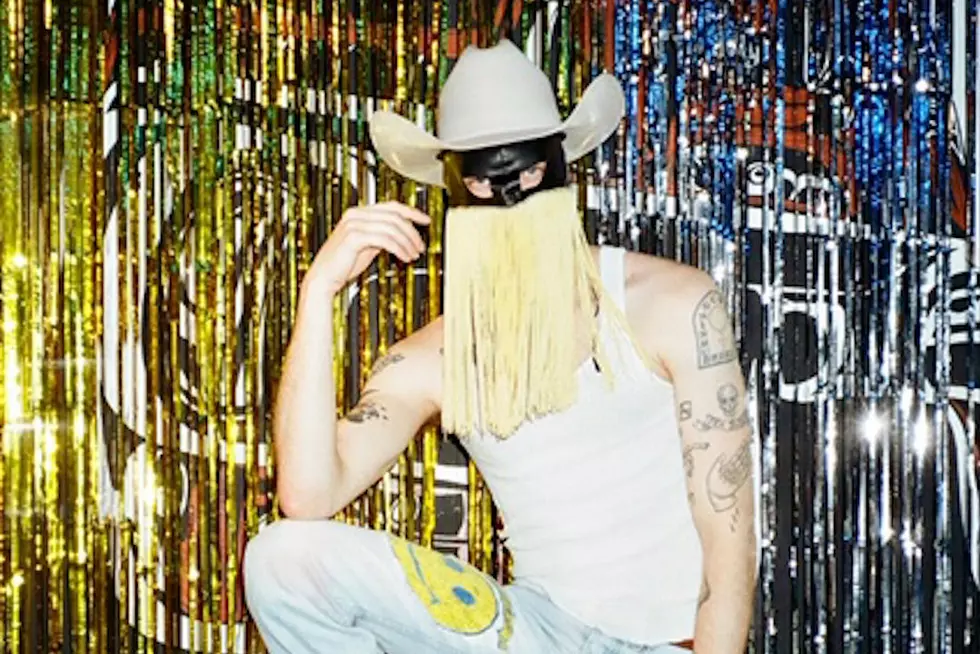 Orville Peck's Mask Lets Him Be Authentic: It 'Helps Eliminate Pretense'
Carlos Santalalla, courtesy of Sacks & Co
Who is the titular animal in Orville Peck's new album, Pony? He is, according to the singer -- at least, metaphorically speaking.
"I think the image of a pony has a lot of different connotations for me. It's not quite a horse. It's not really quite as useful as a donkey. It's kind of just there," Peck muses to The Boot. "It's got a cowboy connotation. It's something that can be quite sad and lonely, in a weird way, and feels a bit out of place. It can also be something that's curled and put bows on and given to a 16-year-old girl for her birthday and paraded around.
"So I have kind of felt all those different ways -- well, I was never given to a 16-year-old girl. But I definitely felt like a show pony at times of my life," he continues with a laugh. "I've felt out of place my whole life. At times, that made me feel lonely. It made me feel ostracized. It made me feel, at times, like I had to be something I wasn't in order to present myself a certain way. It speaks to me in a lot of ways."
An enigmatic musical figure with a foot in several genres, Peck says that when he stepped into his current incarnation as a country artist -- with a heavy visual aesthetic, complete with a full-face mask and a cowboy hat -- he found that he was making his most honest music to date.
"I think the mask helped with that in a way, but not because the way that people maybe think," he clarifies. "I think another misconception is that I can be really candid and open because I'm somehow remaining anonymous, but it's not really like that. If anything, I think that my mask helps eliminate pretense, and this idea of having to go onstage and perform as someone or something I'm not."
In other words, though it may be counterintuitive to some listeners, Peck's onstage persona is a tool in the name of authenticity. A confirmed country music history nerd with a deep and abiding love of the genre, Peck may adopt an unusual aesthetic onstage -- but his relationship with country music goes far beyond theatrics.
"I think that's my only agenda now, is just forcing myself to be as sincere as possible, as real as possible, as authentic as possible," he relates. "Obviously everyone wants sold-out tours and fans and people loving your music and stuff, but I think the most rewarding thing for me has been being able to do those things in a way that is so authentic and genuine to me."
Even more than finding the right visual presentation, Peck says that age -- and maturation as an artist -- led him to be able to make Pony. "I've always wanted to play country music and be a country crooner ... I just never had the guts to do it, or something," he continues. "I'm not naturally a very open person, so it took a long time for me to be able to write the kind of lyrics and music I'm writing now."
At the heart of his music, Peck values authentic, honest expression above all else. "Probably because I have a very heavy aesthetic, and people are very curious about where I'm from and where I grew up and whatever -- I think it's easy to maybe discount me as someone who's cosplaying country or dipping my toe in the yee-haw agenda or whatever," he allows. "But the truth is that I have been a fan of country my whole life.
"I would vouch to say that I have a better understanding of the history of country music than most people," Peck adds. "Because it's just my favorite thing."
A Brief History of Queer Country Music