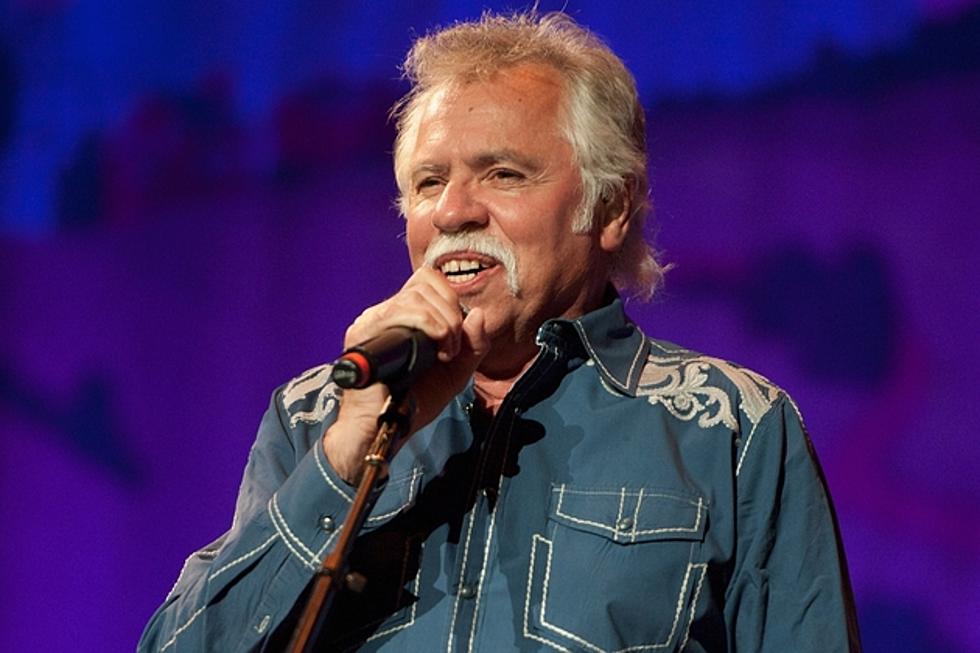 Joe Bonsall Interview: Oak Ridge Boy Talks New Live Album + Tour
Erika Goldring, Getty Images
The Oak Ridge Boys have scored a long string of country, pop and gospel hits in their five-decade career, performed for presidents and toured the world, but they have never released a live album -- until now.
On April 15, the legendary vocal group will release 'Boys Night Out,' which features a career-spanning cross section of their biggest  hits, including 'Bobbie Sue,' 'You're the One,' 'American Made' and -- of course -- 'Elvira.'
The Boot caught up with singer Joe Bonsall recently to discuss the new album, and it's not hard to see why he and the group have been so successful. Far from projecting the seen-it-all cynicism of many career musicians, Bonsall speaks as enthusiastically about the new project and his fellow band members as if this were his first album, and it's contagious.
It's not hard to imagine that if anyone ever tried to resist the Oak Ridge Boys in their career goals, the irrepressible singer would simply talk them into going along with whatever he wanted with his trademark mix of enthusiasm, charm and wit -- and they wouldn't even realize that it hadn't been their idea all along.
It seems incredible that the Oak Ridge Boys have never had a live album. I was surprised by that when I saw the press release.
You know what, everybody seems to be baffled by that. I mean, how many live albums do acts do, I wonder? I'm tying to think about that myself. But it seems like every time we've even thought about a live album, some other project came up and reared its head, and we started pouring our energy into, say, an album of new songs, or a bluegrass-type project, or some patriotic flavored stuff, or maybe a gospel album. You know, we're always doing different things, and the live album always kept getting pushed to the back burner.
And what actually happened was, last year, right around this same time, we decided, 'You know what, we are feeling good, we are singing good right now -- let's rent some equipment, let's put it back there, forget it's there and just record a bunch of shows, and see what we come up with.' And that process began, and it started to excite us, because although these are songs that we have done for years, they sound new and fresh. They sound like the way we're doing them right now. If you want to hear the Oak Ridge Boys tonight in Nashville, Tenn., this is what it would sound like. We managed to accomplish that.
As long as we can get out there and sing, and people are still coming to hear us, what's there not to be excited about?
We actually recorded 22 shows and 60-some songs. We could put out a box set from here to eternity, probably. But what happened was, Cleopatra Records got involved. Our manager built up a relationship with them, and as you know, they are a very eclectic record label. They came in and said, 'We would love to release an album of the Oak Ridge Boys live, the big hits, worldwide. CD, digital, vinyl, the whole bit.'
We hadn't had a label say that to us in a while, so let's take a shot. And man, they have been great to deal with, and they have been really promoting this thing, as we have. And on April 15, 'Boys Night Out' comes out. We picked songs that really fit well together, that sounds like a show, and they're relevant songs, career hit songs. Songs that people really identify with.
I'm pretty excited about it. I think it sounds great. I'll be honest with you, I went to iTunes and pre-ordered it [Laughs], and if you pre-order it at iTunes you get 'You're the One' downloaded right away. And last night I was at home, and I had my speakers set up on my laptop, and I was just blaring it! I listened to it four or five times, and I thought to myself, 'Man, this is good!' [Laughs.]
It's great to stay enthusiastic about the music. How do you keep that enthusiasm after so many years together? You've played so many shows, it would be easy to let that energy slip like a lot of groups do.
I guess we've always felt like if the energy slipped, and the love for doing this slipped, then we'd go away. And we don't want to go away. We're the act that doesn't go away. We've been singing together for 41 years now, and we've had a lot of success. We've had the biggest success you can have in this business, and now I guess we're classic country, and all of it works for us. As long as we can get out there and sing, and people are still coming to hear us, what's there not to be excited about? We sing songs for a living. We're not splitting the atom.
And yet, we've seen it over and over -- so many groups just can't hold it together. What's the secret, personality-wise, to being with the same group of guys for so long?
Well, we're all as different as night is from day. Each guy is an individual, each guy brings a different type of talent and energy to the table, I believe, and we all love each other and respect each other as friends. And as years have gone by, all of that's actually gotten easier. There's no weird egos here, no nothing. It's, 'Let's get on the bus and go sing.'
See, I've always believed -- and this could be a message to the kids singing today -- that the music business can be as easy or as hard as you wanna make it. I mean, how about this -- let's all get along, let's go get onstage, let's give it everything we've got, let's hug each other's necks and get back on the bus, get the check, shake hands and go to the next town. It can be that easy, you know.
Or you can put your big, fat ego in front of you like a big road case, and fall over it every time you go somewhere, and kinda piss off everybody in your circumference of being, and after you've left that gig, everybody that booked you there or worked with you there hates your guts. How long does that last?
The music business can be as easy or as hard as you wanna make it.
Now, after I've said that, I think most of these kids singing today are doggone good kids, and they've taken the music to an incredible level. They've made country music the new popular music. To me, when the Oak Ridge Boys, when we worked with Kenny [Rogers] back in the '70s and '80s, to sell out a coliseum, Kenny had to have 'The Gambler' and 'Lucille' cross over. The Oaks had to have 'Elvira' and 'Bobbie Sue' cross over into pop music, for us to be able to sell out coliseums.
Today, these kids are selling it out on country music alone. Country airplay, country albums sales, TV, country popularity. I could probably name 10 or 15 of these artists today that can go in and sell out a coliseum tonight. I think that's great. I love what's going on in this business.
A lot of what you might call classic acts are resistant to change. It doesn't seem like you are.
Well, I'm not, and here's the thing -- let's just say Luke Bryan and Florida Georgia Line isn't your cup of tea. Okay, let's just say I really prefer Merle Haggard. This is why God gave us iTunes and an iPod. [Laughs.] Download Merle Haggard! I do, I've got tons of Merle Haggard and Emmylou Harris on my iPod, and I've also got a bunch of Lady Antebellum and Zac Brown Band, too, and Blake and Miranda. You can really listen to what you want to listen to in this day and age, and if you want to go pure, heck, man, listen to a bunch of bluegrass. There's a lot of great bluegrass out there. I'm a banjo player, man, I love bluegrass. I listen to a lot of bluegrass.
But am I still happy with what the kids have done today in country? Yes I am. I think it's amazing that Luke Bryan sells out Madison Square Garden two nights in a row. That ain't Billy Joel or Bruce Springsteen there, it's Luke Bryan.
We'll probably fall down out there singing somewhere, and then that'll be the end.
I think it's all very impressive, and I know a lot of acts are saying, 'Well, they're not playing me no more.' I know when we came on the scene, back years ago, there were a lot of established artists that weren't getting played on the radio anymore, either. That's how it goes. So to the Oak Ridge Boys, we've had a great run. We had over 50 charted hit records. We'll take it.
Country radio ain't playing us right now, that's fine. Let's figure out something else to do. Let's go out there and put on great shows. We've still got a great following, let's go out there and do a good job, and let's stay together, and let's make good business decisions. Let's do a live album -- that'll get a lot of attention, 'cause we haven't ever done it before. So that's the kind of stuff that the Oak Ridge Boys are about.
Do you think about the future much, in terms of, every group is going to come to an end at some point. Do you guys ever talk about that?
I think the end scares us a little bit. We never talk about it. I think we've been able to plan every aspect of our career except how to end it, so I guess we'll just have to leave that with God. I think God will tell us when there's no more Oak Ridge Boys. It won't be us. We'll probably fall down out there singing somewhere, and then that'll be the end. [Laughs.] It'll be settled for us, man. 'Where's Joe?' 'Uh . . . he ain't coming anymore.' [Laughs.] 'God done said he's done.' So I guess that's pretty much how we look at it.
We plan the year. We'll already booking next year. We're trying to figure out different things to do for next year, we're talking about the fact that with this Cleopatra thing, we've already been doing interviews all over the world, thanks to them, and we haven't done that in years. So we're already talking about, maybe we should tour overseas a little bit. We haven't done that in years. Maybe a little Scandinavian trip. It looks like they might be putting one together for September. I think they've got to get the money up, but if the money comes up some and it makes it worth our while, I think you may see the Oak Ridge Boys overseas a little bit more coming up.
Especially if this album does well, and Cleopatra's putting a lot of guns behind it. We haven't had that for a while, so it's a nice experience for us as well.