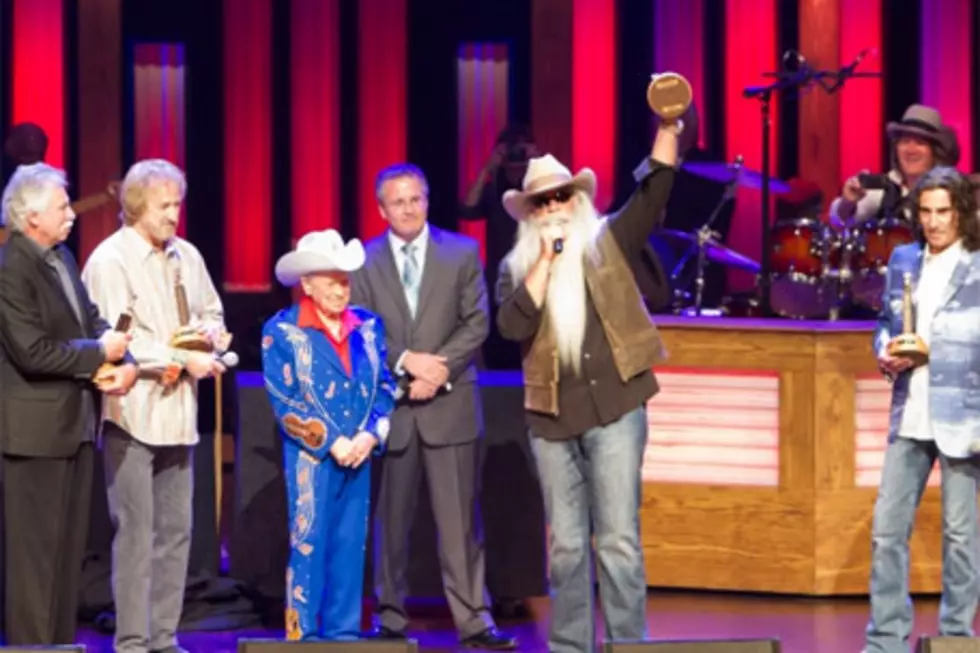 Oak Ridge Boys Are the Newest Members of the Grand Ole Opry
Chris Hollo
Members of the Oak Ridge Boys say they felt a kinship to the Grand Ole Opry long before they became members of the famous radio show Saturday night (August 6). Duane Allen, Joe Bonsall, William Lee Golden and Richard Sterban were made official members, welcomed to the family of Grand Ole Opry stars by Little Jimmy Dickens and Opry vice-president and general manager Pete Fisher.
"Every time we have been asked to sing here, we have," Joe told The Boot at a press conference before the official induction. "We have played here so many times we have lost track. It's like we've been asked to dinner for a long time and all of a sudden they are saying welcome, now you're moving in! The Opry means the world to us, and now that we're a part of the brother and sisterhood here, we can finally say we are Grand Ole Opry stars."
Duane says he and William Lee came to the Opry for the first time to perform, while Richard remembers visiting the Ryman Auditorium, where the Opry was still held back in the 1970s when he arrived in town, for a Country Music Association awards show hosted by Johnny Cash. "I'm not sure what year it was, but it was right after I joined the Oak Ridge Boys," Richard remembered. "I remember sitting in the audience and feeling something special that I had heard about all my life.
"The circle here makes it a very special place to play," he continued. "I try to picture Roy Acuff and Hank Williams the first time they walked out on that stage. The history of the circle makes it special and a very emotional place to play."
"Every time we play here, I try to edge into that circle as much as I can," Joe echoed, "because it means so much for its history and the people who have stood there."
Most of the people who were in the audience already knew of the impending induction, but Jim Ed Brown gave them a preview when he ended his set by saying, "It's always a great pleasure when we can bring someone like the Oak Ridge Boys to the Grand Ole Opry as members, and you are going to get to see that happen in the next part of our show."
Jeannie Seely was a gracious hostess, welcoming the audience by saying, "What a pleasure to be here at the Grand Ole Opry on such a special night. It is always exciting to introduce a new member, and these guys are in one of the best known and best loved groups in country music -- please welcome the Oak Ridge Boys."
The Oaks received their first standing ovation as they walked onstage, breaking into their classic hit 'Bobbie Sue.' Prior to the show, Joe said they chose to do an uptempo song so they would not get too emotional as they walked onstage. "We've all been nervous wrecks all day," Joe said after they finished the tune. "Our second song is celebrating 30 years this year, and I can tell that some of you were not around then. But those of us who were were all singing about Elvira!"
The group launched into the hit tune, with the audience singing along with them. After they sang, the group was welcomed to the Opry family by Fisher and Little Jimmy Dickens, who said, "I can't think of anyone more deserving and long overdue than the Oak Ridge Boys."
The Oaks were surprised when a message from President George Bush was shown via video. "I cannot think of any group or any person who deserve this honor more," President Bush said, explaining when he heard the Oak Ridge Boys rehearsing 'Elvira' on the White House lawn, he had to go out and meet them. "I ran outside like a little kid," he said, "and I've been blessed to call them friends ever since. I think of the Opry and the Oaks both as American icons, beloved from coast to coast and known around the world. I can't think of a better union. I love you boys, and my best to everyone at the Grand Ole Opry, one of my favorite places in America."
Joe was obviously moved by the message from Presdient Bush, and went on to say, "We've always been a friend of the Opry. We've always believed in the Opry and loved and respected every member of this brotherhood and sisterhood of country music. This is a meaningful night, and is it different tonight than it ever has been when we've come down here to sing? You bet your life it is!"
"It is a great honor to stand here at the Grand Ole Opry, on the same stage where Little Jimmy Dickens stands," William Lee said.
"I remember as a child hearing the Grand Ole Opry and Little Jimmy Dickens and Kitty Wells," Duane added. "Jimmy is one of my all-time favorite singers, and his 'Old Cold Tater' and 'Bird of Paradise' are two of my favorite songs."
Richard echoed the sentiment, saying, "Coming from Little Jimmy, it makes it an even more special night. To be on this stage, where the greats have walked, and to be a part of the Opry family, is very special."
Joe paused a moment to remember the 31 Navy Seals who were killed before the group sang their first song as official members of the Opry, 'Amazing Grace.' Following the acapello version of the tune, the Oaks received their third standing ovation of the evening, and left the stage with smiles, waves and a few tears, as the newest members of the Grand Ole Opry family.