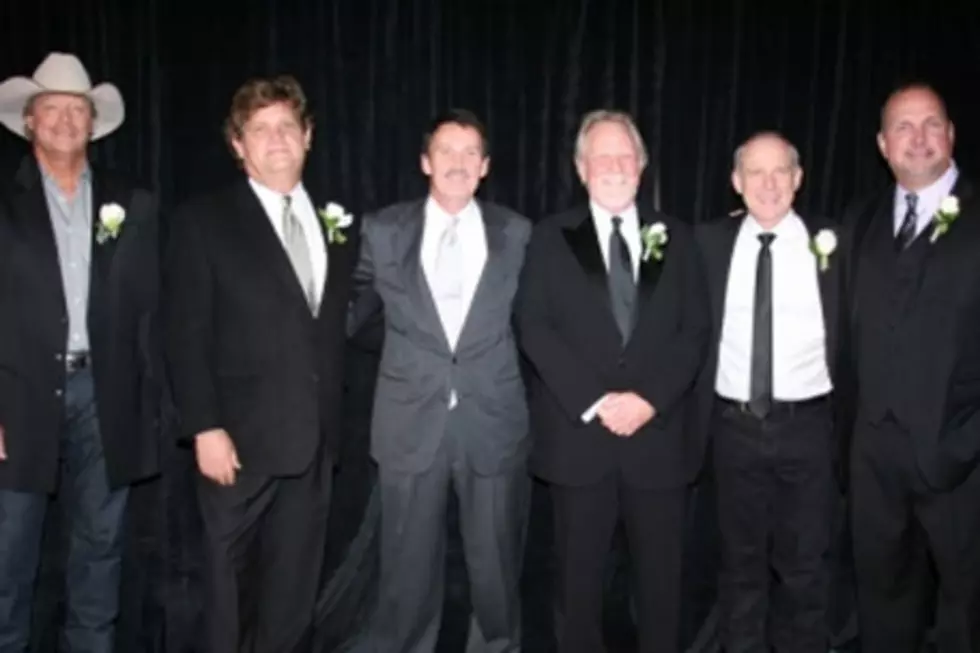 Garth Brooks, Alan Jackson Join Songwriters Hall of Fame
Bev Moser
They've sold millions of albums and are recognized among the biggest artists of this generation. And last night (Oct. 16) marked yet another major milestone for Garth Brooks and Alan Jackson who were among the inductees into the Nashville Songwriters Hall of Fame during the 41st annual Hall of Fame Dinner & Induction Ceremony.
"The songwriting, that's what it's all about," Garth shared during his acceptance speech (quote via Nashville's Tennessean newspaper). "This is it. We can talk all day about entertainer. We can talk all day about record sales, but it starts with the song and to be confused as a songwriter and then honored as one, that's the bomb. I can go in that room and show you all the guys I hang out with and they are songwriters, and to be called that with these guys, I'm very flattered. I'm not saying I agree with it, but I'm very flattered."
The 49-year-old music icon was also quick to show his appreciation for his fellow tunesmiths. "You hear thousands of songs, and some of them the second you put them on, they stand out," Garth added, citing Skip Ewing, Mike Reid and Leslie Satcher among his favorites. "There are writers in this town that when those songs come across the desk, I listen to every single word. It kills me, and I don't even know them."
Alan, who just celebrated his 58th Top 40 single with 'Long Way to Go,' says he'd much rather be known for his writing than his vocal prowess. "I've won a lot of awards, but the songwriting thing has always been most important to me," he notes. "I've never thought of myself as much of a singer, so I've always fell back on songwriting. It's the most creative part of the business, and it all starts with a song. I've always been proud of the success I've had writing."
Taylor Swift, who earned the organization's songwriter/artist of the year honor for the fourth time in five years, and paid tribute by performing Alan's 'Where Were You (When the World Stopped Turning),' acknowledged she was humbled to be in a room filled with such talent. "Just the fact that the people in this room were all standing up for me is overwhelming," the 21-year-old gushed upon receiving a standing ovation. "You all are all my heroes. ... I'm going to go out there and keep trying to not mess this up."
Other writers inducted during the ceremony include Allen Shamblin ('I Can't Make You Love Me,' 'The House That Built Me'), Thom Schuyler ('A Long Line of Love,' 'Point of Light') and John Bettis ('Heartland,' 'Top of the World'). Awards were also given out by the Nashville Songwriters Association International to Kimberly Perry from the Band Perry for Song of the Year ('If I Die Young'), and Chris DuBois, whose credits including Brad Paisley's 'Old Alabama,' for Songwriter of the Year. The NSAI Songwriter/Artist of the Year honors went to Taylor.
Alan and Taylor will meet again on November 9 at the CMA Awards, where Alan is nominated for Vocal Event of the Year and Taylor has five nods, including Entertainer of the Year. The CMA Awards will air live from Nashville's Bridgestone Arena on Nov. 9 at 8:00 PM ET on ABC.