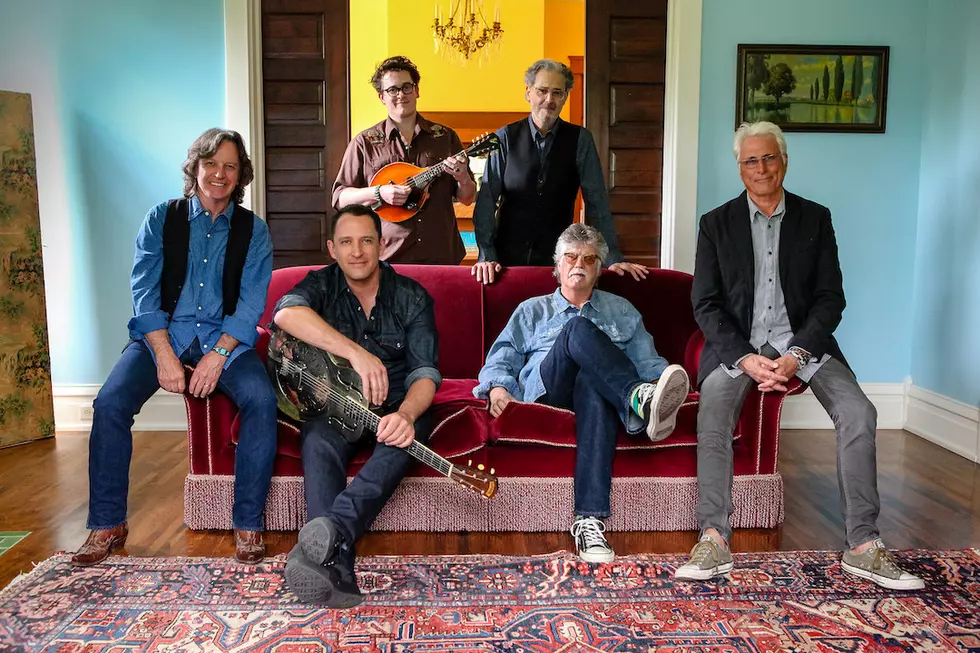 Interview: Jeff Hanna Retraces the Steps That Led to New Album 'Dirt Does Dylan'
Glen Rose
Nearly 50 years since the release of their iconic Will The Circle Be Unbroken album, the Nitty Gritty Dirt Band are looking back on not only their legacy, but that of another iconic, history-making singer-songwriter with their latest project.
The reconfigured Dirt Band honor the life and musical catalog of Bob Dylan with their latest effort Dirt Does Dylan, out May 20. With new members Ross Holmes (fiddle), Jim Photoglo (a bassist who co-wrote the band's hit song "Fishin' In The Dark") and Jaime Hanna (guitar) joining co-founding member Jeff Hanna (guitar), Jimmie Fadden (drums) and Bob Carpenter (keys), the group remains firmly rooted in its past while also adapting and growing into the future.
This sentiment rubbed off on their latest collection of songs, which blossomed out of the group's desire to recognize a seminal artist's work, with Dylan's name being the first that came to mind. According to the eldest Hanna, the band initially had a list of their 100 favorite Dylan songs which they whittled down to 40, eventually recording 10 for what he described as Vol. 1, hinting at the possibility of more projects like Dirt Does Dylan to come.
"He's been making music that's part of our DNA since we were kids," Jeff Hanna tells The Boot. "I saw him play live for the first time at a high school in my hometown of Long Beach, California when I was just a teenager in 1964. All he had for the show was his harmonica and guitar. I was already a fan of his by then, but seeing him live really sealed the deal for me. A lot of the songs we chose to record on this project were ones that me and others in the group grew up on."
Dirt Does Dylan honors all parts of the Minnesota-born songwriter's discography, from 1963's hit "Girl From The North Country" off of his sophomore album The Freewheelin' Bob Dylan to 1974's "Forever Young" from Planet Waves, and "Country Pie" from 1969's Nashville Skyline. However, the first track released from the project was a momentous cover of 1964's timeless hit "The Times They Are a-Changin'" which came in February 2021. The band was anxious to put new music out into the world after the COVID-19 pandemic caused their scheduled studio time to be unexpectedly pushed back.
"We just wanted to get one of the songs out there," says Hanna. "This song is always so timely in capturing change no matter what is going on in the world."
Featuring performances from Jason Isbell, The War & Treaty, Steve Earle, Rosanne Cash, the track is just as timeless as its original while also providing impactful change in the present. The band released the song as a charity single benefiting Feeding America with the hopes of helping families suffering from food insecurity through the pandemic. As of this article's publishing date, the song has yielded over $5,000 in donations.
During our conversation, Hanna — who has counted himself as a fan of Dylan's music for longer than Nitty Gritty has been around — reveled in the diversity of the artist's catalog contained within Dirt Does Dylan. The track list ranges from history-altering hits like the aforementioned "The Times They Are a-Changin'," the gospel-infused collaborative effort with Larkin Poe "I Shall Be Released," to the the jug band influenced "Country Pie."
"That's the thing about Dylan, on any given record of his you can find something remarkably deep right next to something remarkably non-serious like 'Rainy Day Women #12 & 35' ('Everybody must get stoned')," says Hanna. "His music is like a great combo platter or gumbo full of all of your favorite items into one dish that tastes like pure heaven. We wanted this record to be a glimpse into all the place's Dylan has been, even though in reality we could probably record three volumes of this and still have plenty more to do documenting all the places he's traveled in his legendary career."
Although "I Shall Be Released" and "The Times They Are a-Changin'" are the only collaborative efforts on Dirt Does Dylan, the group have long welcomed that element of experimentation to the band. This is arguably what helped propel 1972's Will The Circle Be Unbroken, with sit-ins from the likes of Vassar Clements, Roy Acuff, Maybelle Carter, Doc Watson, Earl Scruggs, Randy Scruggs and Merle Travis, among others.
Dirt Does Dylan marks the first time Jeff Hanna went into the studio with his son Jaime to record together. According to Jeff, the pair often talked about joining forces on a musical project, but his own work with Nitty Gritty and Jaime's busy schedule on the road with Hanna-McEuen (a duo with first cousin Jonathan McEuen, the son of Nitty Gritty co-founding member John McEuen), The Mavericks and Gary Allan made it too hard to nail down. Things changed when Jaime joined the Nitty Gritty Dirt Band as an official member in 2018.
"We talked about recording together for years, but when this opportunity came about we knew we had to jump at it because the proverbial clock is ticking, so they say" jokes Hanna. "Jaime has carved out a really good space in the band, as have Ross [Holmes] and Jim [Photoglo]. As a fan I understand how changes with bands can sometimes be difficult, but I love giving new people opportunities because it's inevitable that original lineups do not last 50 years. There will always be an ebb and flow of people wanting to go off and do different things, which I respect. I'm just blessed to still be making music, and to do it with my son makes it that much sweeter."
5 Songs You Didn't Know Keith Whitley Wrote
The late Keith Whitley is best known for his hits "Don't Close Your Eyes," "When You Say Nothing at All" and "I'm No Stranger to the Rain," but did you know he also penned these popular country tunes?