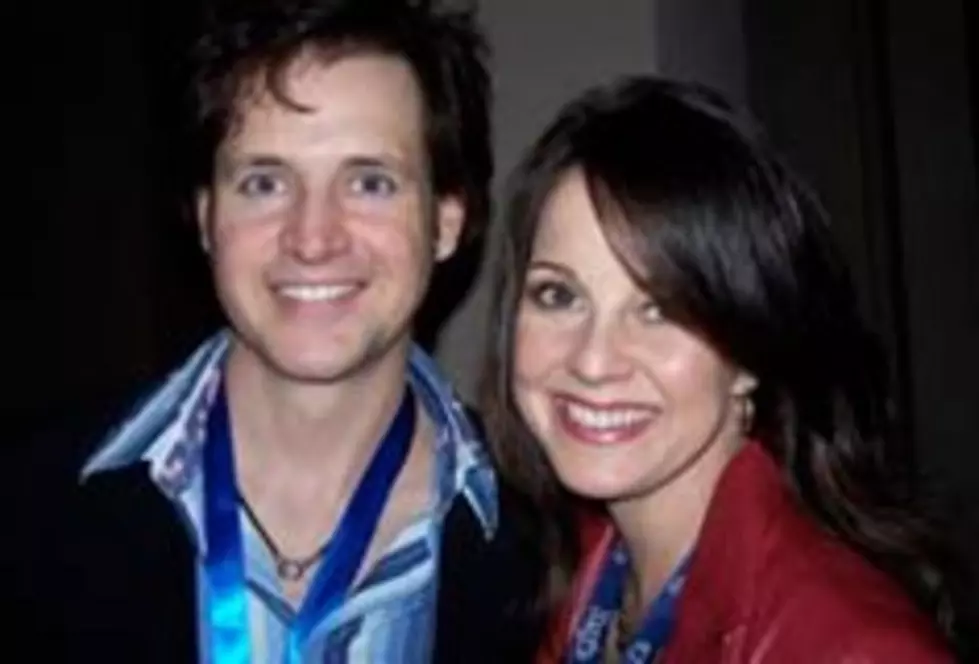 GAC's Nan Kelley Meets Husband Charlie 'Under the Mistletoe'
Photo Courtesy of Nan Kelley
She's already a familiar face in the country music world, and now Nan Kelley is one-half of a new singing duo! Well, at least for the holidays. The GAC host and her husband, Charlie Kelley -- a renowned musician who plays with Jamie O'Neal and Laura Bell Bundy -- have released a new duet, 'Meet Me Under the Mistletoe.' (Listen to the track below.)
While both have performed separately for years, this is the couple's first musical collaboration. Charlie wrote the song a few years ago but just recently decided to head into the studio to record the festive holiday tune.
"Aside from the great music I get to work around day in and day out, Christmas music is my favorite!" Nan tells The Boot. "It is playing nonstop in our house during the holidays. What a treat to partner up with my favorite musician and share a little Christmas joy with everyone."
"This song sounded like a Christmas classic the moment Charlie played it for me," Nan adds. "I love the 'jangling' guitars, the sleigh bells and that hooky melody makes me happy!"
Listen to 'Meet Me Under the Mistletoe'

The pair feel the song is special for many reasons, not just because it's their first time recording together. The struggle the couple faced a few years ago has made every aspect of their lives more special.
"After we both had our own battles with cancer in the same year, the lyric of this song sums up how we feel about life these days," Charlie explains. "In the entertainment industry, it very easy to get caught up in career and success. Career stuff will come and go, but relationships that you want to have forever are much more important, especially with the girl you want to meet you under the mistletoe."
In May 2008, Nan was diagnosed with Hodgkins Lymphoma and underwent seven months of chemotherapy and radiation treatments. Three weeks after Nan's last treatment, Charlie was diagnosed with colon cancer. Both are now cancer-free, and more grateful than ever before. "You're more thankful and more appreciative of your health and things in your life a little more throughout the year than just at Christmas," Charlie notes. "And that's really what 'Meet Me Under the Mistletoe' is all about."
"It really comes down for caring for each other, and that for us in '08, that was a true Christmas gift," Nan adds. "Having your health -- and you've heard that adage if you don't have your health, you don't have anything -- but boy, it never rings more true. And talk about stopping and counting your blessings and being grateful for your loved ones around you, that's Christmas."
The Kelleys, like many other families, have their own traditions during the holidays. "We're always home, and we like it like that," says Nan. "I'm from the South and he's from the East Coast, so we bring different traditions. On Christmas Eve, it starts with my grandmother's seafood gumbo ... It is our tradition that we always have this yummy, yummy seafood gumbo, and then we'll go to church."
Later, the two will share their Christmas spirit with family, friends and neighbors at their beautiful Donelson, Tenn. home by playing cards and games, while waiting for Santa Claus and his reindeer to pay them a visit.