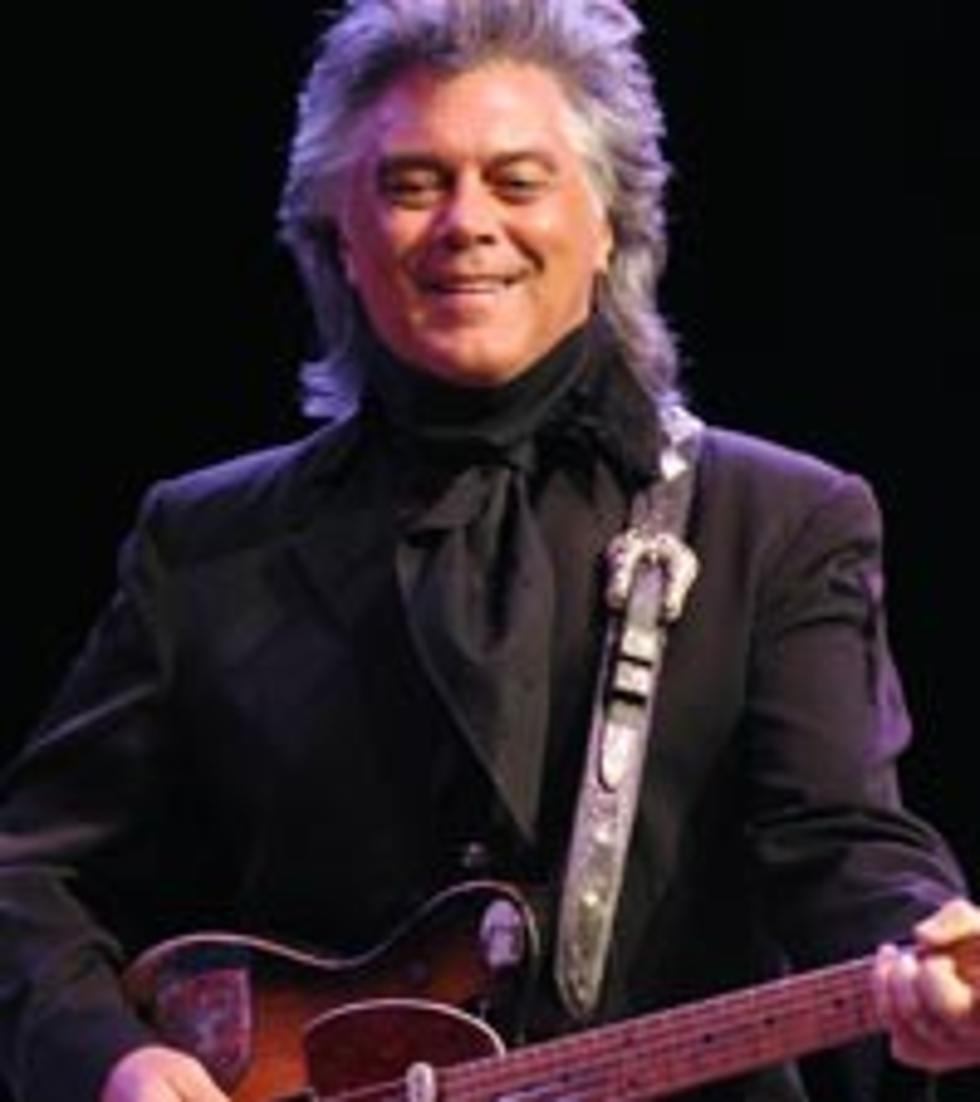 Marty Stuart Rolls On With Traditional 'Ghost Train'
Tim Mosenfelder, Getty Images
He looks like a rockabilly singer in a Porter Wagoner rhinestone suit. When it comes to the bottom line, however, it's hard to describe the scope of Marty Stuart's career and influence in country music. He's worked for Johnny Cash and Lester Flatt. He's jammed onstage with Keith Urban, Earl Scruggs, Neko Case, Charlie Daniels and the Tennessee Mafia Jug Band! He's steeped in the traditions of country music, including bluegrass and acoustic sounds, but he can play guitar with the best of them on any rockin' country tune tossed his way.
Marty's latest album, 'Ghost Train: The Studio B Sessions,' released August 24, is a body of work weaving the history of the music he loves with new tunes, all of which were recorded in an historic studio that was a fitting setting for Marty's unique type of music. Marty is quick to point out that he's not so much trying to establish a link to country music's past as he is trying to build on the foundation of its future. If there's anyone in country music today who can say that with honesty and integrity, it is Marty, who constantly strives to keep his music fresh.
The one thing Marty says he tried to portray on 'Ghost Train' is the traditional country music that is too often not heard on modern country radio. The album, the singer says, "... was designed to house a lot of vines. The vine of honky-tonk, the vine of bluegrass or folk music or pop-country. It's just that the strand of traditional country music has grown really dim. It looked to me like it was in danger of slipping away, and it's much too precious to let slip away."
RCA Studio B takes its place in country and rock/pop history as myriad artists passed through its doors from the mid 1950s to the mid '70s, among them Waylon Jennings, Chet Atkins, Dolly Parton, Elvis Presley and the woman who would later become Marty's wife, Connie Smith. It also welcomed bluegrass great Lester Flatt and a teenage kid who played with him named Marty Stuart. In fact, it was the first Nashville studio where young Marty ever laid down licks.
In addition to his new album, he continues with 'The Marty Stuart Show' on RFD-TV, has a new exhibit of memorabilia opening at Davis-Kidd Booksellers in Nashville, and he'll kick off his Ghost Train tour August 25 at Nashville's Belcourt Theatre. Plus he's producing an album for Connie, working on more books and a couple more albums. In between his many projects, Marty found time to sit back and talk with The Boot about recording 'Ghost Train,' finding his place in country music, and working and living with the beautiful Connie Smith.
'Ghost Train' is a little new, a little old, as far as the songs go. Take us through the recording of the album.
It all begins with the song, and the first one that stuck was 'Hangman,' which I wrote with John (Johnny Cash) before he died. That started it, so I've been working on the record since 2003. I finally felt like I had enough songs that were honest, whether I wrote them or pulled them from the abyss of country music. I finally found a collection that felt right. Recording at Studio B helped me to have the right backdrop. I was 13 when I recorded there the first time, and it felt like I had come full circle. It felt like the perfect setting for this country music thing. I also liked the fact that the studio is used by Belmont University as a classroom, and by the Country Music Hall of Fame as a tourist destination. A lot of times, while we were recording, people were taking our picture, and students were coming in to watch us. It was wonderful to be a part of living history. It was about growing on the foundation of country music and writing something for the next chapter of our music. We had people young and old and all points in between coming and going, and that was inspirational for me.



You don't always do strictly traditional country music yet when people talk about you they speak of your reverence for the music. Why it is so important to you to honor the history and tradition of the music?



The spirit and tradition led me to fall in love with country music. The Flatt and Scruggs sound, and Cash I fell in love with when I was five years old. Coming from Mississippi, I can play anything, and I have the skill to play it all, but when it comes to my heart it is traditional country music. It can still reduce me to a pool of tears when I hear the right song, and I can also stand up and holler with the right song! It doesn't always pay the best, but it always touches my heart.



Was it hard to get permission to use Studio B to record, since it technically is no longer a working studio?
It was understood that we could work there, but there would be tourists and college students coming in and out. I said just use that as a calling card, that we are there recording. I invited the students to come to the studio and I encouraged them to stop by. The only obstacle we had to adjust to was that we had to bring in pieces of gear, and work around Belmont's schedule. From the minute we got in there, from the first note, it was like lighting a match on dry wood. That room responded and it was so happy to have country music back in there.
I'm sure you have lots of special stories from the recording sessions.
Ralph Mooney came to play steel guitar with us. He is the guy that played on those classic records by Buck Owens, Merle Haggard and Waylon Jennings. I went out to Texas, where he lives. to ask if he'd come and play on my record. When the time came for Ralph to come, the studio filled up with photographers. His steel guitar brought something to life in that room.
You say Ralph Mooney is your favorite musician. I would have thought Lester, or maybe Bill Monroe.



If you listen to those recordings that Ralph played on, the room itself responded to what he did. So much of the reason they sound the way they do is the space in which they were recorded. I'd hear some sounds and I'd respond to that as well. Ralph sat behind some of our greatest country music artists and helped define their sound, by the way he played. He didn't play like anyone else.



What was the inspiration behind 'Hangman'? It is such an unusual story.
I played a concert and the head security guard was a guard at Folsom Prison. I struck up a conversation, and I said Johnny Cash played Folsom, what would I have to do to get in? He said, 'You might think about murdering someone.' So they issued me a gate pass to go to Folsom Prison. I was shown the cafeteria where John recorded his album. Behind that was the hanging gallery; it's now the prison band hall. I thought about Folsom Prison all the way home and I thought about what a horrible job the hangman would have. I started this song called 'Hangman' and I gave it to John when I went to see him after I got back. In about ten minutes we wrote the song, and four days later John was gone. It's an overwhelming song. I've done it a few times in concert and the room gets mighty quiet.
Is 'Hard Working Man' a new song about today's economy or is it an older song that still applies?
I wrote that last spring, I was kind of in a writing frenzy, filling up holes for 'Ghost Train,' and that song came through. I got to thinking about the situation my dad had, of getting fired because they didn't want to give him his benefits. I was looking at the unemployment rate across the nation, and the working-class sector, the country people are being laid off just because, and then CEOs were being given bailout packages.
Dierks Bentley says you are a bridge in country music. What does that mean to you, being a bridge?
I'm honored by that. I think of Dierks as one of my kids, in the sense I love my place in country music. I get it, I understand it, from A.P. Carter all the way to Miranda Lambert's latest record. I love being accepted and known as part of that whole story, and I feel that my place, and what matters, is I truly understand the history, the customs of country music. The most important part to me is to see these young people that have a fire in their heart come along. I see Dierks out there following his heart now, making the bluegrass record he just made. It's wonderful to let people find their mark, find out who they are. It's a wonderful place, a wonderful time in life and a wonderful position to be in.



You're one of the few artists who embrace the new artists and the artists who have left us a musical legacy. Why is it so important for artists to get together and know each other and learn from each other .... and from you?
My Rolodex is really interesting (laughs). My dressing room might have Keith Richards in it one night and Ralph Stanley the next. I love being part of the whole show.



Do you think radio will play this album?
I have no idea what the mind of radio entails, no more than they have about me. In the meantime, they do what they do and I do what I do. We're in good standing with each other, and some time the right three-minute thing will come along again for me.
Do you ever just go to the Country Music Hall of Fame and walk through it with the eyes of a fan who has come to Nashville for the first time?
I go there for inspiration when I lose my way, musically. I go back to bedrock and I just go through it. You can spend a day there easy and I recommend everybody do that.
You include your wife Connie in many of your projects, from the latest album to the TV show. Do the two of you ever need a break from each other?
The truth is we seldom play a concert together, and the television show is one song a show. Now, she usually does walk by's and that's about how long I can slow her down, to do a line or two. We don't do that much together creatively. When life slows us down, we find a place to go that has nothing to with music. She is more balanced than I am. She is the queen of balance, when it comes to family and I'm the career-driven maniac.