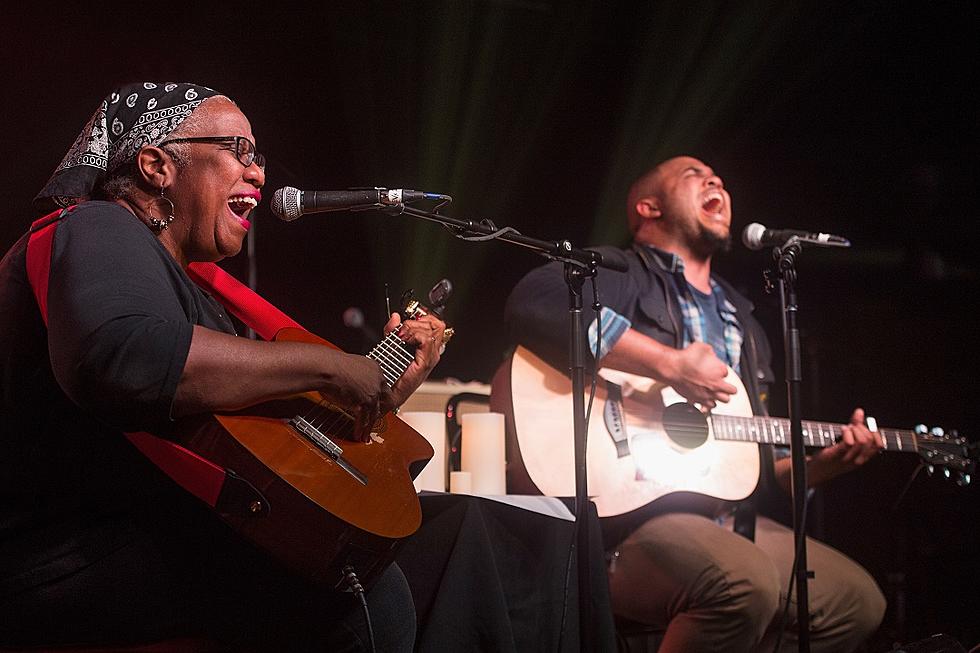 Interview: Madisen Ward and the Mama Bear Form 'Poetic' Mother-Son Partnership
Erika Goldring, Getty Images
Ruth and Madisen Ward are mother and son -- but sometimes, they forget.
"When I'm playing with her, it doesn't feel like my mom," Madisen Ward tells The Boot. "We're just two people trying to create something and trying to get to the bottom of it together and share it with people. We forget all the time how people are viewing us."
That family connection's a benefit, though, whether they remember it or not.
"There's a level of honesty when we're working together ... We're very blunt, very honest," Ward adds. That's how it goes in their family, even offstage -- that's how their relationship's always been.
"[We] may not always agree, and we might go toe to to sometimes," continues Ruth Ward, "but ... as long as we can respect one another when it's all said and done, and we get the job done, and we know why we're doing it, that's the most important thing at all."
Together, the Wards are known to the musical world as Madisen Ward and the Mama Bear. Their musical partnership is relatively new -- this isn't a story of family members playing together for ages -- but there's always been music in the Ward family. To The Boot, Madisen Ward recounts one of his earliest memories: eating donuts and watching from the sidewalk as his mom performed in a coffee house. A little bit later in life, he says, Mama Ward gave his teachers a tape of Christmas music she'd recorded as a gift.
"For years, those teachers would bring up that tape!" he says with a laugh.
Ruth Ward says she "kept the music going" when Madisen and his two older siblings were kids -- but she put her larger musical dreams on hold to raise them. "It's poetic," Madisen Ward admits, "the actual reason that you paused that part of your life is what caused it to continue."
Madisen Ward and the Mama Bear earned acclaim -- and a Top 10 spot on the Americana / Folk Albums Chart -- with their debut album, 2015's Skeleton Crew; radio listeners may know their song "Silent Movies," which found airplay on alt stations. TV and festival appearances followed, along with opening spots for artists including Old Crow Medicine Show and Sufjan Stevens.
Success afforded the Wards some big-name collaborations for their recent EP, The Radio Winners, released in July. The duo's primary songwriter, Madisen Ward co-wrote for the first time, with Music City tunesmiths including Heather Morgan and Ross Copperman; Nathan Chapman and Ryan Hadlock -- known for their work with Taylor Swift and the Lumineers, respectively -- produced the project.
"You start to quickly learn who's your people, and who you connect with," Madisen Ward reflects of co-writing. "I never thought that was the way to write music ... I didn't think it could be rewarding, but it really is. I think it's brought out a different level of focus and dedication that I don't think I was used to."
Ruth Ward says she found herself connecting easily with Chapman and Hadlock as well: She calls them "really good people," adding, "You realize they're just like you; there's no big difference."
After starting out performing in coffeehouses as a duo, the Wards have added a backing band on tour, and have noticed their crowds diversifying. They've enjoyed hearing stories about the seemingly random places people have heard their music ("The world starts feeling really small," Madisen admits. "It's nice wherever you hear it, as long as people are enjoying it"), and bringing these new fans into the fold.
"I reduce [the crowd] to the size of the people at the coffeehouse in my mind," Ruth Ward shares. "Sometimes I'll even tell the crowd: 'Hey, we're friends now, right?' ... and so, you bring people into your world, instead of you being in their world.
"Once they come in," she adds, "they normally stay."
What Is Americana? Artists (Try to) Define the Genre