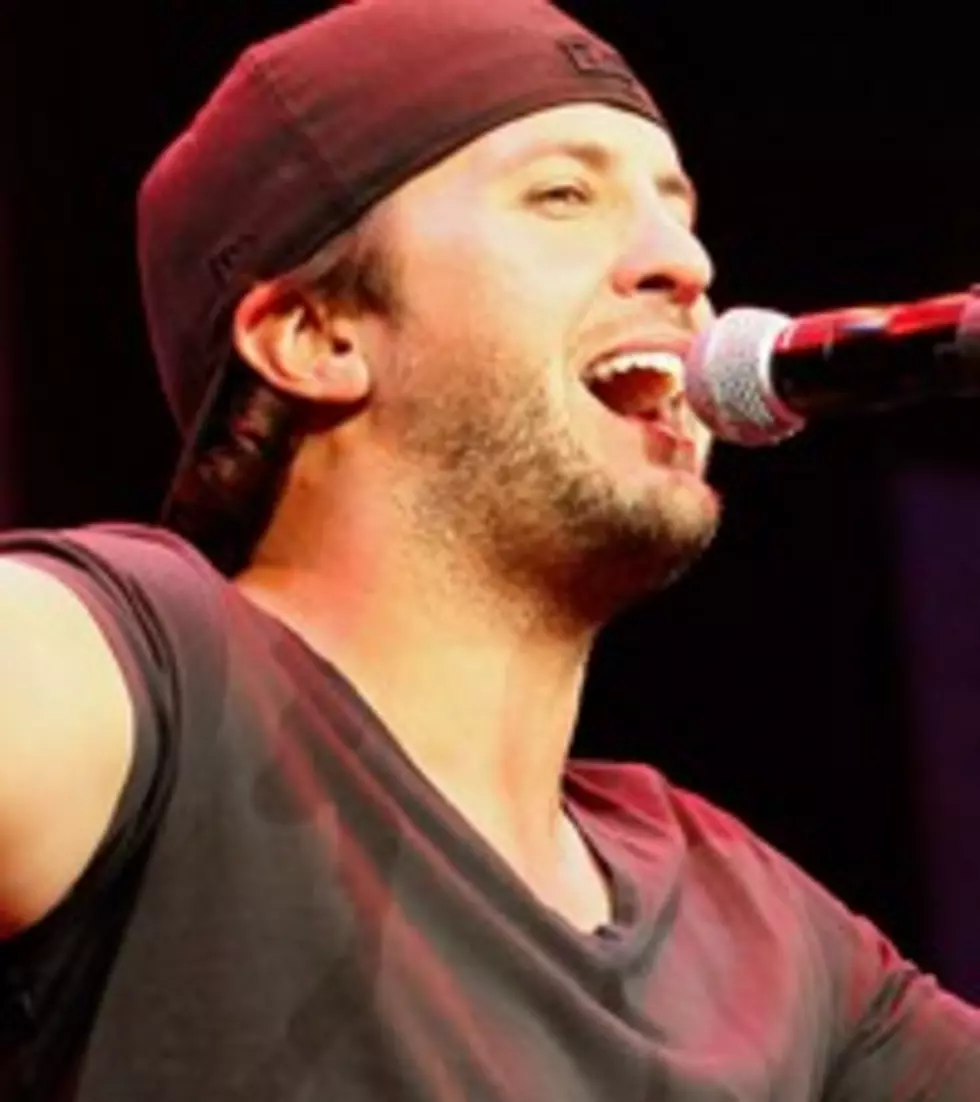 Luke Bryan Ready to 'Kill It Night After Night' on New Tour
Skip Bolen, Getty Images for Alabama Relief
Luke Bryan's new title as a headliner officially begins tonight (Sept. 15), when the Georgia native kicks off his first solo outing, CMT on Tour: Luke Bryan Tailgates & Tanlines. It's a role the 34-year-old is eager to step into.
"I think there's no better way to determine how you're doing out there than to step out there on a limb and start headlining," he tells CMT. "We're gonna get out there and try to kill it night in and night out and make a really, really big deal out of it."
The married father of two, who enjoyed an opening slot on several artists' big tours over the past few years, including Rascal Flatts, Jason Aldean, and most recently Tim McGraw, hopes to parlay those experiences into a successful trek boasting his own name.
"When you tour with big acts, you learn the professionalism from those big acts and what they do on a day in and day out basis to get to where they are," he acknowledges. "My main thing is just taking what little things I learned about their tour and applying it to mine. It's such a nice kind of school to learn under to see those guys and to become friends with them and to even get to pick their brains on stuff."
The singer-songwriter wrapped up his stint on Tim's Emotional Traffic tour last month, which he believes was the perfect precursor to heading out on his own. "Being out with Tim, you just see the grandest scale of entertainment," Luke tells The Boot. "He's up there in the upper echelon of massive entertainers, and guys who bring it every night and have done it for years, and crowds who have continued to support him for years. There's been so many levels of that tour that have been so fulfilling for me, and to see the fan support night in and night out for him, and see the way he delivers it night in and night out has been the big learning experience."
The 'Country Girl (Shake It for Me)' singer also hopes to treat his own opening acts -- Lee Brice, Josh Thompson and Matt Mason -- with the same respect that he showed his previous tour bosses. "While they're out with me, I'll do whatever I can to try to promote their artistry," Luke notes. "I'll do everything in my ability to make them shine."
The current CMA award nominee (for Best New Artist), has been friends with Lee for more than ten years, and says Josh was an easy choice because he's someone he has "always really looked up to." While the rising country stars may be thrilled to ride on Luke's wave of success, the former agriculture worker says he's the fortunate one.
"They're out there duking it out, working hard every day, touring and playing big night clubs and big shows and big festivals," he boasts. "Anytime you can have guys like that start kicking off the show and opening up for you, it's really flattering."
Luke's latest album, 'Tailgates & Tanlines,' debuted the top of the charts, with the album's first single, 'Country Girl' marking his fifth Top 5 hit. His success at radio he says, is at least partly due to a series of circumstances that he has no control over.
"To be a songwriter and to have a hit is a series of miracles," he insists. "It's a miracle to write a great song. To get a song recorded is a miracle. To record it right is a miracle. You can write a great song, but that doesn't mean you're going make it sound like a hit. And to get radio to play it and get the fans to like it -- and then for it to be entering the charts -- there's a lot of things that have to happen."
Luke's tour kicks off tonight in Huntington, W.V., followed by shows in New York, South Dakota and South Carolina. See his complete tour schedule here.
Watch Our Day in the Life of Luke Bryan Video


if(typeof AOLVP_cfg==='undefined')AOLVP_cfg=[];AOLVP_cfg.push({id:'AOLVP_us_1127437954001','codever':0.1,'autoload':false,'autoplay':false,'playerid':'61371447001','videoid':'1127437954001','publisherid':1612833736,'playertype':'pageload','width':476,'height':357,'videotitle':'Test','bgcolor':''});