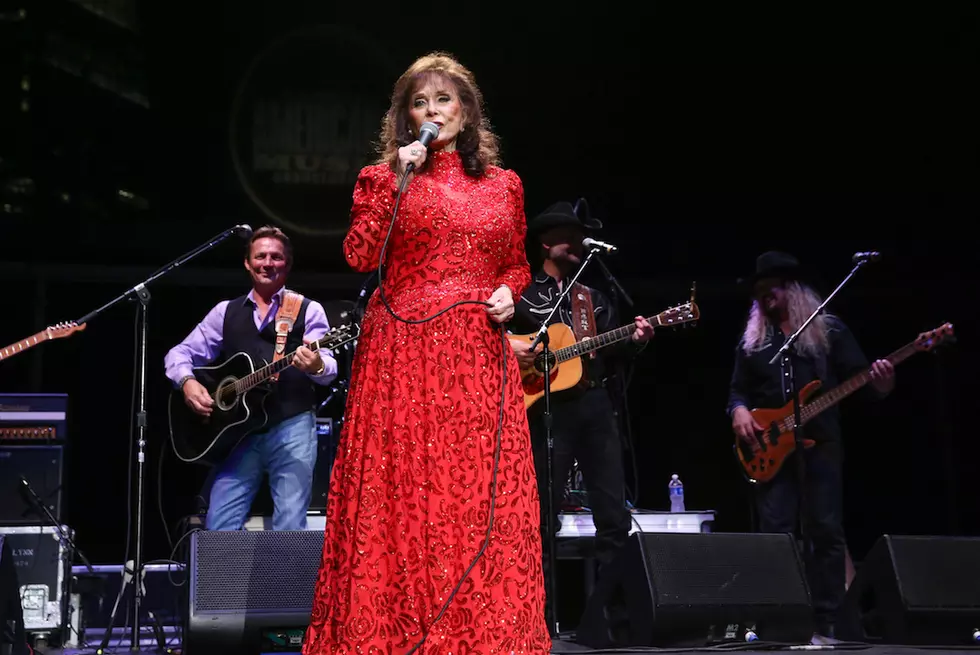 Loretta Lynn Prepping for Return to Music Following Stroke, Broken Hip
Terry Wyatt, Getty Images
Loretta Lynn is ready to head back to country music after suffering a series of serious health troubles over the past year. While the country icon doesn't have new music to share just yet, she recently shared a photograph that gives fans reason to hope that new music will be coming soon.
Lynn posted a picture to her official Facebook page announcing that she was working on a new music video for an unnamed song on her upcoming album, which will be called Wouldn't It Be Great. The picture is of a camera that is focused on Lynn, who is seen looking happy as can be in a red polka dot shirt. The post didn't have too much information for her music-hungry fans, but Lynn did say that there will be more details released soon. See above for the full post shared by the country music legend.
Recently, Lynn has largely stayed out of the public eye, ever since suffering a stroke in May of 2017. Because of the serious health episode, Lynn decided to postpone the release of Wouldn't It Be Great, which was initially scheduled for release on Aug. 18, 2017. In January, the singer encountered another medical setback when she fell and broke her hip.
With nearly 60 years in the country music industry, a slew of awards, honors and recognitions and more than 45 million album sales under her belt, Lynn is a country music icon who is known for her massively popular -- and sometimes controversial -- songs, including "You Ain't Woman Enough (to Take My Man)," "Rated X" and "The Pill." In addition to her solo career, she released 11 albums with duet parter Conway Twitty, giving performances noted for the duo's onstage banter and charisma. More information about Lynn can be found on her official website.
Loretta Lynn Through the Years