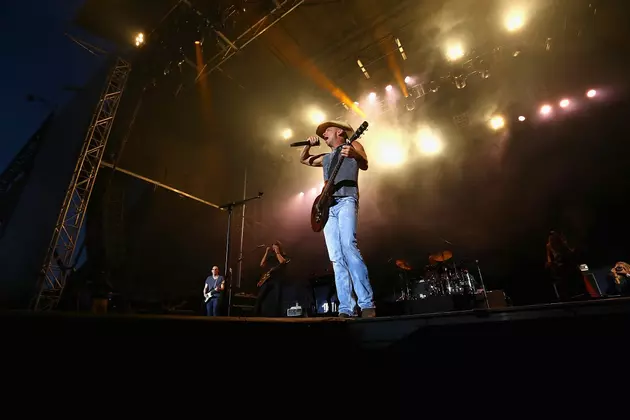 Kenny Chesney Delays 'Some Town Somewhere' for Duet With Pink
Mark Davis, Getty Images for ACM
Kenny Chesney's fans will have to wait a bit longer to hear his new album Some Town Somewhere -- but the country superstar promises that the delay will be worth it, because it means he'll be able to include a special collaboration.
Originally due out on Friday (July 8), Some Town Somewhere is now set for release on Oct. 28. Chesney shared the news via a press release, explaining that the new timeline will allow him to add "Setting the World on Fire," a duet with pop star Pink, to the project.
"Sure, it would be easier to just leave everything on schedule. But when you have something you know is great, and it captures the best part of being alive, why wouldn't you slow down enough to make it happen in the moment?" Chesney says. "That's what "Setting the World on Fire" is all about -- and I figure it may be a while before I make another record, and I don't want to wait to share this because it's so good."
Chesney and Pink formed a friendship while the "Noise" singer was spending time in California; he calls her "an incredible singer," describing her voice as one that "holds so many feelings all at the same time: joy, desire, a bit of toughness, a little hurt."
"The thing about Pink, beyond what a great singer she is, is what a generous spirit she has," Chesney adds. "To me, great singers are the ones who can get inside a song and capture the spark. When you hear Pink on this song, you believe her -- and to me, that's everything the song required to come to life."
Chesney calls "Setting the World on Fire" "a song of being." It's just one of a number of duets that the singer has recorded and released as singles throughout the recent years of his career: 2004's "When the Sun Goes Down," featuring Uncle Kracker; 2007's "Shiftwork" with George Strait; 2008's "Everybody Wants to Go to Heaven" with the Wailers and "Down the Road" with Mac McAnally; 2009's "I'm Alive" with Dave Matthews; 2012's "Feel Like a Rock Star" with Tim McGraw; and 2011's "You and Tequila" and 2015's "Wild Child" with Grace Potter.
Kenny Chesney Through the Years
Old Dominion Share Secrets of Touring With Kenny Chesney