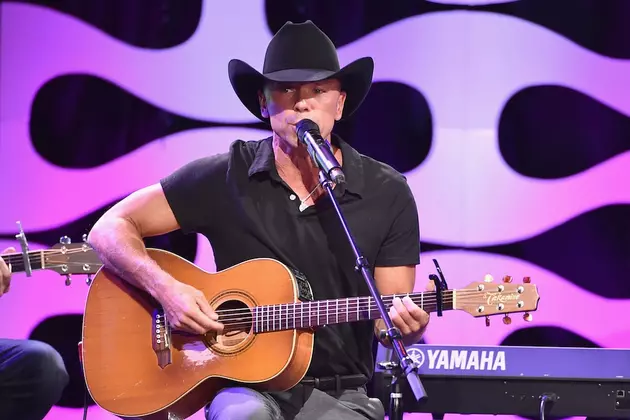 Kenny Chesney Planning to Release New Music This Spring
Kevin Winter, Getty Images
Good news for Kenny Chesney fans: The country star is back in the studio and hopes to have a new album out this spring.
Though Chesney has kept himself busy on the road since the release of The Big Revival in 2014, he's also been taking time to simply live his life -- a decision that he says is for the good of his music.
"You have to take time to live and breathe, to fill up your tanks to be creative," says Chesney in a press release. "Otherwise, you're just on a treadmill churning out what you've already done ... Who needs that? For me, especially after the success of The Big Revival, I want to move the music, the songs, the discussion forward!"
The singer's previous record, which includes "American Kids" and "Wild Child," spawned a total of four No. 1 hits. While it may seem daunting to follow up a success like that, Chesney has dived in, spending the past several months writing and working on songs in places he loves: Austin, Texas, the islands and the road.
"There's a moment you feel a record grab hold and take shape," Chesney says. "You can have great songs and not have an album. You can have a killer record that won't move people on the radio. The idea is to balance both, then hopefully create something that does both, that also says something as a whole. I think we're on our way."
"There are a few writers who get me, who get my life and my soul. And I was lucky enough to have time to write with them," Chesney reflects. "But I also got to hear a lot of great songs, some different writers, so there was a lot of music this time to draw from and be inspired by.
"When we came off the road and I listened back to The Big Revival, all I could think was, 'Man, we covered a lot of ground, went pretty cool, as well as new, places musically,'" continues the man who's notched 28 No. 1s. "I knew we couldn't repeat, but I also wanted to find more new ways and new things to record!"
Though the details are sparse, Chesney's new record should debut sometime this spring.
See Kenny Chesney + More Country Stars Then and Now
How Well Do You REALLY Know Kenny Chesney?