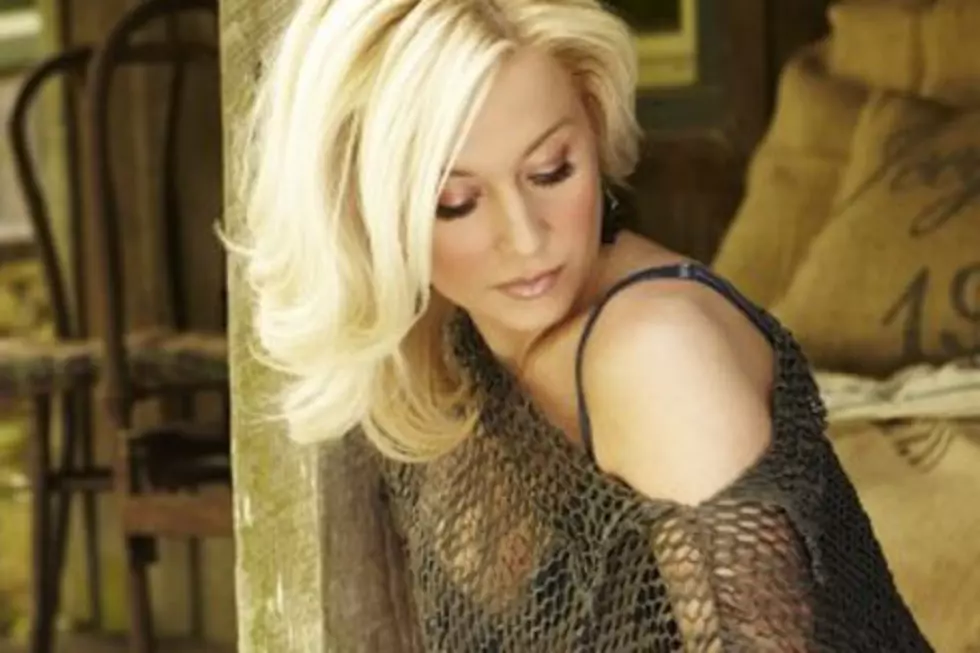 Kellie Pickler Revisits Painful Childhood With New Album
BNA Records
Kellie Pickler realizes what a momentous occasion the upcoming release of her third studio album will be. Growing up poor in the small town of Albermale, N.C., the precocious singer was raised by her grandparents, after her mother abandoned her and her father spent time in and out of jail. Success was hardly expected for a young girl with such a challenging childhood, which is what makes her growing accomplishments that much sweeter.
The 25-year-old previously touched on her traumatic upbringing in her Top 20 hit, 'I Wonder,' from her debut album, 'Small Town Girl,' but she admits she wasn't ready to show her fans the depth of her pain -- until now. Bravely facing the topic head-on, she penned 'Mother's Day' with her songwriter husband, Kyle Jacobs, a tune that poignantly addresses how painful those memories still are.
"I didn't realize how bad the situation was until I went back as an adult," Kellie tells The Boot. "In shooting the ['Mother's Day'] video in particular, going back to those childhood moments, seeing my father struggle with his alcoholism and drug addiction ... He was always in trouble with the law. Always. So it was a battle to have to go and visit him in the penitentiary as a child, but that was so normal for me. Looking at it now, as an adult, that's not normal. That's not the way it's supposed to be. I got to hit a whole lot of places, a whole lot of my past in shooting this."
The blond beauty came up with the idea for the song after feeling the sting of her loss, when another Mother's Day arrived, and she realized it was a day she had never been able to celebrate. "When 'Mother's Day' came about, Kyle and I weren't living together at the time. It was before we were even engaged," she recalls. "Kyle and I had spent the day together earlier that day. He was dropping me off at the house, and he was headed home. He pulled in his driveway, and I called him and said, 'Baby, can you come back over here? Today's just really hard.' He said, 'Yeah, are you OK?' I said, 'Yeah, I just feel like we could write a great song today. I feel like today is the day we're gonna write a song.'"
The song, she explains, almost wrote itself. "He came over and brought his guitar, and we went through all the feelings, all the emotions, all the thoughts that I have and go through on Mother's Day, and why it's so difficult for me. It's one of those things where it's like a slap in your face. We put as much as we could into three minutes of that. That was really therapeutic, and really amazing to get to write with him, especially when you hear the song, and you get to the second verse -- that was so special to write with him."
Still, Kellie acknowledges that delving into such a sensitive topic was terrifying. "When you remember things as a child, and then you go back to those places, it's kind of like when I go home to Albermarle. There's certain places that I wish that, as an adult, I had not gone back to, because to remember them as a child, it wasn't as bad. I didn't realize how bad the situation was until I went back as an adult."
Growing up with an absent mother, and a father who set such a poor example, forced Kellie to miss most of her childhood -- a reality that still stings today. "I didn't have time to study. I was too busy being a parent," she sighs. "When I left school, I was clocking in to another job. I had other siblings that I was taking care of. I had to learn how to almost be a homemaker in a way. When you grow up around the drugs and the alcohol and that kind of abuse, the people that you interact with, drug dealers ... there's a lot of stuff that people don't know, and it's things like that. Maybe I'll write a book one day."
Kellie says her ability to rise above her early struggles was unexpected for anyone from her small town. "It would not have been surprising if I had followed the same sets of steps of my raising. I think I just didn't want to be that person. I just went home the other week, and I ran into some people that I've known growing up, and they're still in the same exact place, mentally, that they were then. There's been no growth. There's no depth. It's like flat paint. There's no dimension. There's nothing there. And the only thing that's different is their light is not as bright as what it used to be. It's like a dimmer, and you see the light in someone's eyes completely shut off almost. It's on the verge of a complete blackout. It's so sad. I grew up hearing everyone around me complain about everything. Hated their job, hated this, hated that. So miserable ... Minimum wage and living paycheck to paycheck and still not having the lights on."
Still, Kellie is quick to acknowledge she has plenty to be thankful for, and she refuses to linger too long in the past. "I have the most amazing, amazing friends, that I cherish and value," she boasts. "I have a really, really close group of friends that I surround myself by, and those people know who they are. They really keep me Kellie. They wouldn't allow me to be anything but Kellie ... I live a very normal life; I'm really 'less is more.' I really don't need anything except good people, good company."
Kellie's first single from her upcoming CD, 'Tough,' is in the Top 30, with a video being released today. In addition to putting the final touches on her new album, she is also performing several shows, including a stop in Washington on Friday (Sept. 30). See her schedule here.
if(typeof AOLVP_cfg==='undefined')AOLVP_cfg=[];AOLVP_cfg.push({id:'AOLVP_985727274001','codever':0.1,'autoload':false,'autoplay':false,'displaymnads':true,'playerid':'89761511001','videoid':'985727274001','width':476,'height':357,'playertype':'inline','stillurl':'dynamic','videolink':'#','videotitle':'dynamic','videodesc':''});