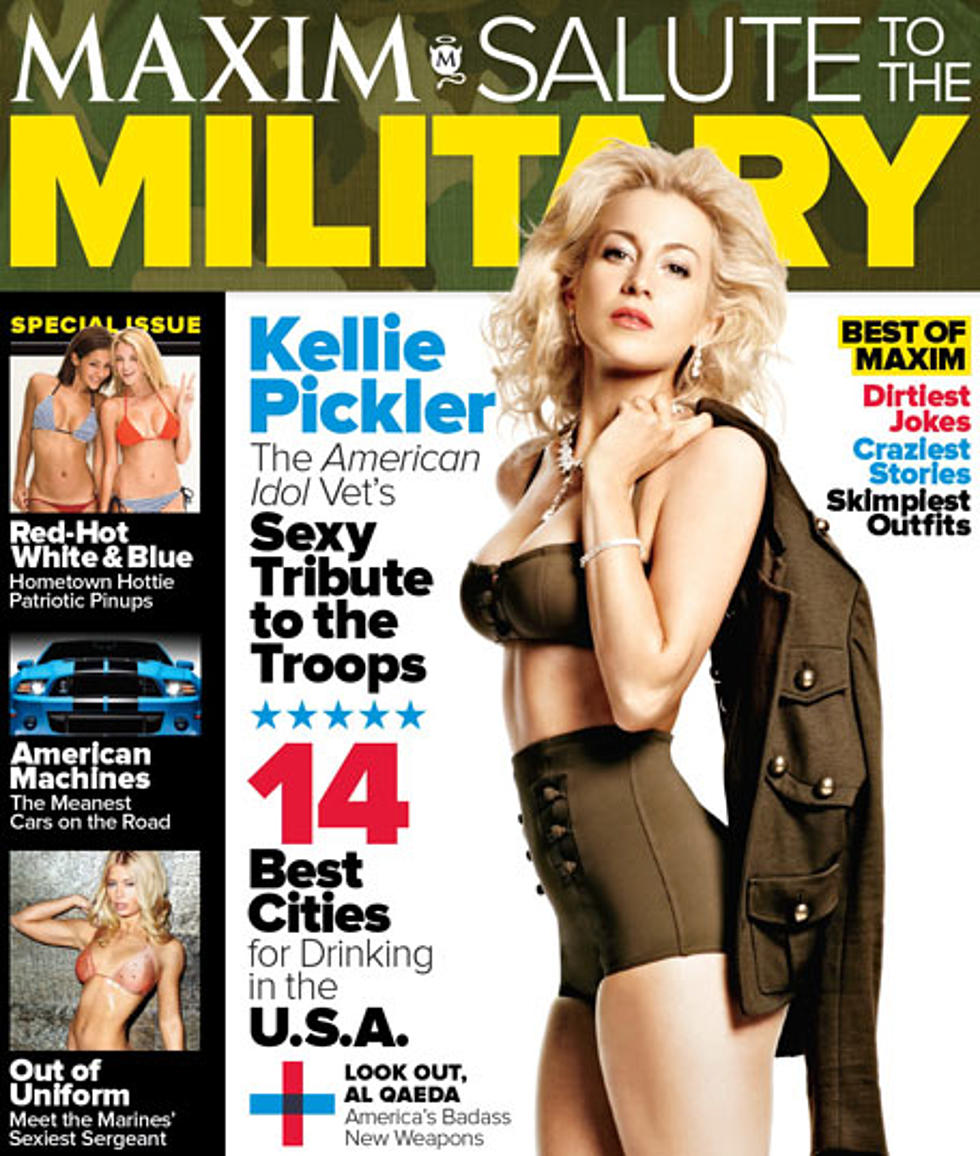 Kellie Pickler Maxim Cover Is Sexy Salute to the Military
Maxim
Kellie Pickler is strutting her stuff on the cover of Maxim magazine's Salute to the Military. The country star is a long-time supporter of our troops, with numerous USO tours under her belt, as well as countless performances for the military at home in the U.S.
"I come from a military family," Kellie tells Maxim (quote via Celebrity-Gossip.net) of her appreciation of the USO. "My grandfather is a retired Marine, and I've always had a great deal of respect for anyone who serves our country. It really does take someone special to sacrifice everything. I don't mean just their lives, either. There are men who are sacrificing the chance to hold their newborn baby!"
Not only has the "American Idol" finalist supported her the troops with her talents, she also pays them homage in a permanent way that would not make the woman who raised her proud.
"My grandmother would be mortified if she knew I had these [tattoos]," Kellie admits. "She's passed away now, but she would say, 'Tattoos are the devil!' So my first tattoo, of course, was my grandma's name. I also have stars on my left arm for my USO tours, but I'm missing two."
Kellie insists the most incredible part of her post-"Idol" career has been working with the USO, both stateside and overseas. "They take a little piece of home to our servicemen and women overseas," she tells The Boot. "We were blessed to be able to perform in Kuwait and Afghanistan. It is a moment to just say thank you. It's so wild, the sacrifices that they make, that we don't even know about. Not just the servicemen and women, but their families, as well. Knowing your husband is off fighting a war, it makes it hard to sleep at night. It's wonderful what they do."
Kellie is currently on the road. Her next stop is Friday (July 27) in Dubuque, Iowa. Get a full list of dates here.
Watch Kellie Talk About the USO
#fivemin-widget-blogsmith-image-183912{display:none;} .cke_show_borders #fivemin-widget-blogsmith-image-183912, #postcontentcontainer #fivemin-widget-blogsmith-image-183912{width:570px;height:411px;display:block;}

try{document.getElementById("fivemin-widget-blogsmith-image-183912").style.display="none";}catch(e){}