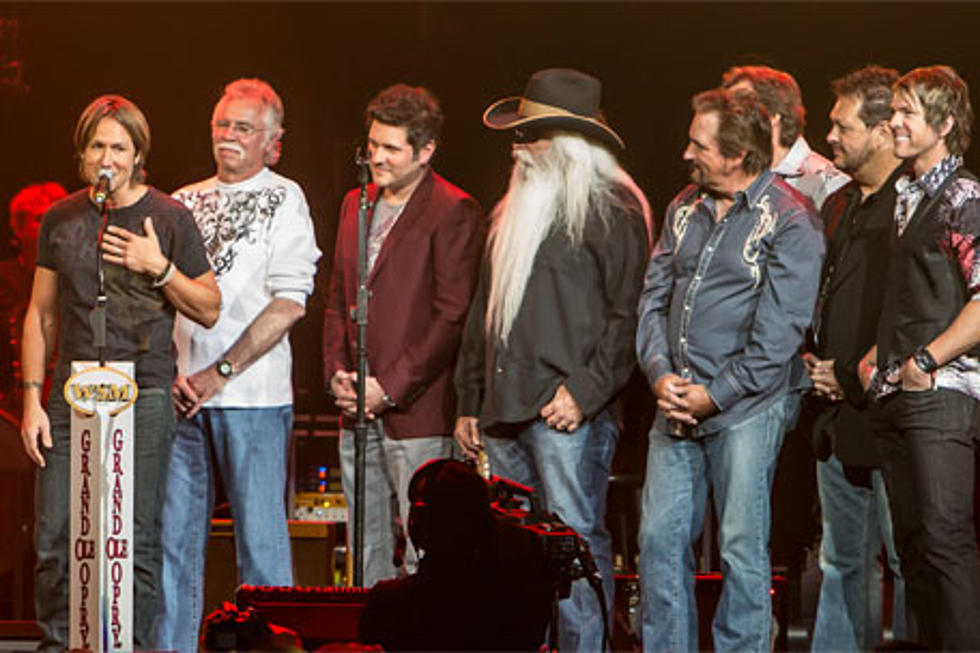 Keith Urban, Grand Ole Opry Invitation: Singer Gets an All for the Hall Surprise
Chris Hollo
On April 21, Keith Urban will become the newest member of the Grand Ole Opry. The country superstar received a surprise invitation to join the coveted country institution in front of about 16,000 people Tuesday night (April 10). (Watch a video of the event below.)
The Opry honor came in the form of a black duffle bag brought on stage at Keith's annual All for the Hall benefit show at Nashville's Bridgestone Arena. His co-host for the evening, Vince Gill, called the members of Rascal Flatts, Diamond Rio and the Oak Ridge Boys -- all of whom had just performed two-song sets -- back onto the stage to give Keith the special present. Visibly confused, the "For You" singer unzipped the bag to find a WSM/Grand Ole Opry microphone stand.
"I'm shocked," Keith said, after Vince gave the official Opry invitation to his friend. "What a huge honor and how beautiful to have this happen tonight!
"I will always remember the first time I played the Opry," the singer-songwriter continued, "seeing this stand and standing in the circle was an extraordinarily surreal moment. So this right here is just a whole other stratosphere! Thank you from the bottom of my heart."
Keith went on to explain that he's been in Nashville for more than 20 years now, and reflected back to the day when he first moved to town and took his demo tape to record labels. "I got a lot of strange looks!" he admitted with a laugh. The New Zealand native has since gone on to sell millions of albums and win a trophy case full of Grammys, CMA awards, ACM awards, People's Choice awards and much, much more. And now, he can add a lifelong dream to that list of accolades: membership in the Grand Ole Opry.
Click here to purchase tickets to Keith's April 21 induction into the Opry, during a show that will also include a performance by Josh Turner and more artists to be announced soon.
All for the Hall, organized by Keith and Vince, is an annual, star-studded concert that raises money for the Country Music Hall of Fame and Museum. Come back to The Boot on Wednesday for a full recap of the 2012 All for the Hall show.
Watch Keith Be Invited to Become an Opry Member
Watch Our 'Day in the Life of Keith Urban' Video

#fivemin-widget-blogsmith-image-951338{display:none;} .cke_show_borders #fivemin-widget-blogsmith-image-951338, #postcontentcontainer #fivemin-widget-blogsmith-image-951338{width:570px;height:411px;display:block;}