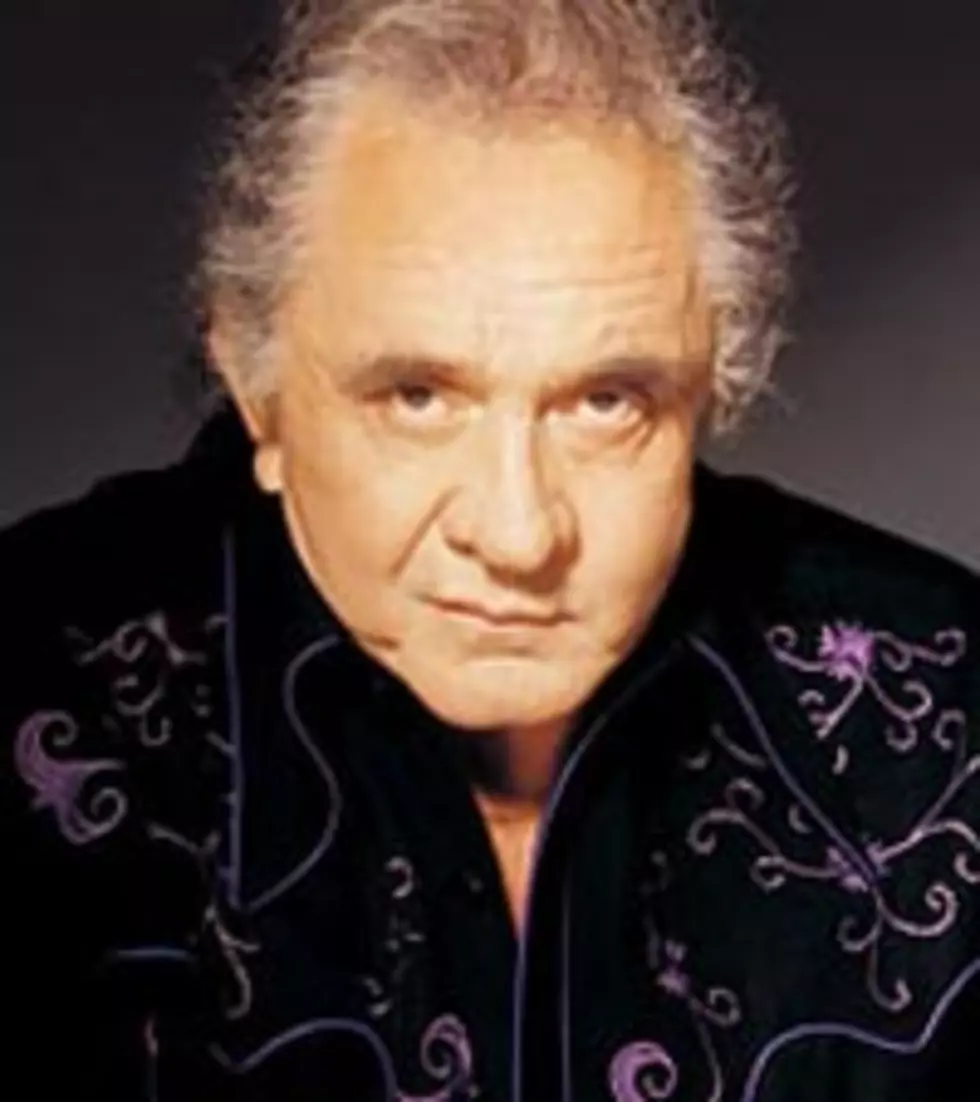 Johnny Cash Auction Nets More Than $700,000
Rhino
Johnny Cash will forever be known as the Man in Black, but a recent auction of the iconic entertainer's memorabilia has organizers seeing a lot more green than initially expected. The sale, held by Julien's Auctions on December 5, took in more than $700,000.
That amount was due, in part, to a bidding war over a blue denim jumpsuit Johnny wore in a Jim Marshall photograph taken during a rehearsal at San Quentin prison, when he famously gave the camera lens a middle-finger salute. The jumpsuit sold for $50,000 -- ten times more than the original estimate of $5,000.
Another big-ticket item was a signed Martin guitar which also fetched $50,000. Johnny had used the instrument to write the first four lines of one of his earliest and most enduring pop-country hits, 'I Walk the Line.' Additional auction items included personal notes from well-known friends, including Kris Kristofferson, Bruce Springsteen and Kirk Douglas, handwritten lyrics, one of his signature capes, and personal effects belong to his wife, the late June Carter Cash. Johnny and June both passed away in 2003, just four months apart.
"Johnny Cash is a true legend and his collectibility spans all continents," Darren Julien, President and CEO of Julien's Auctions said (quote via Billboard.com). "Bidders from around the world participated in the auction, proving that the Man in Black's legacy will forever live on."
In 2004, Sotheby's Auction House hosted a sale of Johnny Cash items which raised more than $4 million. Partial proceeds from the Julien's sale will benefit MusiCares, which provides financial assistance for struggling musicians.
The late singer-songwriter-author-actor also continues to influence today's crop of musicians, thanks in part to his daughter, Rosanne Cash, whose latest album, the Grammy-nominated 'The List,' is comprised of songs hand-selected by her father for her to learn when she was just 18. The album, which features guest vocalists Bruce Springsteen, Elvis Costello and Rufus Wainwright, includes 12 of the 100 songs her father put on the list, including Bob Dylan's 'Girl From the North Country' and Hank Snow's 'I'm Moving On.'
"I loved the record so much and I love these songs so much and I love the idea of what you pass on to your children." Rosanne tells The Boot. "What I pass on and what was passed on to me is both tangible and intangible, and it's a great thing to think about. Beside this list, my father passed on a sense of personal integrity and a love of language and a good work ethic."