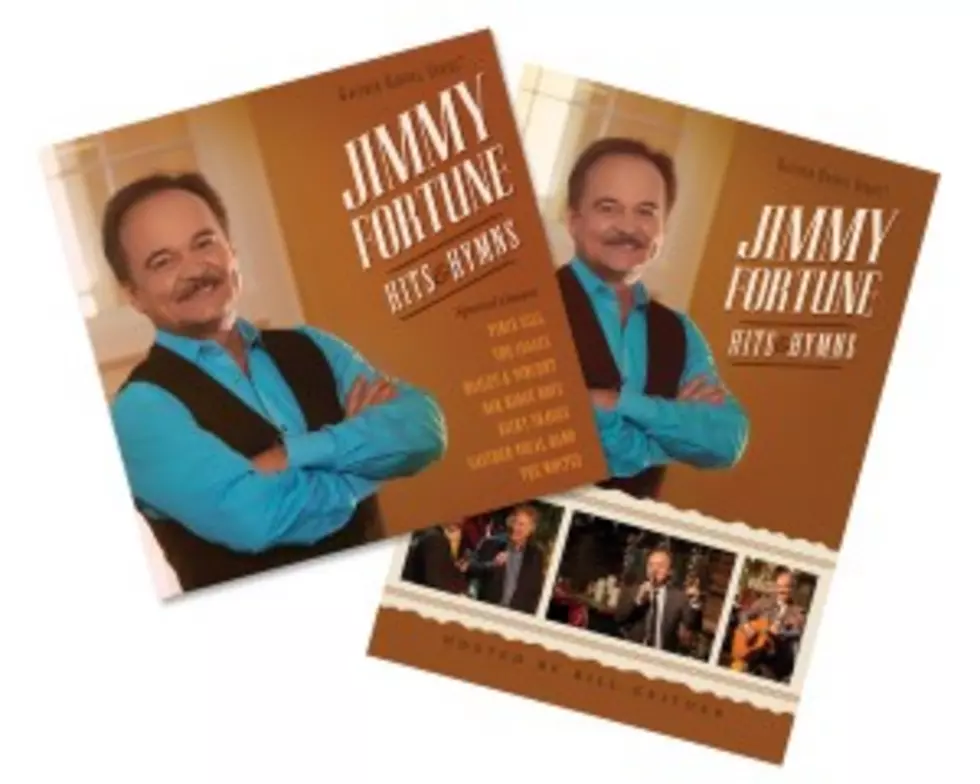 Country Music Legend Jimmy Fortune to Release New CD and DVD
Capitol Christian Distribution
Country Music Hall of Fame member Jimmy Fortune has announced that he is releasing a new CD and DVD package, Hits & Hymns, on Oct. 23.
The 15-track album boasts an all-star list of guest collaborators, including the Oak Ridge Boys, the Gaither Vocal Band, Ricky Skaggs, Ben and Sonya Isaacs, Vince Gill and Dailey & Vincent, among others. Ben Isaacs produced the entire project, and the accompanying DVD was recorded in Indiana and hosted by gospel legend Bill Gaither.
"I'm very proud of this new project. I feel like it's the pinnacle of a lot of hard work and determination," Fortune says in a statement. "Because of everyone involved and the love for the songs, it is magical from beginning to end. Ben Isaacs shows how truly talented he is as a producer. It's a God thing, and I'm thankful for it."
Hits & Hymns will also air as part of a TV special that is slated for PBS, DirecTV, AT&T U-verse, GaitherTV, TBN, RFD, FamilyNet, CTN, GMC, GMTN, Guardian, Liberty, TCT and TLN in the U.S., plus Vision TV, CTS, the Miracle Channel and Hope TV in Canada. Details have not yet been announced.
Fortune rose to fame as a member of the Statler Brothers. He remained part of the group for 21 years, then continued with a solo career after the group retired in 2002. He also wrote several of their biggest hits, including "Elizabeth," "Too Much on My Heart," "My Only Love" and "More Than a Name on a Wall."
See a track list for Hits & Hymns below. The project will be  available at several retailers, including Cracker Barrel Country Store, as well as online retailers, including iTunes, Amazon and Gaither.com. More information can be found on Fortune's website.
Jimmy Fortune, Hits & Hymns Track Listing:
1. "Elizabeth" (with Ben Isaacs and Sonya Isaacs)
2. "Life's Railway to Heaven" (with the Oak Ridge Boys)
3. "Danny Boy" (with Ben Isaacs, Gene McDonald and Reggie Smith)
4. "More Than a Name on a Wall" (with Becky Isaacs, Sonya Isaacs and Ben Isaacs)
5. "Far Side Banks of Jordan" (with Ben Isaacs and Charlotte Ritchie)
6. "Precious Memories" (with Ben Isaacs and Charlotte Ritchie)
7. "Just a Closer Walk With Thee" (with the Gaither Vocal Band)
8. "Rock of Ages" (with Mike Rogers and Sydni Perry)
9. "I Believe" (with the Whites)
10. "How Great Thou Art" (with Mike Rogers and Sydni Perry)
11. "In the Sweet By and By" (with Dailey & Vincent)
12. "Too Much on My Heart" (with Ricky Skaggs and Sharon White Skaggs)
13. "Amazing Grace" (with Vince Gill and Sonya Isaacs)
14. "If I Was God" (with Mike Rogers and Sydni Perry)
15. "Victory in Jesus" (with Ben Isaacs, Gene McDonald and Reggie Smith)