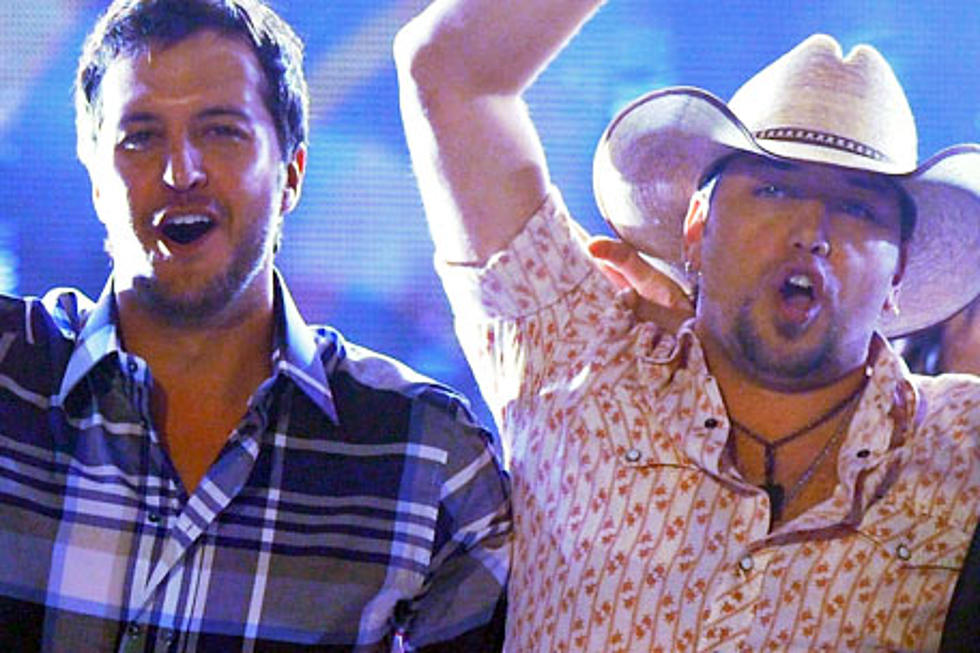 Jason Aldean and Luke Bryan Come to Defense of Drunk Fan
Getty Images
Luke Bryan and Jason Aldean are currently on the road together as part of Jason's My Kinda Party tour, but for one fan at a recent show (on February 4), the party might have gone on just a little too long.
The two country stars were performing Tracy Lawrence's hit, 'Time Marches On' together while at a concert in Champaign, Ill., when an intoxicated fan put himself in a precarious situation. In an attempt to get closer to the stage, the man became dangerously close to a ledge that dropped several feet to the stage, and seemed oblivious to his predicament. Security intervened to keep the fan safe, which prompted both singers to offer encouraging words.
"Hold on, don't throw that man out. Hold on, don't hurt him," Luke urged in the middle of the song. "He's in the spirit!"
"Go grab a beer and get back in your seat, man," Luke continued, before Jason chimed in, adding, "You'll have a lot more fun, I promise!"
In a last attempt to keep the wayward fan from leaving the show, Luke warned, "Chill out. You're about to get bounced!"
"We're trying to help you out, man," Jason said.
Security picked up the drunk man and carried him away from the arena, as the guys and the audience began singing, "Nah nah nah nah nah nah nah nah, hey hey hey, goodbye." While it may have seemed like a light-hearted moment, the security guard, Levi Miller, says he takes those situations very seriously.
"I was actually putting myself in a hairy situation, because I could [have fallen] or he could have pushed me," he shares with Bloomington, Ill. radio station B104. "Honestly, I was more concerned with him and his well-being to get him back in his seat."
Still, in spite of Jason and Luke's attempts to keep the drunk man in the show, Levi insists he harbors no ill-will toward the two country stars. "These are two great, down to earth guys. You can tell they were having a good time with it," he maintains. "These two great guys were like, 'Let's just get on with the show, get back in your seat.'"
See a video of the entire incident here.
Jason says that even with the occasional fan disruptions, his current tour is a dream come true. "I've been waiting for this kind of thing to happen since I was 14," the 'Tattoos on This Town' singer tells The Boot. "This is the tour I've been waiting to have and hoping it would be successful. You can't help but get a little jacked up when you go out there and see 22,000 people screaming and hollering for you."
Jason's tour, which also includes Lauren Alaina as an opening act, heads to Wisconsin, Minnesota, Iowa and Tennessee later this month. See his complete schedule here.
Watch Luke Bryan Sing Live in Our Studio
%VIRTUAL-globalVideoEmbed-{"videoIds":"517722889","width":"476","height":"357"}%
Watch Jason Aldean in Grammy Celebration Video


#fivemin-widget-blogsmith-image-375283{display:none;} .cke_show_borders #fivemin-widget-blogsmith-image-375283, #postcontentcontainer #fivemin-widget-blogsmith-image-375283{width:570px;height:411px;display:block;}