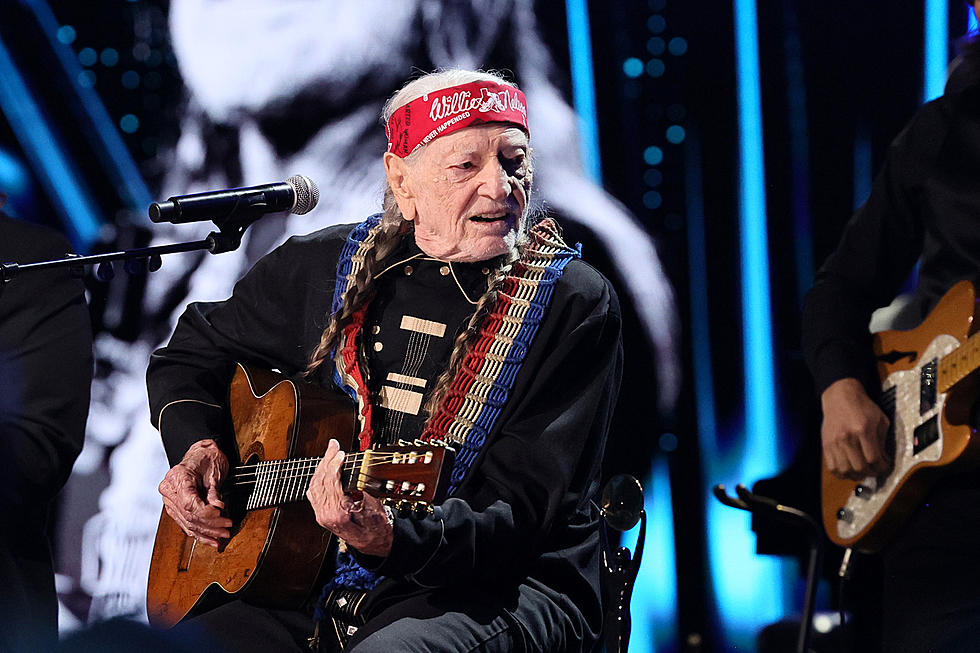 Willie Nelson Delivers All-Star Jam During His Rock & Roll Hall of Fame Induction [Watch]
Theo Wargo, Getty Images
Willie Nelson took the stage during his Rock & Roll Hall of Fame induction on Friday night (Nov. 3), performing several of his greatest hits alongside an all-star lineup to mark the occasion.
The 90-year-old country music icon performed alongside fellow 2023 inductee Sheryl Crow, Chris Stapleton and Dave Matthews during the induction ceremony, which took place in New York City on Friday night.
He traded verses with Stapleton on "Whiskey River," harmonized with Crow on "Crazy" and wrapped the evening with an all-star rendition of "On the Road Again."
"Thank all y'all for this great honor," Nelson said in his acceptance speech (quote via American Songwriter). "I appreciate the acknowledgment of the Rock & Roll Hall of Fame, included with so many legends, and some I'm lucky enough to call a friend. It's been a long ride from my first DJ job to being here with y'all."
"And as a DJ, I was playing those first songs by Elvis," Nelson added. "I remember writers calling that rockabilly rather than rock and roll, and I never did pay much attention to categories, and I'm not sure the fans did either."
Nelson went on to acknowledge some of his other friends who've been inducted over the years, including Jerry Lee Lewis and Ray Charles. He took the opportunity to spotlight some of his friends and colleagues who have not yet been inducted, too.
"Folks also like the music I made with my Highwaymen, my brothers," Nelson observed. "That was fun with [Johnny] Cash and Waylon and Kris Kristofferson. And now that Johnny [Cash} and I've been inducted I want to give a plug for Waylon … and Kris, who sang so many hits, to be inducted too."
Nelson also thanked his band, his professional team and his wife, Annie, for "keeping me out here doing what I was put here to do. Thank you. Thanks again for including me tonight. And thanks for appreciating my music."
2023 Rock and Roll Hall of Fame Induction Ceremony: Photos
This year's event took place in Brooklyn, N.Y.
Gallery Credit: Allison Rapp