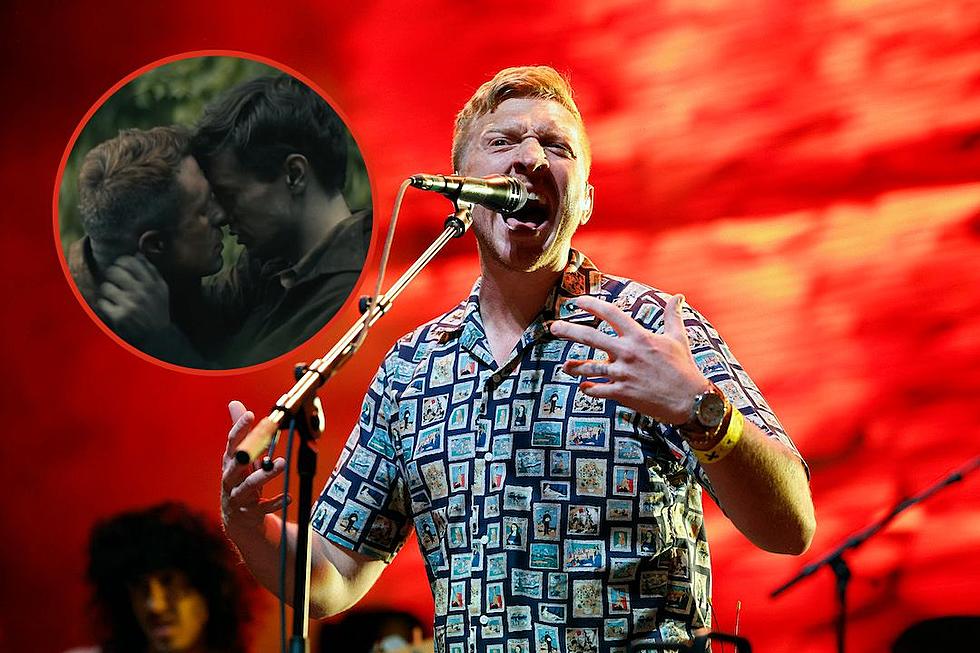 Tyler Childers' 'In Your Love' Video Tells a Gripping Story of Gay, Rural Love [Watch]
Frazer Harrison, Getty Images/YouTube
Tyler Childers' immersive, emotional music video for "In Your Love" — which follows the love story between two male coal miners in 1950s-era rural Appalachia — is making an impact as a profound statement of allyship at a time when country music's bitter sociopolitical divides feel as cavernous as ever.
The video stars openly gay Hollywood stars Colton Haynes and James Scully as two miners who fall in love, ultimately moving away from working for the coal mine companies to working for themselves as sustenance farmers. Themes of Appalachian life predominate in the video. Though the two men live with the fear of homophobic violence from members of their community, their joy is also represented in scenes where the couple go for romantic picnics, host a dinner party and spend time working their land.
Eventually, tragedy befalls the couple when one man falls ill with black lung disease, aka coal miner's pneumoconiosis, a common and often fatal affliction among coal miners. The man dies on his front porch, cradled by his partner, who lives out the rest of his life as a widower who finds comfort in friendships with animals such as his donkey.
Childers collaborated with his fellow Kentuckian, author Silas House, to create the "In Your Love" music video, which arrived on Thursday (July 27). House — who is the current Poet Laureate of Kentucky — wrote and provided creative direction for the treatment, along with his husband, Jason Kyle Howard. Bryan Schlam directed the video.
When the video first came out, House wrote on Instagram that it was, "One of the greatest honors of my life" to help create it, adding that "to our knowledge, it is the first-ever country music video with a gay storyline to be released by a major label."
The magnitude of telling a story of gay, Appalachian love was personal to Childers, too. In an interview with NPR about the song, he explained that "my cousin growing up, who's like my big brother, is gay."
"And he graduated from Northern Kentucky, went to Chicago and never came back," the singer continues. "He taught me so much about singing; he was my first tough critic. And just thinking about him not having a music video on CMT that spoke to him."
Since "In Your Love"'s release date, many listeners have contrasted it to Jason Aldean's "Try That in a Small Town" — the country star's polarizing and aggressive new single, denounced by critics as racist dog-whistling and a glorification of gun-based vigilante justice. Both music videos came out within a few weeks of each other; both share strong sociopolitical commentary based around rural and small town life.
"Tyler Childers is a country singer who grew up in Appalachia & his father worked in the coal mines. Now he uses his platform to amplify queer stories," one Twitter user writes. "Jason Aldean is a country singer who grew up in a metropolis & went to private school. Now he uses his platform to be racist."
"Jason said 'Try that in a small town' and Tyler said 'I f--king will,'" another adds.
But others disapprove of Childers' message, or wish he'd keep politics out of his music.
"Another great one lost to the Rainbow coalition," one Twitter user laments. "Why can't we have great artists that just don't make things provocative and political, and just write and sing good songs??"
Yet another group of listeners felt both Aldean and Childers have a right to express their opinions in their songs and music videos without backlash.
"I didn't get offended about Jason Aldean using his platform/talent to stand for something he believes in. I also am not offended at Tyler Childers using his platform/talent to stand for something he believes in. The lack of consistency y'all possess never ceases to amaze me," one listener writes.
The two videos cast two starkly different portrayals of rural life, and fans continue to pick sides, find common ground or submit their own ideas of what it means to live in a small town.
Meanwhile, streaming and sales numbers for both Aldean's and Childers' songs reflect two starkly opposed concepts, each making a powerful impact.
As of Friday (July 28), Childers' "In Your Love" — then 24 hours old — had already jumped to the No. 15 spot on iTunes and was inside the Top 100 on Spotify and Apple Music, according to Hits Daily Double. Its video had amassed 1.2 million YouTube views in its first day online (by Monday (July 31), that number had climbed to 2.6 million).
As of Sunday (July 30), the video of "In Your Love" was No. 1 on Apple Music's All-Genre Videos chart — Aldean's "Try That in a Small Town Video" sat at No. 4. YouTube's "music" trending page listed the "In Your Love" video in the No. 3 spot on Monday (July 31); "Try That in a Small Town" sat at No. 5. The "Try That in a Small Town" video has racked up 23 million views since it dropped on July 14, making it the most-viewed video on YouTube's Top 5 "music" trending videos — though at two weeks old, it's also had more time to be viewed than any of the other videos in the Top 5.
Childers — who supported the Black Lives Matter movement and spoke to Appalachia's complicated history with racism in his Long Violent History album, and grappled with religion and religious freedom in his next project, Can I Take My Hounds to Heaven? — has always spoken to his audience as someone who grew up rurally, living off the land and immersed in a small-town Appalachian community.
He hasn't commented on Aldean's song and music video. However, speaking to NPR, the singer shares some complicated feelings about the expression of small-town life in mainstream country music lyrics and the Nashville songwriting industry.
"Nashville is an extremely necessary town; everybody's got to meet somewhere, and this is a heck of a meeting place. But there's this hard disconnect," he opines. "The writers didn't necessarily grow up in a rural setting, but the nostalgia for that way of life resonates with them in some way. So they're working within these stereotypes of this nostalgia that they might not even have any reference point to understand."
Childers also says that he hopes his "In Your Love" video will help make "real conversations possible," and perhaps lead some people to cut through the stereotypes they might have in their mind about gay love.
"This is a story of two people sharing their love and living a life together and experiencing loss. Once you take away the flash card phrases and, like, the knee-jerk reactions, how does that make you feel?" he says. "How are you going to feel when you get to those points in your life? And what are you going to need when you're going through loss? Are you going to need people to be hateful with you, when your partner in this world dies and you're alone?"
The 50 Best Country Songs About Small Towns, Ranked
Love 'em or leave 'em -- small towns are the settings for some of the finest songs in country music history. Here are our 50 top songs about small towns throughout country music history.