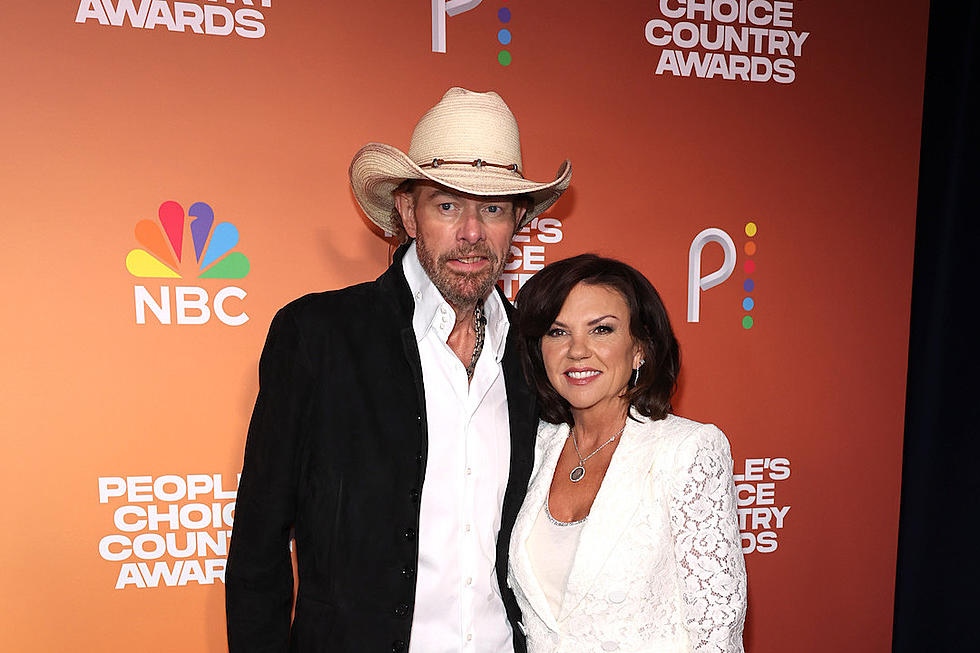 Toby Keith Gives Cancer Update on the People's Choice Country Awards Carpet [Pictures]
Terry Wyatt, Getty Images
Toby Keith walked the red carpet with his wife Tricia Lucas at the inaugural People's Choice Country Awards on Thursday night (Sept. 28).
The ceremony took place at Nashville's Grand Ole Opry.
As he walked the carpet, Keith stopped to talk to celebrity correspondent Chuck Wicks on the pre-show broadcast. The singer is slated to perform during the show, and he revealed that he'll perform "Don't Let the Old Man In," a song he released in 2019.
This event marks Keith's first televised performance since he announced his cancer diagnosis last year. He has been battling stomach cancer since December 2021, and he says his illness played into his song choice.
"It's mainly because I've been going through my cancer fight for the last couple years, and it's real inspiring for a lot of people ... I thought it was fitting," he says.
In recent months, Keith has been feeling well enough to give a few public performances, and he's not taking the good days for granted.
"It's a roller coaster," he continues. "Lean on your faith and lean into it and you just do what's next. Every day there's a next, so you just do it."
In addition to performing, Keith is set to receive the Country Icon Award at Thursday night's show. The honor will salute his decades of work as a star musician, philanthropist and entrepreneur.
Since the onset of his cancer battle, Keith has looked thinner than usual at public events, and his walk down the People's Choice Country Awards was no different. Still, the singer and his wife Tricia kept things cool and casual.
Keith sported a white cowboy hat and black suit with a breezy white button-down shirt, plus sunglasses for an extra touch of suave. Meanwhile, Tricia was sleek in an elegant white pants suit, which featured floral touches in the sleeves and pants.
The first-ever People's Choice Country Awards will take place at Nashville's Grand Ole Opry on Thursday night. The show will air on NBC and Peacock, and Little Big Town are hosting the event.
2023 People's Choice Country Awards Red Carpet Pictures
The best dressed from the 2023
People's Choice Country Awards
include several bold fashion choices and plenty of mid-summer crop tops. See pictures from the red carpet at the Grand Ole Opry in Nashville, taken before Thursday night's (Sept. 28) live broadcast.