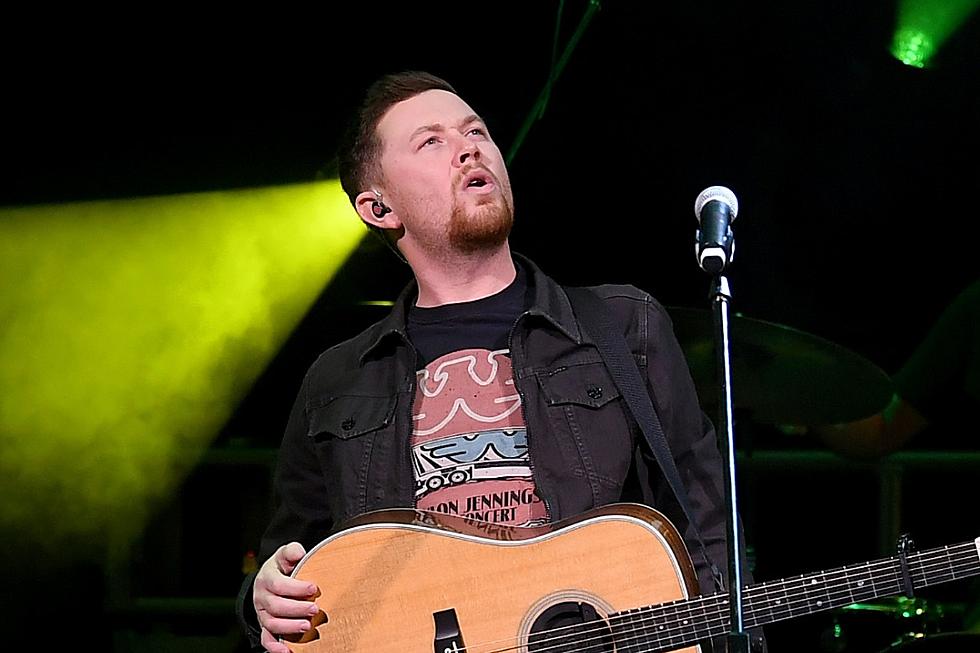 Scotty McCreery's Country Roots Shine on New Single, 'Cab in a Solo' [Listen]
Bryan Steffy, Getty Images
Scotty McCreery returns to his country roots on his brand new single, "Cab in a Solo."
McCreery penned the tune with hit songwriters Frank Rogers and Brent Anderson, and the classic country heartbreak song finds McCreery reliving the moment he found out his ex had moved on.
"I've sent a dozen texts and I ain't heard jack / I guess she's busy playin' hard to get back / So I bought roses and her favorite wine / Thinkin' we'd be makin' up in no time / But I'm parked out here on her street / Looks like the joke's on me," McCreery sings in the first verse, before nursing his broken heart with the wasted wine.
"Sittin' here, I can't believe what I just saw / Couple shadows kissin' on the bedroom wall / It's lookin' like my plan didn't work out at all / Heartbreak turned into broke up / So now I'm findin' out how a heartbreak tastes / With a Silver Oak, 1998 / Drinkin' cab in a Solo / Solo in the cab of my truck," he laments in his rich baritone over wailing pedal steel accents.
McCreery really shines on this neo-traditional country tune, which boasts a prominently more rootsy production than his recent singles and projects. The pairing of McCreery's signature vocals with the nostalgically twangy instrumentation makes it a track George Strait, Merle Haggard, George Jones, Conway Twitty and more would be proud of.
Of the song's genesis, McCreery recounts, "[I] took some buddies up to the mountains of North Carolina to do nothing but write some country music. I'm proud to say one of those songs turned out to be one of my favorites I've ever written."
"Cab in a Solo" is the first song McCreery's released since his latest album, Same Truck, which dropped in 2021 and received the deluxe treatment in 2022. The record spawned three singles: "You Time," "Damn Strait" and "It Matters to Her."
Country Music's Best Drinking Songs
Check out country music's best drinking songs. Over 100 country songs about beer, whiskey, wine and beer.
Top 10 Scotty McCreery Songs