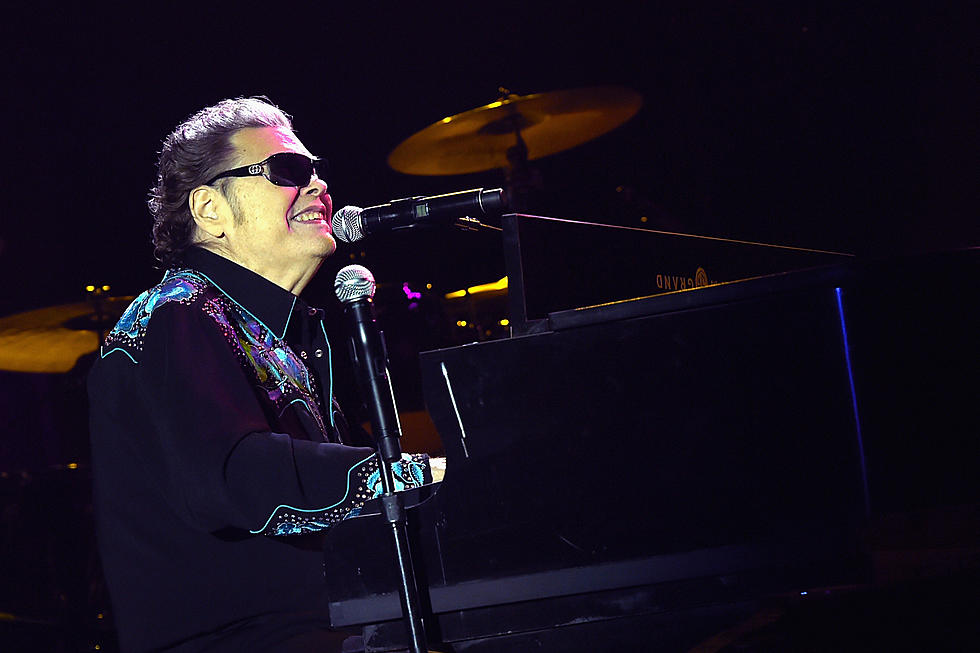 Ronnie Milsap Is 'Gonna Blow the Bridgestone Up' at Final Nashville Show [Interview]
Rick Diamond, Getty Images
Ronnie Milsap is preparing for his final Nashville concert, and the iconic country singer says he's particularly looking forward to one very special performance during an all-star celebration of his career.
The 80-year-old country legend will take the stage at Nashville's Bridgestone Arena in October as part of an all-star lineup that also includes Kelly Clarkson, Little Big Town, Parker McCollum, Justin Moore, Scotty McCreery, Tracy Lawrence, Randy Houser, Sara Evans, Lorrie Morgan, Neal McCoy, Breland, Phil Vassar, Terri Clark, the Band of Heathens and Charlie McCoy.
Trace Adkins, Ricky Skaggs, Steven Curtis Chapman, Ray Stevens, Pam Tillis, the Gatlin Brothers, Hunter Hayes, Mark Wills, the McCrary Sisters, Los Lonely Boys and Elizabeth Cook are also set to take part in the show, which will celebrate the entirety of Milsap's stellar six-decade career with tribute performances from those stars.
Milsap's string of 36 No. 1 hits includes "Pure Love," "Daydreams About Night Things," "(I'm A) Stand by My Woman Man," "It Was Almost Like a Song," "Only One Love in My Life," "I Wouldn't Have Missed It for the World," "She Keeps the Home Fires Burning" and more.
"This is a big, big thing," Milsap tells Taste of Country in an interview ahead of the show. "We're gonna blow the Bridgestone up."
The evening will consist primarily of tributes, Milsap says, but he'll take the stage toward the end to close the show. After performing his own set, he's going to end the night with a cover of the Rolling Stones' "Honky Tonk Women."
There's one singer whose performance he's particularly looking forward to.
"I especially want to hear Kelly Clarkson," Milsap states. "She's gonna sing 'Almost Like a Song,' and I look forward to hearing that."
Though the Tribute to Ronnie Milsap gig is billed as his final Nashville show, Milsap is not retiring.
"I'll be doing more work, I'm sure, in the upcoming years," he tells us. In fact, Milsap has been recording for a new album that he plans to release in 2024. The new project is a follow-up to 2004's Just for a Thrill, which features Milsap's renditions of pop and jazz standards; the album will feature more of his personal takes on the Great American Songbook.
Milsap says he doesn't even have an endgame in mind for retirement.
"I'm sure I will," he says, adding with a laugh, "I'm not gonna retire ... I'm just gonna quit!"
"We're gonna keep doing it 'til I can't do it anymore," he concludes.
The Tribute to Ronnie Milsap concert is set to take place at the Bridgestone Arena in downtown Nashville on Oct. 3. A limited number of tickets are still available.
Most Popular Country Album From the Year You Were Born
Find out which country singer dominated on this list of the most popular albums from the year you were born or graduated high school.
This list is based on sales date from the Soundscan era (1991 to 2022) and total weeks spent atop Billboard's Hot Country Albums chart (1964-1990).
In 1999,
Shania Twain
's
Come on Over
album became the first to top the year-end chart in back-to-back years, but that feat has been done four times since, most recently in 2022. Which country album defined your childhood? Scroll down to find out.
Gallery Credit: Billy Dukes