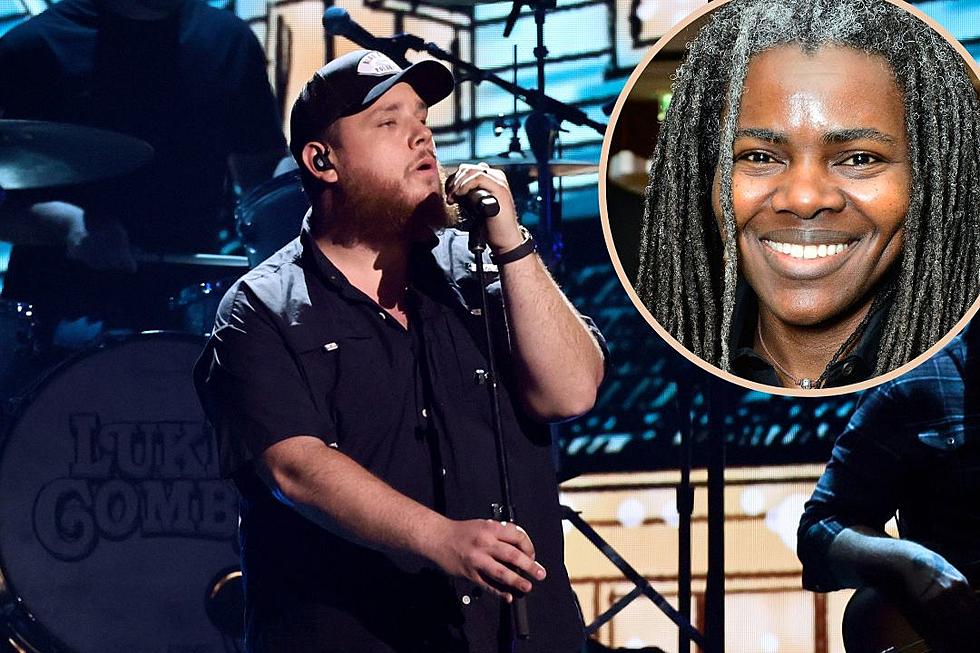 Luke Combs 'Would Be More Than Excited' to Perform 'Fast Car' With Tracy Chapman
Jerod Harris / Theo Wargo, Getty Images
Luke Combs' team says there are currently no plans for the country superstar to share a stage with Tracy Chapman, the original artist behind "Fast Car."
But if the opportunity ever did arise, Combs would undoubtedly jump at the chance to duet with Chapman on the song.
"We would be more than excited if the opportunity arose for Tracy and Luke to perform the song together," Combs' manager, Chris Kappy, tells Billboard as part of a new interview in which Combs shared his fandom for the original "Fast Car" performer.
Elsewhere in the interview, Combs expressed his gratitude to Chapman for sharing her support for his country hit cover of her song, and said he hopes that his version will help more fans fall in love with "Fast Car" the way he did when he first heard it with his dad as a kid.
"I have played it in my live show now for six-plus years and everyone — I mean everyone — across these stadiums relates to the song and sings along," he explains. "That's the gift of a supernatural songwriter. The success of my cover is unreal and I think it's so cool that Tracy is getting recognized and has reached new milestones."
"I love that she is out there feeling all the love and that she gave me a shout-out! Thank you, Tracy!" Combs continues.
Combs' "Fast Car" is currently at No. 1 on the Billboard Country Airplay chart for its third week. If it extends that run one more week, it will set a record as the pop-turned-country cover that has spent the most atop that chart. The song has already made history in another way, too: Chapman is now the first Black woman to top the Country Airplay chart as a solo writer.
Chapman offered a statement on Combs' "Fast Car" version shortly after the song originally went No. 1, saying, " "I never expected to find myself on the country charts, but I'm honored to be there. I'm happy for Luke and his success and grateful that new fans have found and embraced 'Fast Car.'"
Combs' cover appears on the track list of his Gettin' Old album, as well as in the set list of his 2023 World Tour, a trek that is scheduled to extend into October.
Top 20 Luke Combs Songs That Prove 'Em All Wrong
Check out Luke Combs' best songs, and the songs that changed his life when so many thought he wasn't good enough to be a country star.