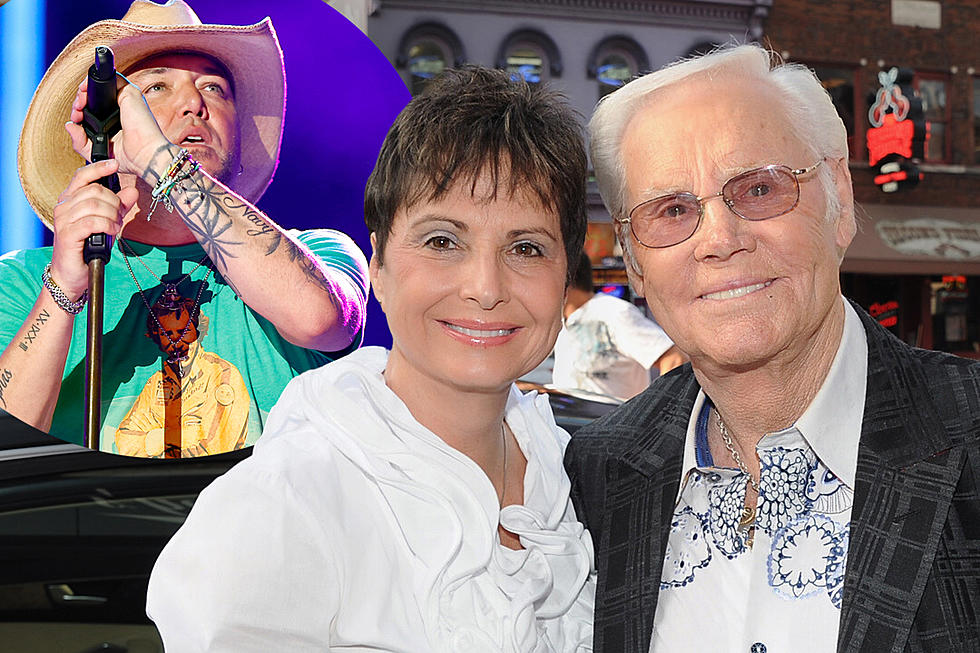 George Jones' Widow on Jason Aldean Controversy: 'Stop This Woke Crap!'
Rick Diamond, Getty Images
George Jones' widow, Nancy Jones, was so upset by conversation around Jason Aldean and his song "Try That in a Small Town" that she tapped out an angry paragraph and posted it to the late icon's 1.5 million followers on Facebook.
"Do we live in America?" she begins in a post made on July 21.
As of Thursday (July 27), more than 200 people have shared the post and nearly 500 have commented.
"I have been watching all this craziness over Jason Aldean and his song/video," Nancy Jones writes. "What is this drama all about?"
"Try That in a Small Town" was released in May, but a music video released on July 14 brought a bright spotlight to the song's provocative message.
Some feel that lyrics like, "Try that in a small town / See how far you make it down the road," are a call for violence. Aldean has also been accused of promoting gun violence.
Furthermore, critics have called his broad comparisons of urban and rural life racist dog whistles.
Aldean labeled these criticisms as "meritless" and "dangerous."
"George had songs that crossed barriers as well as Loretta (Lynn)," Nancy Jones writes, mentioning "The Pill" (about birth control) as an example.
"This woke culture has gone too far. Jason's song has nothing to do with race! Jason is a good guy! Let's remember George loved small towns. George did many shows in small towns," she adds, "Those are country people! They take care of each other. They care for each other."
Related: Jason Aldean Removes BLM Images From Music Video
The next part of her message is specifically about the music video and the history of the Maury Country Courthouse, where much of the footage of Aldean performing was filmed. In 1927, and Black man named Henry Choate was lynched at that courthouse. The "Try That in a Small Town" video included news clips of protests, including Black Live Matters protests (until they were removed from the edit days later).
"Everywhere in America we can probably look back and something bad has happened in that city," she writes. "What? Are we supposed to stop living our lives until we do a history check on every place we shoot a photo or video? Stop this WOKE crap! George would never have accepted this craziness and I won't either!"
Travis Tritt, Cody Johnson, Lee Greenwood and Brantley Gilbert are a few more artists who have spoken up to support Aldean.
For the most part, George Jones' Facebook page has focused on his music and career, with few exceptions, if any.
50 Classic Country Artists Today's Fans Should Know
Today's country music stars owe a debt of gratitude to the legends who formed and cultivated the genre, starting in the early 20th century. These 50 classic country artists remain relevant today. Some developed a style that's emulated on today's country radio. Others set a bar for vocal talent or songwriting skill.
This list of 50 influential classic country artists features country music singers who started their careers before 1990. It's ranked by each artist's current influence on the country music format today, not individual, lifelong impact. Tell us where we got it right or wrong on
Twitter
.