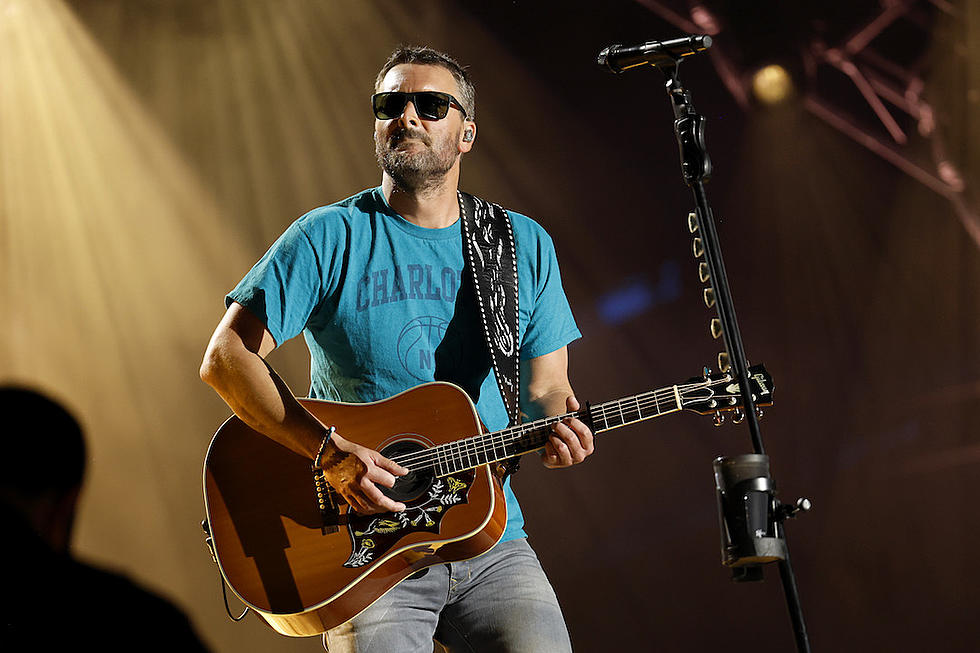 Eric Church Was 'Shocked' Some Fans Were Disappointed in His CMA Fest Set
Jason Kempin, Getty Images
Die-hard Eric Church fans most likely know not to expect him to stay faithful to the recorded versions of his biggest hits during his live performances -- or even necessarily play those big hits at all.
But many in the 2023 CMA Fest crowd were disappointed and confused when, during his headlining slot at Nissan Stadium during Night 3 of the festival, Church didn't play hits like "Springsteen."
Rather, he mixed up "Drink in My Hand" and "Bad Mother Trucker" with new arrangements and threw in a deep cut cover of Big Feat's "Sailin' Shoes" during his seven-song set, ending the night without giving the fans the encore they were hoping for — and, arguably, one that he'd hinted at. While some fans appreciated the unexpected lineup, others left the stadium wanting more, and expressed their disappointment on social media.
In a new interview with Rolling Stone, Church says the backlash that ensued from his CMA Fest set came as a surprise. "I was shocked because I played the show that I went out there to play," he admits, explaining that he intended to use his time slot to preview the 2023 Outsiders Revival Tour dates that he was planning to kick off a couple of weeks after the festival.
"We had a time slot and I went out there to play that slot and try to show a little bit, a peek, as to what I was working on for this tour," he explained. "I'm not going to [reveal] everything, but I'm going to give a little peek at what this could be.
"... All the songs are different. All the songs were changed. It was punchy," he goes on to say. "I didn't play 'Springsteen' because I have a new version of 'Springsteen.' You've got to come to a show and see it."
For Church, the Outsiders Revival Tour is a chance to frontload his more recent work, including the 2021 triple project, Heart & Soul, which arrived at a time when the music world was still heavily impacted by the COVID-19 pandemic. Pandemic-related shutdowns and the steep learning curve that came along with touring after them made it difficult to play the new music he wanted to when he reentered the tour world with his 2021 Gather Again Tour, Church explains.
"The last tour was maybe my least favorite, because of COVID weirdness every night. I never got to lean into the [2018] Desperate Man album and Heart & Soul," the singer reflects. "This time, we changed that. Most of [the set] is these two albums. If you're coming to hear 'Talladega' and 'Record Year,' you ain't gonna hear them. There are a ton of songs people are leaving going, 'He didn't play his hits.' And no, we didn't."
Fans who claimed Church's CMA Fest set was truncated may have expected him to play a marathon set late in the night, as he's often done on his own stages. But seven songs is consistent with how much time a headlining CMA Fest act would typically get to play, and consistent with the set length of the headliners on the other three nights of the 2023 festival. According to tweets from some fans who were there, Church suggested that he planned to play longer than a normal CMA Fest headliner -- and that when he didn't, some in the crowd were disappointed, and even booed their disappointment that the show was over.
"There were a couple of production things that I was not responsible for — when the lights went up [at the end of the set], that wasn't me," Church tells Rolling Stone. "But for what I went to do, it was fast and hard. And the shows are that way."
Church kicked off the Outsiders Revival Tour in late June. The trek will extend through September.
10 Can't Miss Items From Eric Church's Country Music Hall of Fame Exhibit
The new
Eric Church
exhibit at the Country Music Hall of Fame is a treasure chest for his longtime fans.