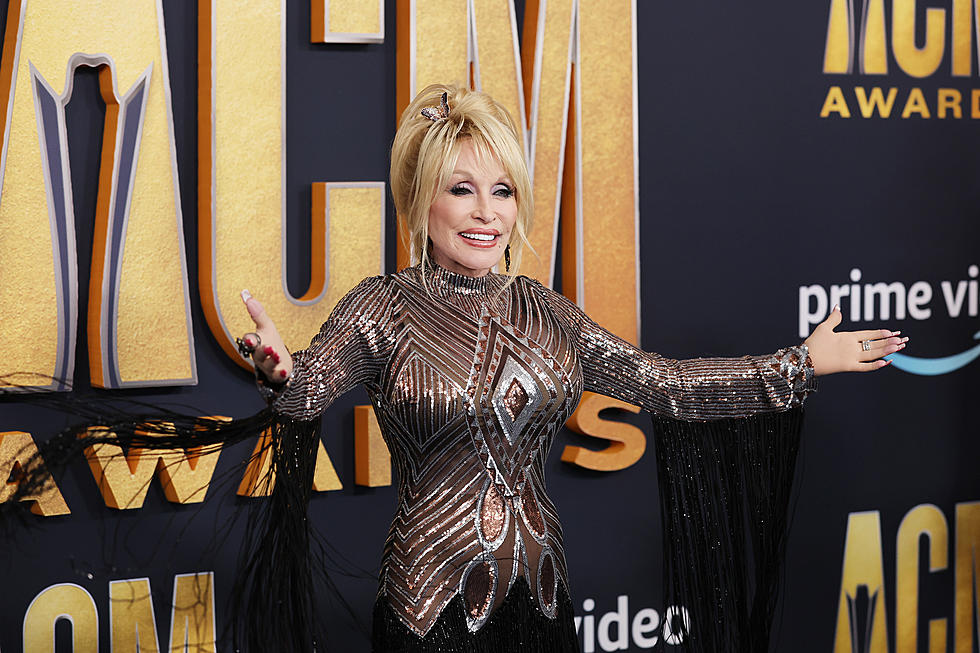 Dolly Parton Tells Her Fashion Critics to 'Go to Hell'
Mike Coppola, Getty Images
Any way you slice it, Dolly Parton is an icon. From her music catalog to her larger-than-life personality, the country veteran has always stuck to her guns and done things her own way. That hasn't always been easy, though.
Parton has been met with criticism over her looks in the past. In fact, she revealed to Kelleigh Bannen on a new four-part series titled "What Would Dolly Do?" that fellow artist Chet Atkins once told her to "tone down" her look because people wouldn't take her seriously.
When asked how she would react to someone saying something similar in 2023, she responded, "I'd say, 'Go to hell. I ain't doing it.'"
"My true belief with most things, you've got to really find out who you are, what makes you happy, what you're comfortable in, and if you feel like you look your best, according to your rules, then you are going to do your best," she continues. "I really believe that. And I think everybody has their own little things they love. To me, that is what fashion is."
During a visit with Taste of Country Nights host Evan Paul, the veteran singer says she has no regrets over her past looks.
"I get such a kick out of seeing some of those God-awful extravagant things, and some of those big hairdos, oh my Lord!" she says with a chuckle. "I don't think it would be a regret, but I think, 'Was I serious?!' Well, I must've been serious, because you don't do anything in the moment that you're not serious about."
Parton's iconic looks are chronicled in her new book, Behind the Seams, which features pages and pages of her styles over the years. At the heart of the collection is her love of beauty and fashion — which began at a young age.
"I think I wanted to be pretty. I'm not a natural beauty, but I can paint it up to where I can get away with it. But it was just always in me to wear lipstick," she explains to Bannen.
"Even when I was little bitty, I would get in trouble because I would find all the natural things living back there in the mountains," Parton fondly recounts. "I would pick poke berries that stain forever, and I'd paint my lips and make jewelry and all sorts of things with that. And I'd use flour for powder, burned matchsticks, the kitchen matches, Mama's big old wooden matches, to make my eyebrows and paint a beauty mark or whatever, eyeliner."
"[No one outfit] comes to mind that I would say is a total mistake, because I have this book to let you see how funny or Godawful or whatever it was," she reveals to Taste of Country. "It's just kinda chronicling my whole career in fashion. I'm sure you can pick out more mistakes than I would."
Behind the Seams is available now. Up next, Parton will release her first rock album, Rockstar, on Nov. 17. Two days prior, she will host first-listen event at theaters around the world.
See Pictures of Dolly Parton, Through the Years
Dolly Parton was a striking young woman in 1965 and little has changed except for her age. See pictures of the country music legend through the years in this gallery.
See Dolly Parton's Longtime Nashville Home
Dolly Parton and Carl Dean owned this 4,795 square-foot residence in Nashville from 1980 until 1996. While it's not the lavish mansion one might expect one of the biggest country stars of all time to have lived in, it's a beautiful home that's also a one-of-a-kind piece of country music history.
Built in 1941. the house features four bedrooms and three bathrooms, and the wooded, 2.4-acre property also features a detached storage building. Amenities in the stucco home also include an eat-in kitchen, carport, covered porch and patio, deck, a master bedroom with a walk-in closet, a great room large enough for plenty of games and entertainment and dual heating and cooling units.