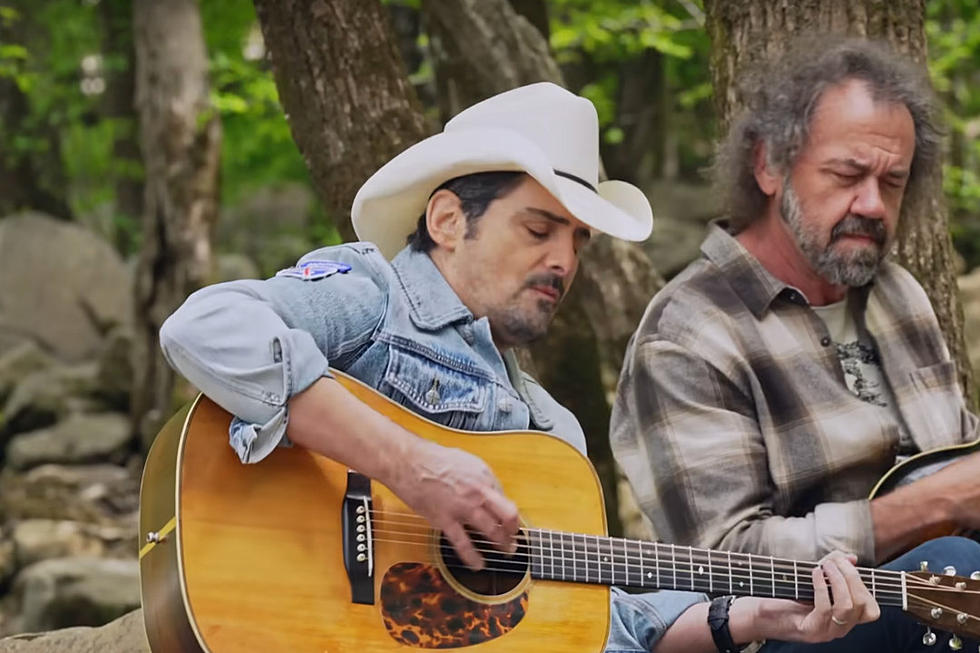 Brad Paisley Shows Two Starkly Different Sides of Appalachian Life in New Songs [Listen]
YouTube
Brad Paisley draws inspiration from his home state of West Virginia — as well as both the triumphs and the struggles of life in rural Appalachia — for his two new songs, "Son of the Mountains" and "The Medicine Will."
"Son of the Mountains" encapsulates the state's natural beauty and the hard-working, defiant independence of the people who live there, while "The Medicine Will" focuses on the ravages of the opioid epidemic, and how addiction is devastating generations of families in this region of the country.
Released at the same time as the songs themselves, the music videos further underscore the contrast: "Son of the Mountains" was shot in color, against a backdrop of lush greenery, while "The Medicine Will" was shot in black and white and features true stories from addicts and survivors of the opioid epidemic.
Though the two stories presented in these songs are very different, Paisley says they're both essential to life in West Virginia, and equally true — so much so that he couldn't imagine putting out one of these tracks before the other.
"The first song, 'Son of the Mountains,' is more sort of a chamber of commerce piece. I mean, you see that video and you think, 'I want to go whitewater rafting. I want to go up and down the river and meet these people ...'" Paisley explains to Variety. "It's not the whole story, but that story is true. It's beautiful. It's a great place to be from. It's a terrific way of life up there."
Still, he didn't want to lead with that track, because he didn't want to ignore the more painful parts of life in his home state.
"This opioid crisis has hit my state the hardest of anywhere. It's truly something to see how this idyllic place has been affected ... I mean, it's just been brutal," Paisley goes on to say. "[I didn't want to put out 'Son of the Mountains' first because] I didn't want anyone to think I was turning a blind eye to a harsh reality.
"And at the same time, I'm really glad they both are coming out, because I think if you only put out 'The Medicine' right now, that'd be the whole story," the singer continues. "But I definitely think the two of them together help set the picture for the rest of this album."
Together with previously released songs "Same Here" and "So Many Summers," Paisley's new releases make up a mini-project called Son of the Mountains: The First Four Tracks. Altogether, the project will preview his upcoming full album.
Paisley also celebrated the music of West Virginia by adding ace bluegrass players Dan Tyminski and Jerry Douglas to the songs. In addition to creating a rootsier layer for the new music, Tyminski and Douglas appear in the "Son of the Mountains" video.
Pictures: See Inside Brad Paisley's Historic California Home