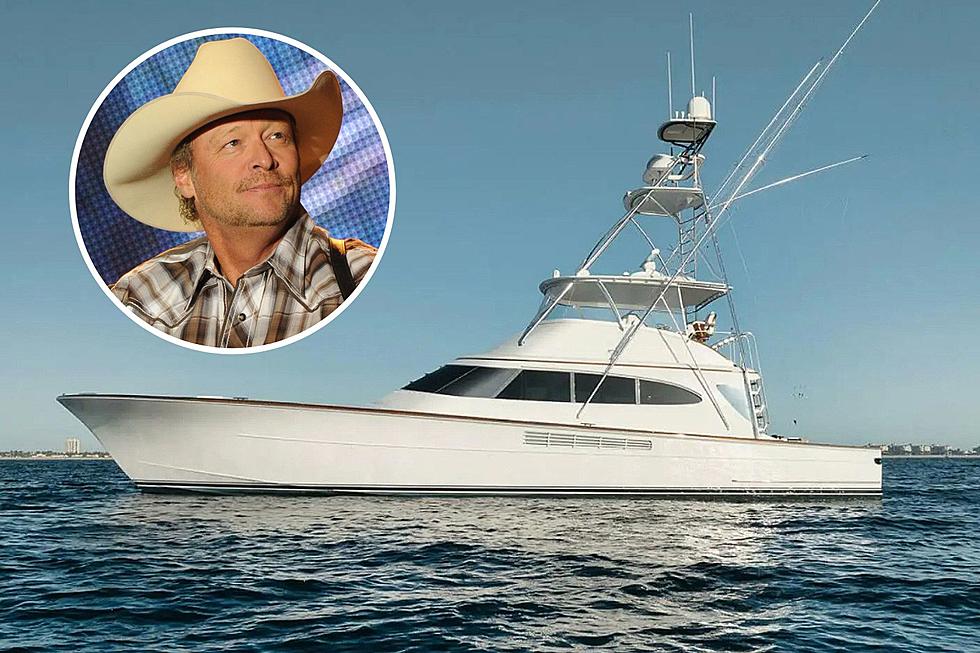 Alan Jackson Selling Spectacular $8.2 Million 'Hullbilly' Yacht — See Inside! [Pictures]
Northrup & Johnson/Rick Diamond, Getty Images
Alan Jackson has listed his stunning "Hullbilly" yacht for sale, and fans will recognize the luxury vessel from its appearances in some of the country legend's videos.
Jackson's 68-foot-nine-inch, 4-cabin yacht is a custom build from upper-tier builders Merritt, finished in 2022. The impressive custom seacraft has only seen 146 hours of use, according to the listing from Northrop & Johnson. With a 7-year waiting list for a new custom boat and a replacement value of $9 million, "this makes an incredible opportunity for someone in the custom boat market," the listing states.
Pictures of Jackson's yacht show a top-of-the-line vessel that centers around a main cabin that offers luxurious wrap-around seating, a kitchen and an eating area.
The main bedroom is at the rear of the boat, featuring a queen-size bed, closet space, a full bathroom with shower and a television that drops down from the ceiling on demand. There are several other bedrooms that feature bunk beds, and the forward cabin offers stunning views of the water in every direction, as well as captain's chairs and more.
The luxury yacht has a cruising speed of 33.8 knots and a top speed of 40 knots.
Scroll through the pictures below to see inside Alan Jackson's stunning yacht, and keep scrolling to see inside his incredible mansions in Nashville, Florida and elsewhere:
PICTURES: See Inside Alan Jackson's Spectacular $8.2 Million 'Hullbilly' Yacht
Alan Jackson is selling his lavish yacht for $8.2 million, and fans will recognize the nearly 69-foot, 4-cabin craft, dubbed "Hullbilly," from some of his videos.
Gallery Credit: Sterling Whitaker
PICTURES: See Inside Alan Jackson's Spectacular Hilltop Estate
After selling their spectacular Southern manor home in 2010, Alan Jackson and his wife moved to to what might be an even more impressive mansion, if that's even possible. Their 5-bedroom, 8-bathroom, 22,012-square-foot estate in the same Nashville suburb of Franklin features bedrooms that are all well-appointed suites, while the formal dining and living areas are finished off with splendid arched doorways, oversized windows and elaborate woodwork. The residence also includes a bar, a media room and multiple indoor and outdoor fireplaces. It sold for $19 million in March of 2021.
Gallery Credit: Sterling Whitaker
PICTURES: See Inside Alan Jackson's Massive Southern Manor Home
Alan Jackson's former 18,622-square-foot plantation-style estate sits on 135 acres in Franklin, Tenn., an affluent rural suburb outside of Nashville. The staggering residence includes formal dining and living rooms, a home office with maple floors, a spacious family room with 22 ft. ceilings, a gourmet kitchen with an adjoining breakfast room and a glass-enclosed porch on the first floor. There are four bedroom suites on the second floor, along with an exercise room and nanny quarters. The third floor has a game room, home theater and a custom pub. The property sold for $28 million in 2010, making it one of the largest sales of a private residence in Nashville.
Gallery Credit: Sterling Whitaker
PICTURES: See Inside Alan Jackson's Stunning Lakefront Georgia Mansion
Alan Jackson sold his lakefront mansion in Georgia for just over $6 million, and pictures show a stunning property that's as relaxing as it is luxurious.
Gallery Credit: Sterling Whitaker
PICTURES: See Inside Alan Jackson's Jaw-Dropping Florida Beach Mansion
Alan Jackson's ultra-high-end taste in property even extends to his vacation homes. The singer and his wife built a spectacular 6-bedroom, 6.5-bathroom, 9,800-square-foot oceanside mansion on Jupiter Island in Florida that's one of the most jaw-dropping celebrity vacation homes of them all.
Gallery Credit: Sterling Whitaker