Hank Williams Jr. Guitar Stolen, Alabama Man Charged in Theft
Getty Images for CMT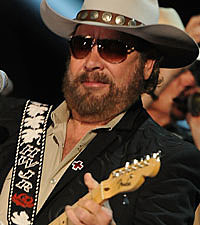 Getty Images for CMT
An Alabama man has been charged with first-degree theft, accused of stealing a guitar that belongs to country superstar Hank Williams Jr. Adam Dale Broach, of Notasulga, Ala., was charged with the crime on Sunday (May 20). According to the arrest report, the custom-made 1968 Les Paul guitar, valued at $15,000, was stolen from Hank's Alabama cabin in 2010.
The instrument was recovered later that month, when it was given to Wayne Mills, lead singer of the Wayne Mills Band, during a concert. It is currently unknown if Broach has hired an attorney in his defense.
Meanwhile, Bocephus is getting ready to release his latest album this summer. Old School, New Rules will be the first on his new label, Blaster Entertainment.
"I'm excited about this new album we've been working on," Hank says. "When looking at labels, I had several choices. When my team brought me the opportunity from Blaster and with the soon-to-be-announced distribution deal, it was the best deal in town. My fans will be able to find my music in places that common folks shop. This is gonna be fun!"
Hank Jr. continues his Taking Back the Country tour, with Jamey Johnson, Chris Young, George Thorogood and 38 Special joining him on select dates. See his concert schedule here.