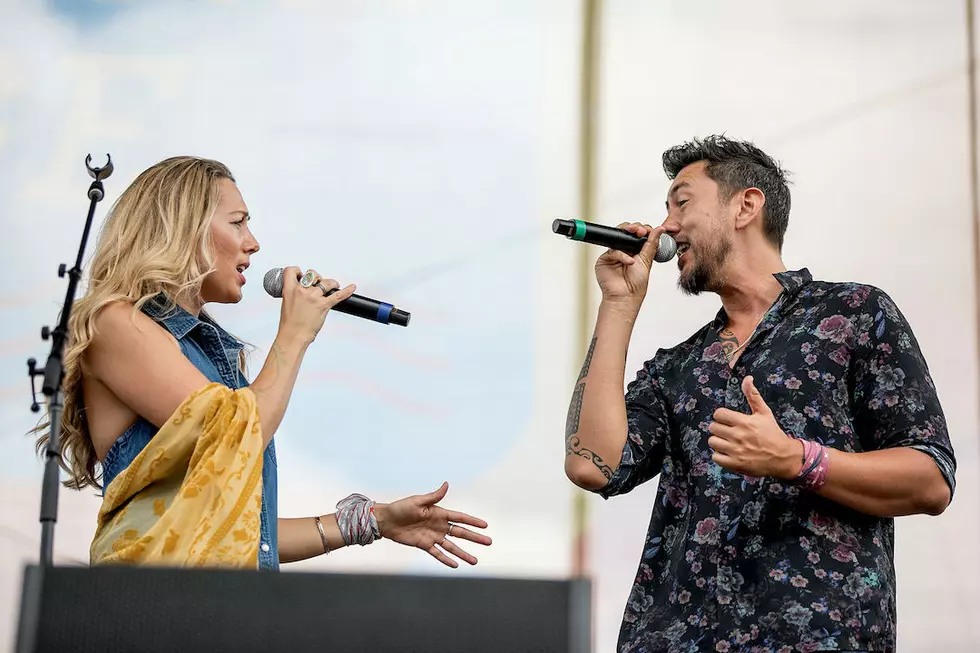 LISTEN: Gone West's Playlist is as Musically Diverse as They Are
Danielle Del Val, Getty Images
Gone West first came together when four solo artists (who also happen to be two sets of couples) decided to team up and make music together. As you might expect, the resulting songs represent a diverse variety of musical influences and styles, all of which come together into Gone West's signature sound.
For their playlist, the group's four members -- Colbie Caillat, Justin Young, Nellie Joy and Jason Reeves -- each weighed in with their favorite songs, adding both new favorites and the long-loved tracks that inspired them to pursue music in the first place.
Some of the songs that informed the bandmates' musical styles might come as surprise to those who know their solo work today. For example, Justin Young grew up in Hawaii, and rose to the forefront of the Hawaiian musical scene. However, one of the seminal songs he chose for this collection comes from a whole other genre -- and a whole other decade.
"I picked 'When Can I See You Again' by Babyface, because it's the first song I learned to play on guitar," Young recalls. "I bought a $20 guitar from the swap meet and watched the music video and tried to copy the chords he was playing. It was only many hours later that I realized he was playing the guitar left-handed and upside down. As someone who grew up with acoustic guitar-centered Hawaiian music and loving '90s R&B, this song sort of brought my two worlds together."
Perhaps the most iconic, traditionally country track on the playlist is the Judd's "Mama He's Crazy," a song that Joy says resonated with her back in the early days of her country music fandom.
"I used to listen to the Judds with my mom growing up. It was one of my first experiences listening to country music," she relates. "I just immediately loved the harmonies, organic production and real-life messages in the music that they made. The storytelling aspect of this song, and many other Judd hits, planted the roots in my heart to someday move to Nashville and write country music."
One of the most striking elements of Gone West's playlist -- and of Gone West's trajectory as a band, in general -- is how different songs, musical styles and time periods can inspire the bandmates in different ways, but ultimately lead them to the same place. Caillat and Joy had similar experiences in that when they were children, one song inspired them to pursue music. However, those songs were very different; for Caillat, that inspiration came from Lauryn Hill.
"Lauryn Hill's voice was the reason I fell in love with singing and why I wanted to be a singer," she says. "She has so much soul, and made singing sound effortless, like it was just an extension of herself. I started singing every day after I heard her sing 'His Eye is On the Sparrow' in Sister Act 2. When her first album, The Miseducation of Lauryn Hill, came out, and when she and the Fugees released their version of 'Killing Me Softly,' I played them all on repeat, started taking vocal lessons and sang 'Killing Me Softly' in my sixth grade talent show."
Though Reeves is an accomplished performer, he started out his career as a songwriter, and it's still a big part of his musical personality today. Given that, it makes sense that one of the most influential songs on his career came from Bob Dylan.
"I chose 'Don't Think Twice, it's Alright' by Bob Dylan because when I heard his music for the first time in high school, it made me want to be a songwriter," Reeves notes. "His writing is so unique, and the way this song feels musically and lyrically specifically really made me think about music in an entirely new way. This is a heartbreak song, but it's also defiant and empowering. Nobody will ever write like Bob, and for me, this is one of the most quintessential pieces of evidence of that."
To listen to Gone West's playlist in full, press play below to listen on Spotify!
Listen to Gone West's Playlist:
Who Are Gone West? 5 Things You Need to Know