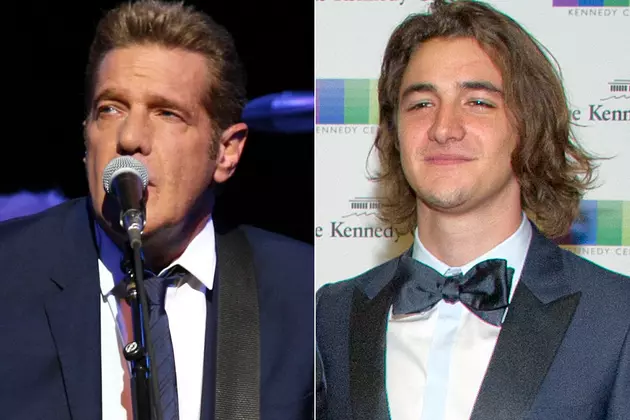 Glenn Frey's Son Deacon Will Tour With the Eagles
Neilson Bernard / Pool, Getty Images
A little over a year after the death of Glenn Frey, the Eagles' member's son Deacon is set to begin performing with the iconic band. Eagles co-founder Don Henley officially announced the news in a radio interview.
Henley tells Dallas, Texas, sports talk radio station KTCK that Deacon Frey will hit the road with the Eagles this summer: "There's going to be an official announcement in a few days, but let's just do it here. Glenn's son Deacon is a very talented young man, and he seems to be up for the task," Henley tells the station's Mike Rhyner (quote via Best Classic Bands).
"[Deacon]'s enthusiastic about it, and he's been working real hard on it, and he's gonna do it with us," Henley continues. "I think that's appropriate."
The younger Frey's presence is likely the only thing that got the Eagles back together following Glenn Frey's death due to complications from rheumatoid arthritis, ulcerative colitis, and pneumonia in January of 2016. After Frey's death, Henley insisted that there was no chance the band would reunite, but later hinted that Deacon Frey would be the only suitable stand-in for his father.
"I think it's the only appropriate way to carry on. I don't think I'd do it otherwise. Since it's Glenn's blood, it's his son, I think that's appropriate," Henley tells KTCK. "There'll be one more musician along for the ride too, but I'm not gonna say who that is."
The Eagles are expected to headline a pair of music festivals, Classic East in New York City and Classic West in Los Angeles, Calif., alongside Fleetwood Mac this summer. Visit Eagles.com for more information.
Country Artists Reflect on Glenn Frey's Influence, Legacy