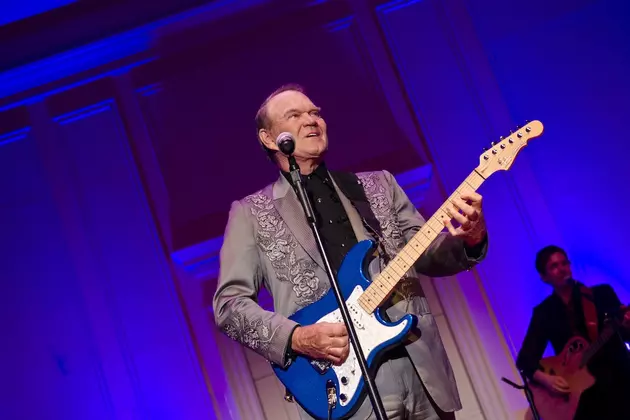 Glen Campbell's 'I'll Be Me' Documentary Is a Peabody Awards Finalist
Kris Connor, Getty Images
Glen Campbell's heart-wrenching and raw documentary Glen Campbell: I'll Be Me has been named as a 2016 Peabody Awards finalist.
The Peabody Awards, which have been around for 75 years, honor excellence in radio, television and other forms of electronic media. Campbell's film is one of this year's 60 finalists; the 30 winners will be announced on the Peabody Awards' Facebook page on Tuesday (April 26). Peabody Awards winners will be honored on May 21 in New York City, during a ceremony hosted by actor / writer and former Peabody recipient Keegan-Michael Key, co-star of Comedy Central's Key and Peele; the event will air as a 90-minute special on June 6 at 8PM ET on Pivot.
I'll Be Me chronicles Campbell's journey with Alzheimer's disease following his diagnosis in 2011. The documentary features Campbell, as well as appearances from fellow artists such as Paul McCartney and Brad Paisley.
"It's a great way to get the message out there. [It's] definitely not what you think of when you think of a documentary about Alzheimer's," Campbell's daughter, Ashley Campbell, tells Rolling Stone Country. "I think the beauty of it is that my dad is such a personable person. He's so charismatic and funny and just real, and it really shines through in this film."
In addition to being a Peabody Awards finalist, Campbell's project has received much critical recognition: "I'm Not Gonna Miss You," Campbell's final song, from I'll Be Me, earned an Academy Award nomination and won a Grammy for Best Country Song. The film's soundtrack won a Grammy as well, and the movie itself was awarded at the Nashville Film Festival.
The Rhinestone Cowboy's wife, Kim Campbell, recently offered a health update on the country music icon: "Faith has always been the central part of our relationship," she explains. "I'm so pleased that as Glen has entered the later stages of this illness, it's evident that he has retained his awareness of God."
However, things have certainly not been easy as the disease has progressed.
"Sadly, if you live long enough into this disease, you even lose [muscle memory]," Kim Campbell says. "He cannot play guitar anymore. I don't even know if he knows what it's for. But our children come and play for him. It's hard to tell if he's responding to it much. Sometimes he'll listen, and sometimes he's distracted. He's in his own world right now."
Glen Campbell Through the Years