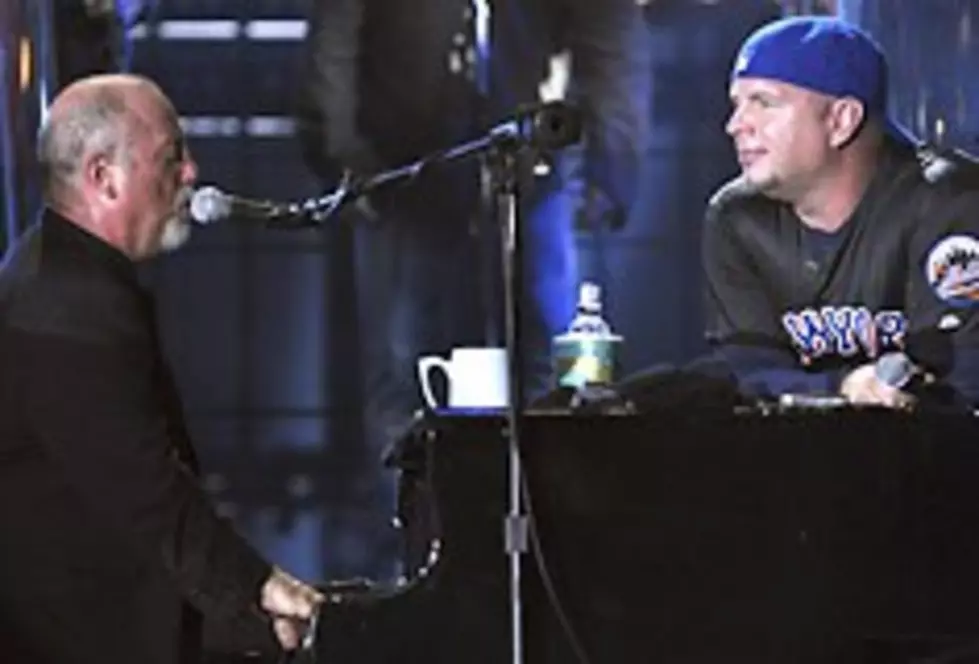 Garth Brooks Gets 'Shameless' on New Billy Joel CD/DVD
Kevin Marzur, WireImage
Garth Brooks is featured on the new Billy Joel album, 'Live at Shea Stadium,' the full recording of the Piano Man's July 2008 shows at the historic ballpark. The latter of the two show run was the last concert at "rock music's first great arena venue."
Garth joins Billy on 'Shameless,' a tune the country singer released as a single from his 1991 album 'Ropin' the Wind.' Garth received some criticism for recording the pop singer-songwriters hit, but it consequently went to No. 1 for him: his seventh chart topping single on the Billboard chart.
One of the stories Garth tells during his acoustic show at The Wynn in Las Vegas is how he discovered 'Shameless,' when a record club sent him Billy's 1989 CD, 'Storm Front.' Garth surely had no idea that a dozen years later he would have a hit with that same song!
'Live at Shea Stadium' includes two CDs and a DVD (also available on Blu-Ray) of the performance. Joel termed his two shows, played July 16 and 18, 'Last Play at Shea.' He performed in front of 110,000 fans, closing down the stadium that began its rock history with the Beatles in August of 1965.
This is not the first time Garth and Billy have performed together in New York City. In 1997, Billy made a surprise appearance at Garth's concert in Central Park for 'Ain't Goin' Down 'til the Sun Comes Up' and Billy's 'New York State of Mind.' Later the two performed Billy's 'You May Be Right' as the grand finale to that concert, which drew some 300,000 fans to the park in the middle of New York City.
'Billy Joel -- Live at Shea Stadium' will be in stores on Tuesday, March 8.