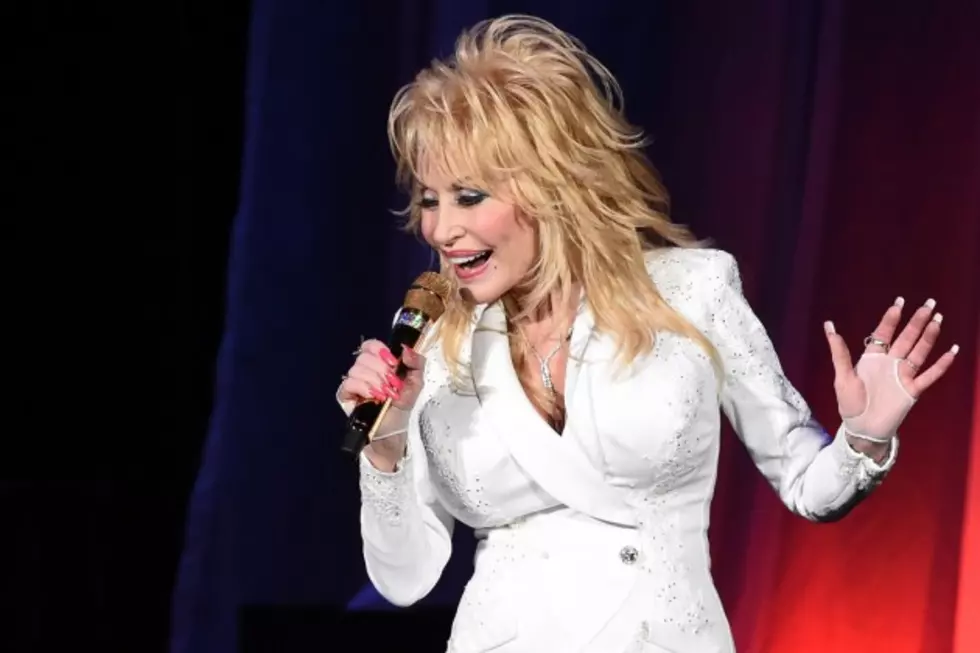 Concert Review: Dolly Parton Goes 'Pure and Simple' for Sold-Out Ryman Auditorium Show
Rick Diamond, Getty Images
Dolly Parton returned to Nashville on Friday night (July 31) for the first of two sold-out shows at the Ryman Auditorium. The stripped-down concert, dubbed "Dolly Parton: Pure and Simple," benefited the W.O. Smith School of Music's Dustin Wells Foundation.
In her first performance in Music City in 13 years, the 69-year-old spent almost two hours singing her biggest hits from over the past nearly 50 years. Equal parts reverent and raunchy, Parton kept the crowd laughing as she bantered between some of her most-beloved songs.
After a video about Dustin Wells' extraordinary life, which was cut short when he was killed in a car accident in 2005 at just 21 years old, students from the W.O. Smith School of Music, which offers affordable music lessons to underprivileged children, began the night with two songs, showing off their extraordinary musical talent. But it was Parton who stole the show as she reminisced about her impoverished childhood in the mountains of East Tennessee, where her family was short on money but rich in love.
The country legend kicked off the night with "Backwoods Barbie," which Parton told the audience was her true life story, then launched into "Why'd You Come in Here Lookin' Like That." As her creative director, Steve Summers, helped her remove her banjo following the performance, she quipped that he is "the only person tall enough to help me with my guitar and not break my hair."
Parton kept the audience laughing as she praised the work of Wells' father, dentist Dennis Wells, who has been her dentist for more than 20 years.
"I've done my greatest thinking while Dr. Wells is drilling my brains out -- I mean my teeth," she said to uproarious laughter from the audience, adding, "You know you're a hillbilly when you get your boobs done before you get your teeth cleaned."
Ash she sang "Jolene," "Precious Memories," "My Tennessee Mountain Home," "Coat of Many Colors" and "Appalachian Memories," Parton shared fond memories of her childhood as one of 12 children living in a tiny two-room home in between songs. She also recalled occasional trips to the nearest city, Knoxville, Tenn., where a young Parton saw a woman who ended up helping shape her own future.
"There was this woman who walked the streets, and she was absolutely beautiful," Parton said. "Someone said, 'She's nothing but trash,' and I thought, 'I'm gonna be trash.'"
Parton followed with "The Seeker" and "The Grass Is Blue," the latter of which she performed at the piano.
"Norah Jones recorded it," Parton told the audience, referring to Jones' version of the tune that appeared on a 2003 Parton tribute album. "I'm no Norah Jones, but it's my song."
"Blue Smoke" and "PMS Blues" were next, before Parton introduced her band members and performed a jaw-dropping a cappella version of "Do I Ever Cross Your Mind" with them, then continued with an Old World song called "Little Sparrow," which she remembered her mother, who had all 12 of her children by the time she was 35, singing wistfully while looking out over the majestic mountains.
Although the show was mostly acoustic, Parton added a drum machine for "Baby I'm Burning," flawlessly segueing into Alicia Keys' "Girl on Fire." As the evening wound down, Parton wrapped up the night with "Two Doors Down," "Here You Come Again," "Islands in the Stream" and "9 to 5," during which she invited the crowd to sing the chorus a cappella at the end.
With the audience on their feet for most of the last few songs, the country music icon wrapped up the unforgettable evening with a stunning version of "I Will Always Love You," before graciously thanking the crowd and walking off the stage to thunderous, almost deafening, applause.
Parton returns to the Ryman on Saturday (Aug. 1) to perform one more show, which will benefit the Opry Trust Fund.
How Old Do These Country Stars Look?