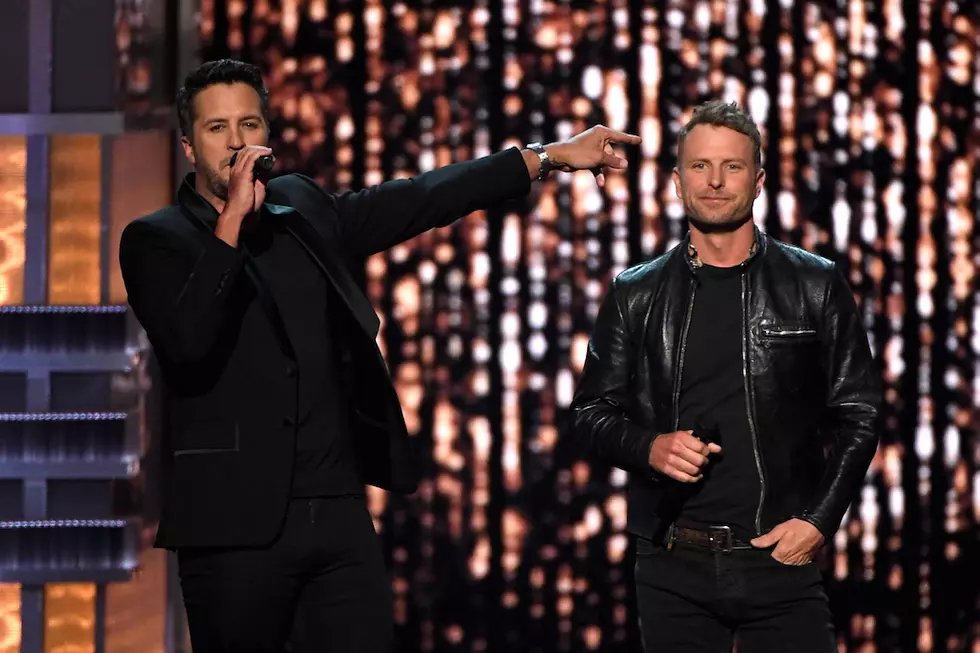 Dierks Bentley, Luke Bryan Kick Off 2017 ACM Awards With Bromantic Monologue
Ethan Miller, Getty Images
Male bonding reigned supreme as Dierks Bentley and Luke Bryan took the stage to open up the 2017 ACM Awards. The co-hosts' opening monologue was full of bromantic photos and good-natured mockery; all that was missing was a BFF necklace.
Following an opening medley of some of the year's best country songs and a special tribute to Chuck Berry, Bentley and Bryan decided to share a few snapshots detailing their day off before the big show. Of course, one might have assumed that the guys spent their days in Sin City sitting at the poker tables and drinking lots of beer, but no -- they had other plans in mind.
First off, Bentley and Bryan showed off some pics of themselves fishing in front of the Bellagio -- or at least trying to; apparently the huge fountain "scared away all the fish." Then, they ran into David Copperfield, and Bryan proceeded to get sawed in half, before the two met up behind the scenes with a few Cirque du Soleil performers ... and donned leotards that Bentley told Bryan were actually "tighter than most of your jeans, if that's even possible."
And, of course, no trip to Vegas would be complete without a visit to the (in)famous male revue show Thunder From Down Under. Bentley and Bryan showed off their biceps, but try as he might, Bryan couldn't get accepted into the show. He blamed it all on the Aussie wiles of Keith Urban, with Bentley adding that Urban could join the gang anytime he was ready to "hang up the strap and strap on the chaps."
All in all, Bentley and Bryan started off the 2017 ACM Awards with a bang, bringing together everything fans love about their hilarious personalities for an awesome start to the 52nd annual awards show.
See Pics From 2017 ACM Awards Rehearsals, Pre-Show Interviews
How Well Do You Know the ACM Awards?