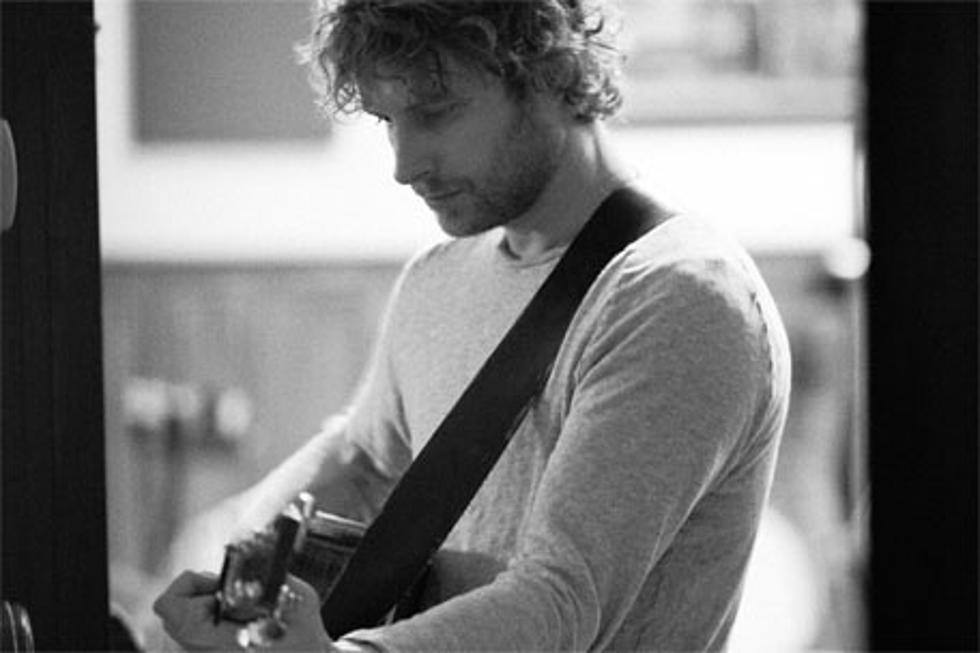 Dierks Bentley Takes Country Fans Into His 'Home'
James Minchin III
Dierks Bentley's last "proper" country album was 2009's 'Feel That Fire,' followed by the acoustic, bluegrass disc 'Up on the Ridge' in 2010. While he's taken both his country hits and the bluegrass material (and musicians) on the road with him, it's fitting that he follows 'Up on the Ridge' with a collection simply titled 'Home,' since life for the Arizona-born entertainer has become a bit more domesticated, considering he and wife Cassidy (married in 2005), welcomed daughter Evie in 2008 and Jordan in 2010. Yet, even though 'Home' is a sweet place to be, Dierks also relishes his road trips, especially when there's Country and Cold Cans involved -- for that's the title of his current tour that combines three of the singer's favorite things: music, beer and fans!
Dierks keeps all of those things at the forefront of his new music as well, and the title track of 'Home' especially resonates with images to which country fans can relate. How does he feel when it comes to co-opting the song for a political purpose, however? That's just one of the questions Dierks tackles during this candid conversation with The Boot. He also cracks California's criminal code (giving props to the rock band who did it first), reveals the item he once signed that gave a fan a real "leg up" on other Dierks fans, and recalls a real "Nashville" moment that made him a very proud papa.
You wrote or co-wrote only half of the 12 songs on this album, which is unusual for you. Was it important for you to give up those spots to outside writers this time?
I think I've had 16 songs in a row on country radio that I've written or co-written. That's not a streak that I'm going for. I have so many friends in the songwriting community and so many musicians in this town that I respect, that I wanted to record as many outside songs as possible and hopefully have one of those songs be a single for somebody else. To have six songs on this record that were written by other writers is a source of pride for me. I'm excited for them.
What do you have to hear when you consider cutting an outside song?
You look for something that connects and something that fills a niche on the record that hasn't been filled yet. That's one of the exciting things, is what's going on in Nashville. What's the rhythm of the writing community? You hear a lot of the production ideas, you hear a lot of popular song ideas, what people are trying to write. I was listening to country radio recently and thinking, "That sounds just like the demo [I heard]." I feel like I had the inside scoop because I had been listening to so many songs. It forces you to look at your song and another song that might be like your song and go, "You know what ... that's a better song."
Have there been many songs you passed on recording where you later thought, "Why didn't I record that?"
No. The songs I passed on, I usually thought, "That's gonna be a huge hit." There's a lot of times I've erred on the side of the song, even at my own expense. Just getting a song on an album doesn't really bring in any money. You want to get a single. As a songwriter, you might write every day and throughout the course of a year you might get four songs that are really special. That's a year's worth of work right there, and you might get four songs that are special ... maybe. Then the next thing is, how do you get that song to the right artist? Then you've got to hope that artist makes it a single. As a songwriter, I've always moved out of the way of the song. If there's a song I thought was going to be a huge hit for somebody but I didn't think it was going to be a single for me, I just wouldn't cut it. I don't know how many people would do that. I just want the song to find the right home, whether it's me or somebody else.
'Whiskey Lullaby,' [the CMA-award-winning song recorded by Brad Paisley with Alison Krauss], when I heard that for the first time, I thought it was an amazing song. It turned out that the guy who would become my best friend, Jon Randall, had written that song. I'm so glad I didn't get in the way of it because it found the right home and became a huge hit. 'Crazy Girl,' Lee Brice wrote that song and I heard it. My wife was like, "You've got to cut that!" But I knew the Eli Young Band had it on hold and [when they cut it, it] made me happy because Lee Brice is a friend of mine and Eli Young Band, those guys are all buddies of mine, so, awesome! I want everyone to win.
How much input does your wife have when it comes to songs you cut?
We'll take a road trip to Asheville, N.C., and take a huge box full of CDs with us in my truck and pop them in, listen to them together. In 10 hours, you can make a little dent ... but I listen to thousands and thousands of songs. If it's something I've written and I felt like it was really special, I'd wait until I had it worked up better so I could really lay it on her the right way! She's really honest. It's tough when you have someone like that around you who's looking at it from an outside perspective, and you're caught up in the moment of it. It's all constructive criticism. But we've listened to a lot of songs together and that's fun to do, to see what's out there.
What about when you've recorded sexy songs like 'Come a Little Closer' or 'When You Gonna Come Around'? Do those have to pass your wife's test, too?
Oh yeah, all the guys, we're always saying, "I played it for my wife, and she loved it."
Do you ever worry about the content of a song giving the wrong impression, like if it's something that obviously wasn't written about your relationship with your wife?
No, as an artist, you have to be free to explore all the corners of your heart. There are no boundaries. But with the videos ... there have been some pretty crazy videos as far as acting out the song. 'Tryin' to Stop Your Leavin'' would be one, 'Come a Little Closer.' When I sing a song, I want the audience to be able to relate to it. I don't want them to think, "Oh, this is the song he wrote about this." I want them to go, "This song makes me feel this about this person." It's not my song, I'm just the guy that might have had a hand in writing it. When you sing it, anyone that wants to take ownership of it can take ownership of it and have it apply any way they want to in their life. I want my fans to be free to use it however they want to.
In this election year, there could be an interest from one side or the other to use 'Home' during the presidential campaign. How would you feel about that?
I hate to put any barriers on a song. We talked about that when we were writing the song. There's just so much ... on TV, the media has a way of dividing America. I play music on the road almost every night, and I meet soldiers every night. I see a lot more in common. People have their differences but they don't yell them as loudly as they do on TV, every day for 24 hours a day. It's mind-numbing! And it's not helpful. A lot of those guys are information entertainers. It's not the news anymore, where you have three different stations and you get the news three times a day. They're info-entertainers, on both the left and the right. As an American citizen, you're just being bombarded with these guys.
The song was really written in the spirit of hopefully bringing people together who are going through really hard times right now, to think about what we've accomplished in the past and what we can do together in the future. The song is universal, so I would hate to ever see it closed off to half the population. But if people want to use it, they can use it. As a songwriter, the more people who can hear your song, it's exciting. And I think it's a song that would be hard to skew it to one side or another.
On the subject of home, when you're off the road, do you really like just staying at home or are you always itching to get back out on tour?
I love being at home, being on the couch, getting a beer, watching TV, playing with the girls. We have a lot of fun out there, but when I get home I love being on the couch and hanging with the girls.
How is Evie adjusting to being a big sister to Jordan?
She loves it! She loves her younger sister and she loves being a big sister. And she's getting to do a lot of things that other three-year-olds don't get to do. I was at Earl Scruggs' birthday party and we were all picking and singing songs. First of all, for me to get the chance to pick and sing with Earl Scruggs, that made my year. That will be hard to top that this year, singing bluegrass with Earl Scruggs. But then, to see my daughter dance ... we had a little bluegrass jam and there were some of the great bluegrass musicians, and my daughter was dancing with another little girl in the middle of the circle, just rockin' out to banjos and fiddles.
That's what I love about Nashville and the music community -- seeing kids around acoustic music and bluegrass picking parties is the best. I love her being exposed to that as opposed to TV. And Jordan, she's one [year old], she's trying to rock out as much as she can but she's just getting her sea legs. But them growing up here and having the chance to be exposed to that is primo.
One of the songs on the new album is 'Tip It on Back,' which opened your show at the Ryman Auditorium last week. The lines that stick out are "sip a little more than you you know you should" and "let the smoke roll off of your lips." It strikes me that -- for better or worse -- the line about smoking could be more controversial than the one about drinking. Were you worried about that when you cut it?
The way I look at the song is it's like the opposite of 'Home.' 'Home' is an uplifting song that inspires you to better days. But the reality of the times that we're in right now is that it's just really, really hard for people right now. A lot of people are out of work and sometimes you need a break and you say, "You know what, I'm going to drink a little more than I should." The smoking part might be a little controversial, I don't know about that. But I think the idea behind the song is every now and then you've got to blow off some steam. And I think that's what a Friday night is made for.
And '5-1-5-0,' of course, made me think of Van Halen ...
Thank you very much! Nobody gets that, but that's exactly where that came from. I'd written a song called 'Country and Cold Cans,' which is going to be a special bonus track. There's a line in there that I never recorded but it was "let's get crazy, let's get fifty-one-fifty." I was telling it to a friend of mine and he said, "What does that mean?" And I told him it was Van Halen; it's California police code for criminally insane. The next day, he was singing, "5-1-5-0, somebody call the po-po." I just started laughing because I thought that was the stupidest thing I'd ever heard. And he said, "I'm tellin' ya, my kids cannot stop singing that." I said, "I don't know, man." A couple of days later, we were writing the song and I said, "It's stuck in my head now, so let's write it ad be done with it." We wrote it and I loved it! People don't really know what it means but who really knew what '867-5309' meant? I remember when that song was out [sings], "867-5309? Is that a real number? Is that an area code?" So, maybe it'll do what 'Sideways' did. I don't think people really used that term before that. We'll see.
Although you'd hope they aren't exactly "5-1-5-0" material, you must have some crazy fan encounters?
They're what make the world go 'round. I'm a band guy, I love the guys that I play music with every night but there's always that meet-and-greet. I walk into that room and there's a lot of energy and I'm the guy they're excited to see. Some of the girls are crying or they're telling me stories, sad stories of a loved one who passed away and how this song helped them get through it. It always just hits me really hard because I don't look at myself that way at all. I kind of see myself as the bartender, so to speak. I'm part of the party, getting the crowd fired up, singing songs, pouring drinks, whatever it takes to get them to have a good time. When I walk into the meet-and-greet, someone's always going to have a story, a sad story or a happy story. But there was a NASCAR race, I was playing outside and a guy came up to me with a prosthetic leg with a Dale Earnhardt No. 3 on it and he asked me to sign it. I did, and he put it back on. That was pretty cool, man.
I guess when you're the bartender, you have to get used to seeing all kinds of things!
I heard someone ask Eddie Vedder, "Why do you always have a big bottle of wine on stage with you? Have you ever thought about not drinking when you're playing?" And he said, "I guess I could walk around and be the waiter, but I'd rather be the bartender." I want to be the guy diving in and maybe having a few myself.
Buy Dierks Bentley's 'Home' Album



#fivemin-widget-blogsmith-image-937758{display:none;} .cke_show_borders #fivemin-widget-blogsmith-image-937758, #postcontentcontainer #fivemin-widget-blogsmith-image-937758{width:570px;height:411px;display:block;}