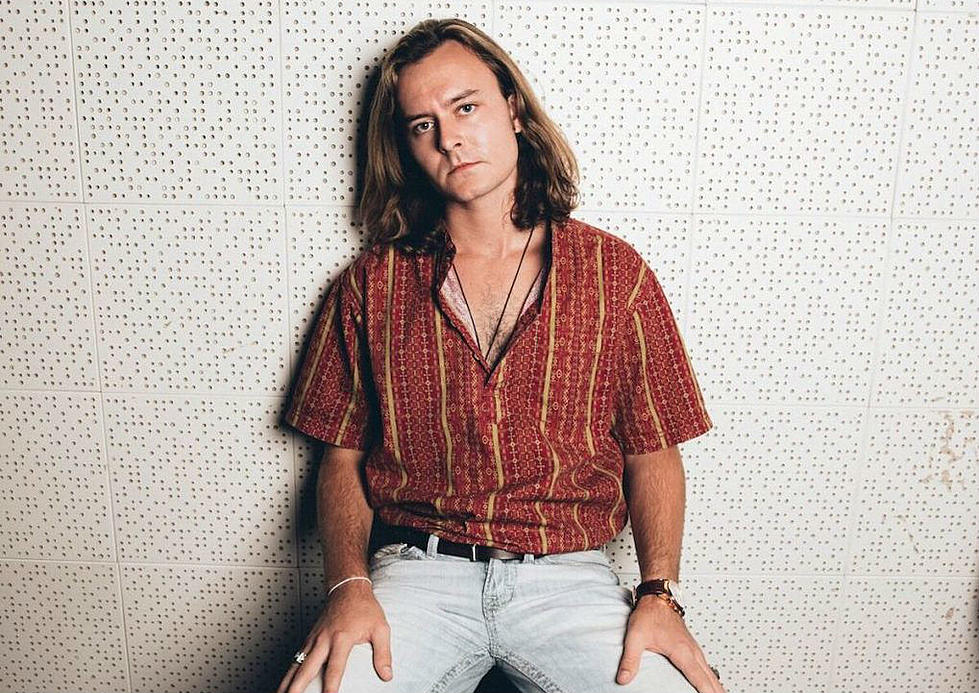 Interview: Dee White's Road to Musical Success Is Paved With High-Profile Mentors
Alysse Gafkjen, Easy Eye Sound / Warner Music Nashville
"Things in my life seem to just all happen in one day," says Dee White, reflecting on the road that led him to releasing his 2019 debut album, Southern Gentleman. 
These days, the 21-year-old is a rapidly rising country star. Hailed by fellow performers such as Brothers Osborne and former tour boss Ashley McBryde, White has worked with Dan Auerbach, duetted with Alison Krauss and recently made his debut at the Grand Ole Opry. Still, it wasn't so long ago that he was a 16-year-old kid growing up in Slapout, Ala., with no aspirations to country stardom.
That all changed thanks to a high school musical, a David Allan Coe song and -- as he says -- just one day.
"We were doing this play in a drama class, and I went to a tiny school. I mean, we had 21 people in our graduating class," White explains. "It was a musical play that they were trying to put together, and no one wanted to be in it, so they required these singing auditions."
At the time, White was a country music fan, but had done barely any singing of his own, much less in public. "It came my time to get up there, and people were also egging it on. No one knew I sang or whatever," he continues. "I just got up there and sang this old country song that someone requested. Which was the really crazy thing -- because these were all people that listened to the radio."
Back then, "bro-country" was at its height, and hits by artists such as Florida Georgia Line and Luke Bryan dominated the charts. For whatever reason, though, White wasn't asked to sing any of that; instead, the song he was assigned was something much older: Coe's 1983 song "The Ride," a ballad about a young man who seeks country stardom and unintentionally gets his first lessons from the ghost of Hank Williams.
"He said, 'Drifter, can you make folks cry when you play and sing? / Have you paid your dues? Can you moan the blues? / Can you bend them guitar strings?'" the song's lyrics go. "He said, 'Boy, can you make folks feel what you feel inside? / 'Cause if you're big-star bound, let me warn you / It's a long hard ride.'"
"And I sang that song, and, s--t, I've been singing every day since then," White concludes. "Literally. Every day."
The song foreshadowed White's own move into his musical career. Like its narrator, he had plenty of high-profile help along the way: Early on, White found a mentor in his dad's friend, Harold Shedd, an industry executive and ace producer known for his work with acts such as Alabama, Reba McEntire, Shania Twain and Toby Keith, among many others.
Once they had been working together for a while, Shedd and White drove from Alabama up to Nashville to meet with engineer and producer David Ferguson, as well as with Dan Auerbach. "[Dan and I] just kinda shook hands, and he took the guitar off, the Gibson Jumbo, and puts it on me and tells me to play him something," White recalls. "I played him this song that I had written, and I guess he just liked my singing."
Auerbach and White connected over some shared personal history, too: "His dad is an antiques dealer, and so is mine," White explains. "There was a lot of familiarity around Dan. Especially in the studio, but also in life. It was so familiar, like we were meant to be friends. We like the same kinds of things, and there aren't many people who like the same kinds of things that Dan and I like, so that's what makes it special."
Both artists have an eye for old, overlooked things, whether musical concepts or trinkets. "Just old stuff -- old, quirky stuff that most people would throw in the Dumpster, or whatever," White relates. "He wants it sitting on his dash, [so he can] laugh at it and talk about it."
By the time he met Auerbach and Ferguson, White was committed to writing and performing, but he wasn't revving to begin work on an album just yet. "I wasn't necessarily trying to rush that or push that," he admits. "I was just, at the time, writing songs, recording work tapes when I was in school at Auburn [University], and just hashing it out."
All the while, though, he had the help of his first mentor: "I would play stuff for Harold, and he always made it clear that he would decide when that time was [to make an album]. And I suppose the reason why it happened is because he felt I was ready for that," White notes. "To be honest, I probably wouldn't have had the confidence and all that just on my own, without having Harold thinking I was ready to take the plunge."
As he began to record his songs, White continued to meet fellow artists who helped shape his perspective. Ashley McBryde came into the studio to record "Road That Goes Both Ways," a duet on Southern Gentleman. White felt a connection to McBryde from that first day, and she went on to bring him out on the road for her 2018 Girl Going Nowhere Tour.
"It was a huge deal for it to be on a personal level on that tour," White explains of McBryde's role as a tour boss. "It's important to the morale, I think, especially in younger artists like myself. I mean, I think it's an important thing to care, you know? Which is what she did."
Watching McBryde -- and another of his duet partners, Alison Krauss -- at work in the studio gave White a crash course in the art of recording vocals. The young performer explains that he wanted to work with these performers originally because he knew they would make great songs; however, because he admired them so highly, their sessions together also took on a secondary role as a series of master classes in how to lay down vocals.
"I love singers like guitar players love guitar players and drummers love drummers," he relates. "I wanna work with those people that I love what they do. And hell, that's two of those people right there. Working with Alison, it was a learning experience. It was like watching the Mona Lisa get painted, if you're trying to be a painter. I'm just standing in the control room, trying to take in everything she's doing, you know? How she does this, how she makes that sound, where she takes a breath. It's just all important if you're trying to do the thing that she does."
On one level, Southern Gentleman takes its title from an inspirational figure that helped bring it to life. In true White fashion, however, the title also speaks to something he learned about the process of music-making along the way.
"Dan hatched that one," White says of the project's name. "I digested it for a while, and I ended up liking it too. I guess the truth of what it means is that that was my first impression on Dan, I suppose. I had mixed feelings about it at first, because I didn't want it to seem like I was calling myself [a southern gentleman]."
"If it feels good, you shouldn't discredit that. It's always valuable, and you shouldn't nitpick it necessarily."
As a title, Southern Gentleman doesn't necessarily need to have a deeper meaning. "It can be taken at face value, or you can put more thought behind it," White says. "That's what I actually like about the title."
Intentional simplicity was an important theme behind the tracks on the project, too -- and keeping a song simple isn't as easy as it looks. "They're all kinda based around simplicity, even though there's so many different accents or expressions of that," White goes on to say. "If it feels good, you shouldn't discredit that. It's always valuable, and you shouldn't nitpick it necessarily. Which is something I'm bad about, and something that Dan has mastered."
Like every young artist, White occasionally needs mentorship to confirm that he's doing the right thing. Fortunately, he has help: Williams' ghost, Krauss' voice, Shedd and Auerbach as his main musical guides. No matter where he finds it, White always has the support of legendary tastes confirming his musical intuitions.
Who is Dee White? 5 Things to Know