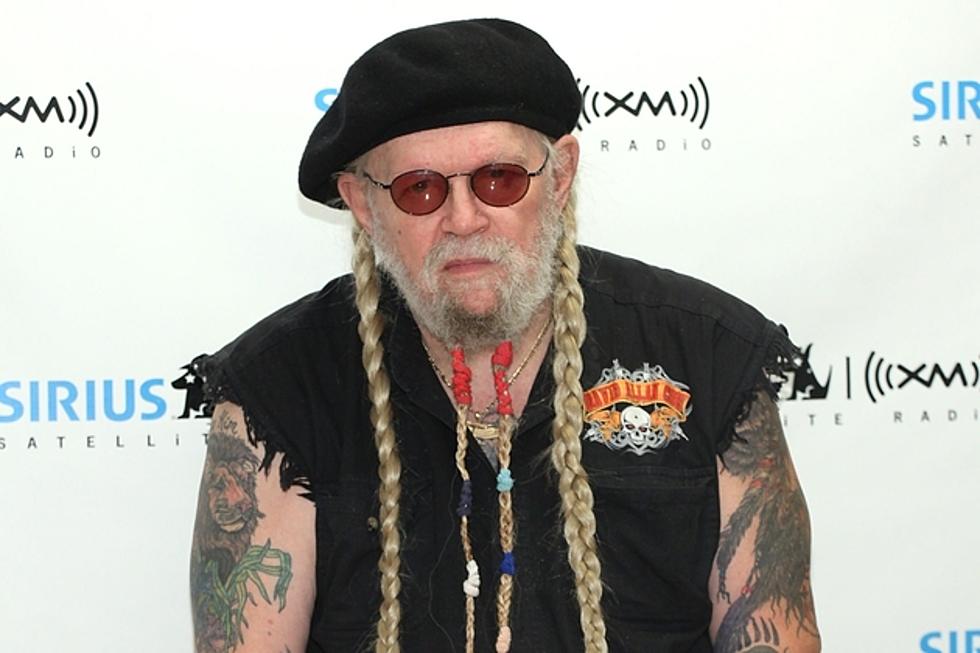 David Allan Coe's Son Says He Did Not Abandon His Father
David Hider, Getty Images
David Allan Coe's son, Tyler, played in his famous father's band for more than a dozen years, beginning when he was just a 15-year-old teenager. Now, as Tyler Coe celebrates his 29th birthday, he is speaking out about his father's behavior, and what he blames for the demise of their relationship.
The younger Coe aired his frustrations on his blog, Baby Black Widows, responding to his father's accusations -- shared in a hand-written note earlier this year -- that everyone abandoned him after a car accident in March. In that letter, the elder Coe states, "There was a lot lost in the wreck. There was friendships and family and people I thought were in my corner that let me down."
The country legend made his return to the stage at Willie Nelson's 4th of July picnic, reportedly telling the assembled fans, "I've got to tell you that everybody quit me, except my wife. She's the only one that didn't quit. My road manager of 35 years, he quit me. My band quit me. This is a brand new band, this is a brand new me."
Tyler claims his father's allegations are simply not true. While his father has been performing without his son or any of his other former band members in the last few months, Tyler Coe says it is time fans and friends hear his side of the story.
"I try to be nice and consider the feelings of others," he writes. "It's what has kept me so evasive on this subject until now. The dilemma is that I've been put in a situation where my personal reputation and the weight of my word is being called in to question. Some may say to let the truth be known eventually and that there is dignity in remaining silent in situations such as these. Problem is that I'm no martyr."
Tyler goes on to defend several of his dad's former employees, whose reputations have been called into question due to his father's allegations, before sharing the status of his own relationship with the 74-year-old.
"I did NOT quit my job working for my father," he asserts. "The last contact I received from David Allan Coe was a text from him telling me that he was going to play some shows by himself, without a band, to get back into the swing of things and then we'd figure things out from there. That was in response to a text that I had sent him, telling him that I would do everything that I could to keep him touring with a good band."
He adds, "My feelings were deeply hurt when I learned that he was announcing onstage that his entire band had quit him and everyone had 'abandoned' him when this was not the case. It became clear that my attempts to contact him were being deliberately ignored and I have no idea why."
Tyler Coe concludes by saying he plans on moving on with his life, without consideration for his dad or his actions.
"Make no mistake. This is not a tirade or reproach," he states. "I'm simply getting rid of the weight of keeping this sh-- a secret. I'm moving ahead. I'm going back to Nashville to be around the rest of my family. I have zero desire to be in another touring band at this time. I want to make the next SoC album. I want to spend time with my wonderful girlfriend. I want to put distance between myself and those who would pi-- on the legacy of my surname."
Read the entire blog post here.