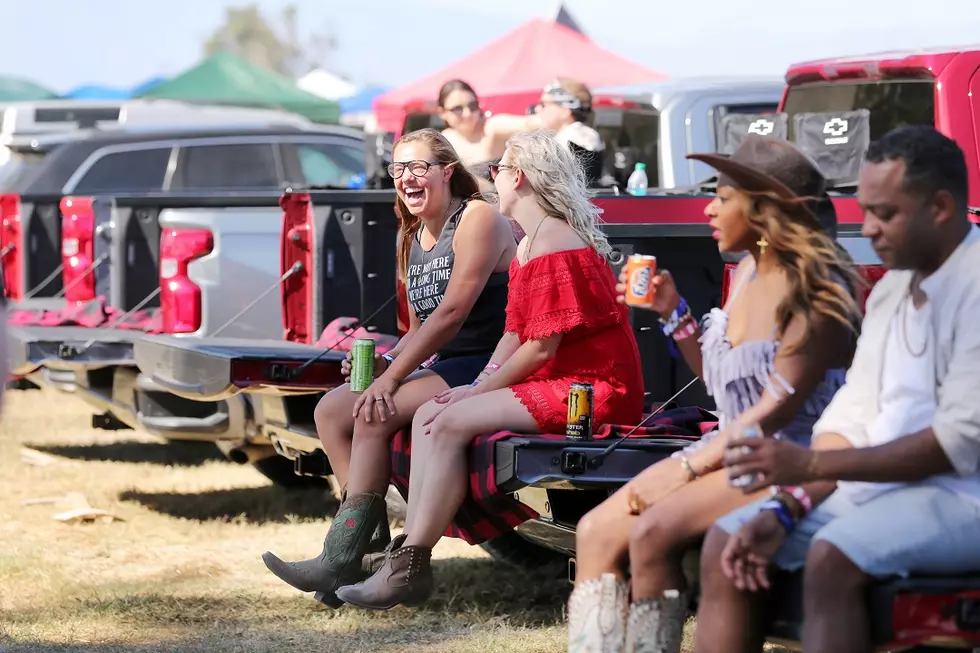 At Tailgate Fest, the Parking Lot Party Doesn't End When the Country Music Starts
Emilio Flores, Chevrolet
It's late afternoon on a Sunday, and the smell of a meat smoker hard at work wafts through the dusty Southern California air. Automobiles -- everything from small cars with pop-up tents set up behind their open trunks to jacked-up trucks with lounge chairs positioned in their beds -- are lined up in neat rows in a massive field of ... well, there was grass there at one point.
Temporary neighbors offer each other drinks for well-stocked coolers, while others challenge each other in beer pong and cornhole matches. One group has set up a well-appointed bar, while another's homemade photo booth urges passers-by to "Take a prop and pose!" A few hundred feet away, Clint Black is performing, the penultimate act to take the stage since the festivities began on Saturday afternoon.
Tailgate Fest is a tailgate party-loving country music fan's paradise: a perfect little world that marries the parking lot party with the concert itself on a quarter square mile of land in Eastvale, Calif. Festivalgoers can choose to head closer to the stage -- where vendors, a honky-tonk dance area and a VIP pool party await them -- or to keep the party going and watch the show from their tailgate. The speakers are loud, the screens are large, and even those parked in the back have a decent view, as if they were watching from the lawn at an outdoor amphitheater or the far-away seats at a stadium.
Brantley Gilbert and Brett Eldredge headlined Tailgate Fest 2019; in 2018, the festival's inaugural year, Toby Keith had top billing. The event's founder, producer and owner Melissa Carbone says that's partially because she knows the country music space best, but adds that tailgating and the genre go hand in hand.
"[Tailgating] illustrates the country lifestyle ... There's this very down-home, Americana feel to tailgating. The country demographic is traditionally aligned with those interests," Carbone tells The Boot. "Most of the big [sports-related] tailgating ... happens in these very country music-prevalent towns. The lifestyle of country [music] listeners and the lifestyle of tailgating are just one and the same."
"The lifestyle of country music listeners and the lifestyle of tailgating are just one and the same." -- Melissa Carbone, Tailgate Fest founder, producer and owner
The origins of tailgating extend all the way back to the harvest celebrations of ancient Rome and Greece, according to John Sherry, a marketing professor and cultural anthropologist at the University of Notre Dame, who has studied the phenomenon extensively. "The idea of getting out of your house and feasting and drinking somewhere else is a pretty old tradition," Sherry told USA Today in 2012, and it's a fairly straight line from those ancient celebrations to more recent rural harvest festivals to country boys and girls gettin' down on the farm to tailgating.
"People eat and drink and build up community in the process," Sherry adds. "The individual traditions that they are creating add to the larger tradition."
These days, tailgating is, indeed, a large tradition, monetarily speaking. Despite it essentially being the byproduct of other events, the tailgating industry is a $60 billion dollar business, according to Carbone. In 2015, NFL tailgaters spent an average of $196 per game on their tailgate party supplies; Draper James, Reese Witherspoon's Southern-inspired lifestyle brand, recently revealed a new line of tailgate products -- despite tailgating essentially being the byproduct of other events.
But Tailgate Fest makes both the tailgating and the music the main event. "The tailgate piece is as appealing, and as big of a draw," Carbone says, which is good news for those tailgaters who show up to party but not to actually attend the event (that's around 10 percent of them in the football world, according to a 2003 study).
The way the fans have embraced Tailgate Fest through its two years is impressive, admits Carbone, who thought the idea might require some education as to the art of tailgating. The sponsors, too, get it: Chevrolet "saw the vision right away," Carbone says, signing on as a presenting sponsor in Tailgate Fest's first year and returning in the same capacity for year two.
"Chevrolet and country music go hand in hand," says Chevrolet communications representative Shad Balch. "We've made our way into more than 1,000 songs by artists including Florida Georgia Line, Taylor Swift, Alabama Shakes and, of course, [Don] McClean's "American Pie." Tailgate Fest is a perfect venue for us to engage Chevy customers in a genuine and credible way. They expect to see Chevy there."
Denae Salazar, a first-time tailgater, came to Tailgate Fest 2019 with her family. By the end of the weekend, they'd made friends with the fans parked next to them, and were welcomingly offering drink refills to those who, enticed by the small of a smoker and the sight of an old-school, tabletop video game, stopped to chat.
"Country music brings a certain kind of people together ... and so, when you get to have them all around you -- I mean, we share food with everybody," Salazar said as the group settled in for the weekend's final acts. "It just makes a community, and the music just brings it together."
LOOK: Here's What You Missed at Tailgate Fest 2019