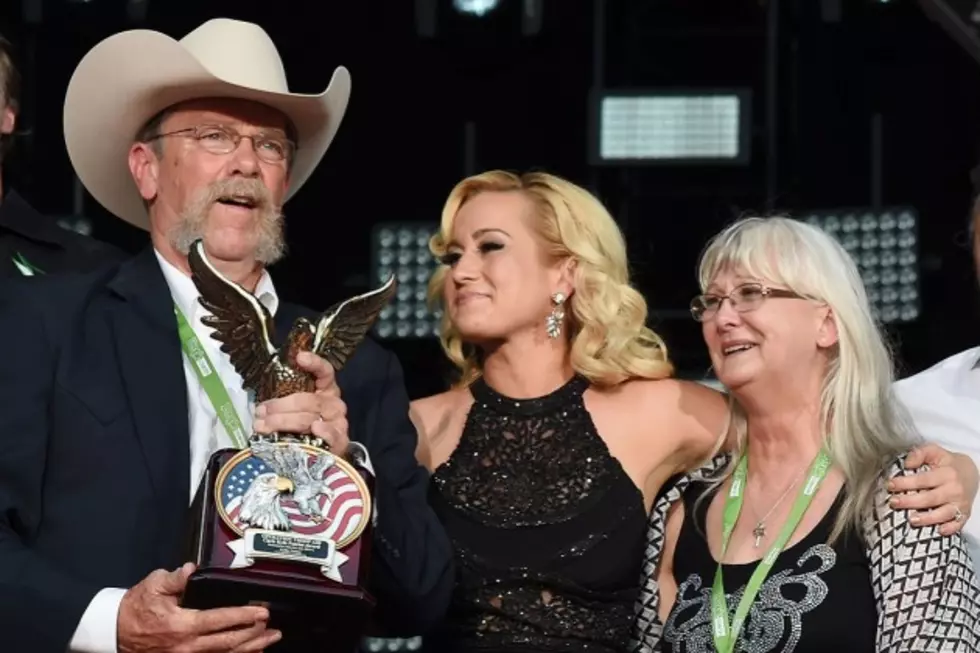 Chris Kyle's Parents Present Kellie Pickler With Patriot Award, Praise Country Music Community
Rick Diamond, Getty Images
The parents of Chris Kyle, the United States Navy SEAL who was killed in 2013, were in Nashville this weekend to help present Kellie Pickler with the Operation Troop Aid Chris Kyle Patriot Award. Wayne and Deby Kyle kicked off the third day of the 2015 CMA Music Festival (June 13) by giving Pickler the award, and they say that their family has been touched by the outpouring of support from the country music community.
"Those people are our kind of people," Wayne Kyle tells The Boot. "With country music, they love our troops. They love our military. They love our veterans. So it's been nice."
The movie American Sniper, based on Kyle's life, was released last year. Although they acknowledge that they have mixed emotions about the film, Kyle's parents say that it has helped shed light on the problems that many veterans face.
"The most positive thing that we have seen is that a lot of veterans have approached us and thanked us for the movie, because they say it brought more awareness to people of the struggles that they go through," Wayne Kyle says. "That's what Chris wanted. His motto was, 'It's our duty to serve those that serve us.' So, give back to those people, whether they're active, whether they're veterans, do something for them. Thank them. Just do little things."
The Kyles add that the best way to honor their son's extraordinary life is to remember those who fight for our freedom.
"If you can do things for veterans, that's it," Wayne Kyle says. "He would be tickled to death."
Chris Kyle was killed on Feb. 2, 2013, by Eddie Ray Routh, a veteran who was struggling with post-traumatic stress disorder (PTSD). In addition to his parents, Kyle is survived by a wife and two children.
Pickler, an eight-time USO Tour veteran, says that working with troops overseas has changed her life.
"I didn't get in line to work with the USO and the Wounded Warrior Foundation and all the other organizations to be patted on the back for it," she says. "So for me, that evening is not about me. It's about all of our servicemen and -women and their families and the sacrifices they've made ...
"My number one goal that night is to make sure [Kyle's parents] and his wife know that we do not take what Chris did for granted," Pickler adds.
Country Stars Who Served Their Country