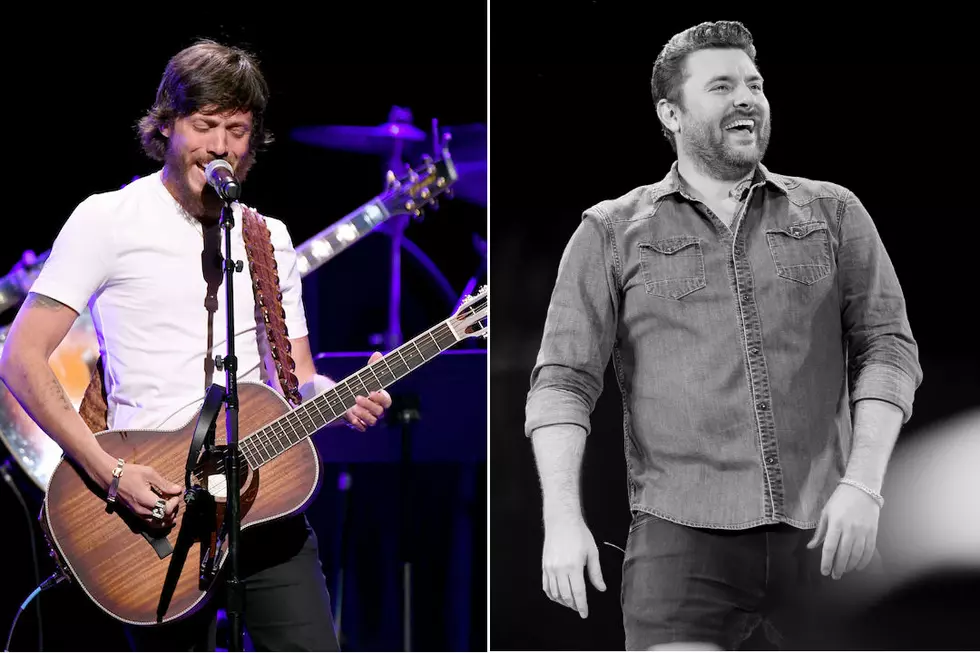 Chris Janson, Chris Young Hitting the Road as 'Back-to-Back' Opry Members, Longtime Friends
Jason Kempin, Mark Davis, Getty Images
When Chris Young hits the road for the North American leg of his headlining Raised on Country Tour, he'll be bringing some good friends and impressive talent with him. Country stalwart and Young tourmate Chris Janson tells The Boot he can't wait for the trek, and is especially looking forward to sharing the stage with Young -- an artist whom, it turns out, he shares more with than just a first name.
"We're back-to-back Opry members and we've been longtime friends. So that's good," Janson points out. "We've been acquainted for a long time, and I was thankful that he asked us to go on this tour with him. It'll be great."
For his part, Young remembers that he's known Janson since the two of them played an acoustic show together, "for, like, eight people," early on in their respective careers. However, he got reacquainted with the "Fix a Drink" star's live show in 2018, watching him perform during an opening slot at a California gig.
"It was the first time I'd seen his show in a while ... and I was like, 'Dude, I want you on my tour,'" Young recounts. "And he's had a lot of success recently, but it was just awesome to watch his show, to watch him perform and do what he does."
The "Hangin' On" singer goes on to say that he still can't believe that he managed to snag Janson for the tour, and that he feels the same way about his other opening acts, LoCash, Jimmie Allen and Dylan Scott. "I'm just glad they didn't hang up on me. They're all so incredibly talented," he says with a laugh.
"Jimmie Allen specifically -- I met him at an acoustic writers' meet here in town. I went up to him and was like, 'Dude, hit me up, because you are super talented.' That was before he got signed, before any of that stuff," Young continues, adding that having Allen as a part of his tour brings that first interaction full circle.
"Being able to have somebody like that," Young adds, "that now has had songs out there that everybody knows, and he's gonna be able to come out and be a part of that tour -- it's really special."
Who Else Is on Tour in 2019?