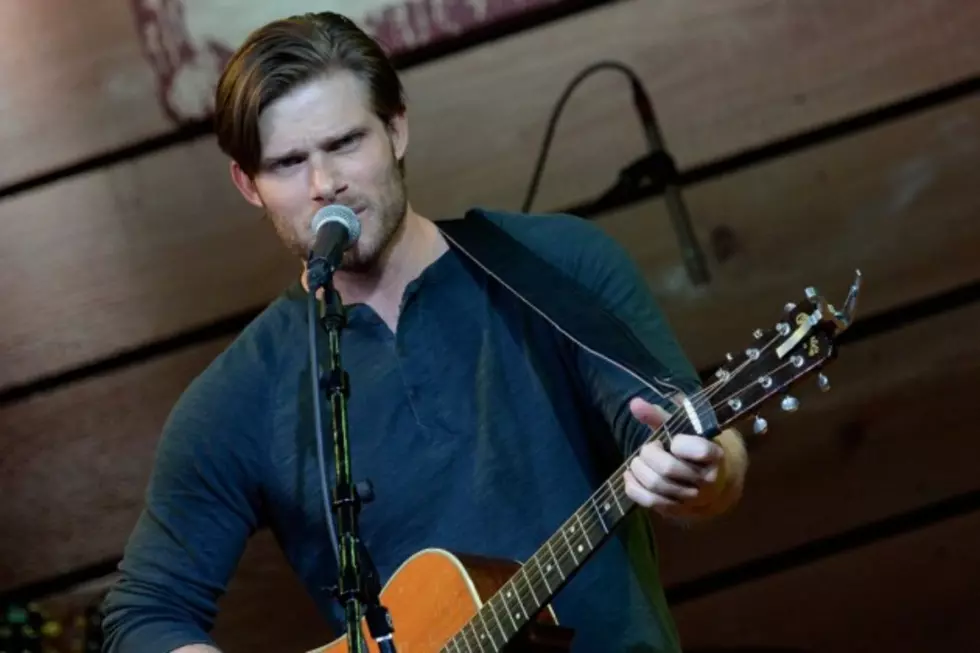 Interview: Chris Carmack Takes 'Organic Path' to Releasing EP
Rick Diamond, Getty Images
For Chris Carmack, who plays singer Will Lexington on the hit ABC drama Nashville, in some ways, art imitates real life. Like his character, the 34-year-old is also working on his own career as an artist, putting the finishing touches on his debut EP.
But lest anyone thinks that Carmack is just another actor trying to parlay his fame into musical stardom, think again. Grammy-winning producer Ben Fowler (who has worked in the past with Lynyrd Skynyrd) is producing Carmack's upcoming project -- a fact that is perhaps more surprising to Carmack than to anyone else.
"My approach has been one of following the organic path," Carmack tells The Boot. "And so, my very good friend, Phoenix Mendoza, whom I've performed with around town, has sort of introduced me to some of the circle of people he knows in the music industry, Ben Fowler being one of them. And so we talked, and got to know each other over the course of a year. He heard me perform, and then we passed guitars around the campfire at his place, and one day he said to me, 'Why don't you come over, and let's record something special. Let's do a couple songs on acoustic guitar.'"
But even then, Carmack didn't imagine that the friendship would lead to an entire recording project.
"So we started talking about it, and then it was like, 'But, you know, we could also add this. We could add this.' And before we knew it, we had a day booked at Blackbird and a bunch of studio musicians, and we were going to do a whole, fully produced EP," Carmack continues. "But it came out of a small CD. It wasn't something that was a grand scheme to start. I don't have that kind of vision. I need to build things one step at a time, and this happened very organically."
Carmack has already released one song, "Being Alone," from the album. The song closely mirrors the struggles that his character has endured, but Carmack says that the cuts on his upcoming EP were written before he was cast in the groundbreaking role.
"["Being Alone"] and the other songs I've written for this EP are actually songs that I wrote when I was living in Los Angeles and [been] encouraged by friends to record since I've been here in Nashville," he explains. "I didn't know if I was ever going to do anything with them. I thought when I came to Nashville, I was going to hook up with some of the top country writers in town and write some country tunes. Some of the things I've been writing since I've been here have not been as intimate or as personal or honest, so when I decided I really wanted to do some recording and do a project, I went back to some of those more personal songs, and "Being Alone" is one of them."
Unlike his character on Nashville, though, Carmack isn't worried about whether or not he'll ever land a record deal.
"Right now, I'm doing it all independently, because I really wanted to do these songs my way," he says. "This is going to sound ridiculous, but I read in an interview with Lil Wayne that he recorded a mixtape of something like 50 straight minutes of him rapping all of his material because he felt like he could never move on to the next phase of his musical exploration if he didn't get it down on tape.
"Okay, so I'm obviously not Lil Wayne, but what he described was something that I totally understood," Carmack adds. "I have these songs that I've been playing for so many years. They're so intimate and close to me. And these are songs that probably a major label would not be interested in -- some of them anyway -- interested in putting on a record. So I needed to do this. I needed to do this for me, and I don't know what the next step is. If people love these songs, then I'll just keep making them this way. But if they don't, it's okay. I did it my way, and I feel like I've exorcised a certain amount of personal creativity into the world."
Carmack's musical skills have already earned the attention and respect of some of country music's biggest stars, including Grand Ole Opry member Vince Gill.
"Chris, the guy who plays Will Lexington, he is a wicked good guitar player," Gill tells WKRN-TV, "and I'm sitting there saying, 'Okay, what's the story, are you a frustrated guitar player or frustrated actor that made you so good at that?' ... It's a little of both."
And Carmack acknowledges that without his role on Nashville, he may have never had the courage to release the new project.
"The music is something I've always done and always loved but always really kept for myself," he says. "Something I do for me. I never really intended on giving it a stab, but the opportunities that have presented themselves through the show have made it clear that I really need to, for my own sanity. If I was to let these opportunities go by without ever giving it a try, I would probably regret it for the rest of my life, so I'm giving it a go."
"Being Alone" is available for download on iTunes.