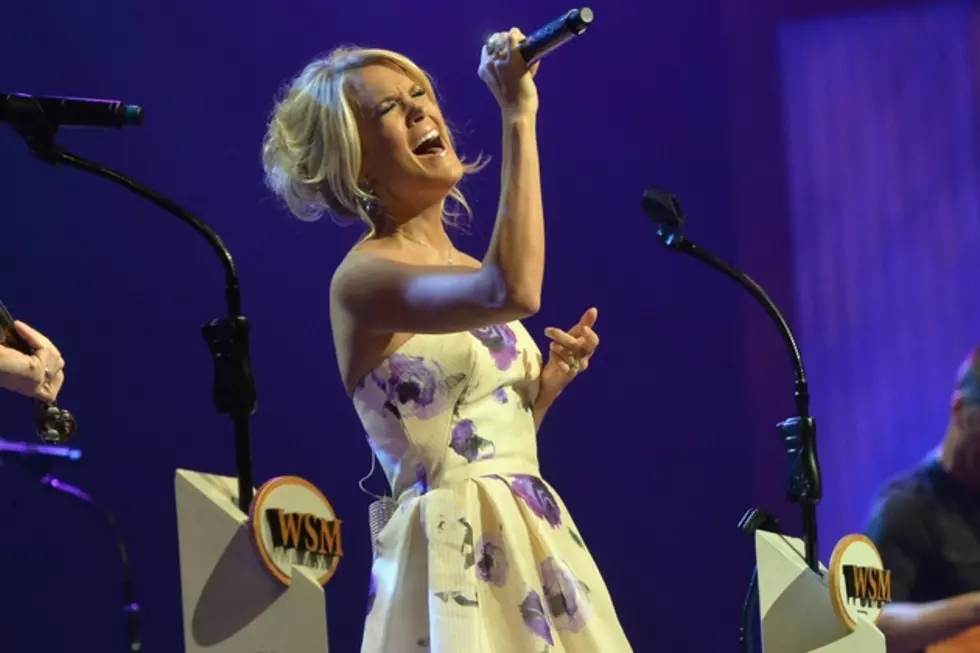 Carrie Underwood's Upcoming Album 'Definitely Feels Different'
Rick Diamond, Getty Images
It's been two years since Carrie Underwood released her No. 1, platinum-selling 'Blown Away' album, but fans won't have to wait much longer for a new set of tunes. The songstress says she is hard at work on another record, which will be unlike anything she has released in the past.
"I've been writing a lot. It feels really good," she reveals to the Hollywood Reporter. Adding that the project is a "new version" of herself, she says, "It's just a progression, a different sound without losing myself in it. I'm not taking some crazy musical departure from what I've done, but it definitely feels different. It will feel different, look different, sound different."
While Underwood hasn't revealed if she will feature any collaborations on the upcoming record, with her duet with Miranda Lambert, 'Something Bad,' landing at No. 1, she says she's definitely open to singing with Lambert again.
" 'Something Bad' was just the right song, the right time," the former 'American Idol' winner says. "All the stars lined up, and we got to do it. I guarantee that won't be the last time we sing together, but it just hasn't happened for this next album."
Fans who can't wait for Underwood's new album will get a chance to hear the Oklahoma native's voice on 'Sunday Night Football's' opening song, 'Waiting All Day for Sunday Night,' reprising a role she began in 2013.
"This year, they were going for a roaming party-concert — lots of lights and they wanted it to feel really high-energy," she says. "I got to go back into the studio and make a few tweaks."
Underwood, who will also serve as the opening act for this year's Super Bowl, says she enjoys being so closely involved with one of her favorite sports.
"I love football," she says. "I'm honored they asked me to kick it off. Hopefully when people hear the song, they'll just feel ready for the big game!"
Underwood has a few shows on the calendar this year, including a performance at the Grand Ole Opry on Friday (July 25), followed by a show in Jacksonville, Fla., on Saturday (July 26). See all of her upcoming shows here.