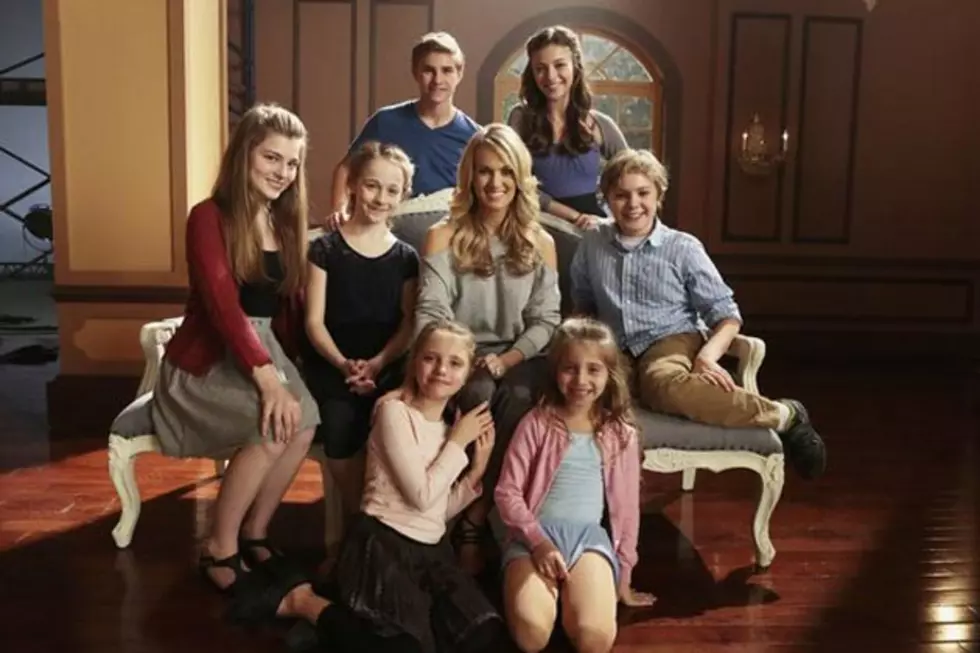 Carrie Underwood Triumphs in 'The Sound of Music Live!'
Giovanni Rufino, NBC
Despite a few setbacks, Carrie Underwood pulled out a big career win in her live musical debut as Maria von Trapp in 'The Sound of Music Live!' on Thursday night (Dec. 5).
It was an ambitious undertaking to say the least, to re-stage the classic musical as a three-hour television production -- and completely live, at that. And the amazing thing is, for the most part, it worked very well.
Underwood starred as Maria, a would-be nun who becomes a governess to the seven singing von Trapp children. She falls in love with their father, the widowed Captain von Trapp (played by 'True Blood' star Stephen Moyer), and in an unlikely romance, they become married -- but not without incident, as he is already romantically entangled with another woman (not to mention that he is actively resisting the impending Nazi occupation of Austria).
The music from 'The Sound of Music' is so deeply ingrained in the public consciousness that one of the primary challenges Underwood faced was overcoming the inherent attachment an audience has to Julie Andrews' iconic performances, and the good news is, she -- along with the rest of the cast -- sang the songs beautifully.
Underwood revealed a side to her voice that her country career doesn't afford the opportunity to shine, and it sounded as if she may have had professional coaching, as well. She held her own against Broadway caliber singers, including five-time Tony winner Audra McDonald (best known to television viewers for her starring role on 'Private Practice'), who played the Mother Abbess and turned in the evening's vocal highlight with 'Climb Every Mountain.'
While Underwood was very strong while she was singing, and particularly while she was interacting with the children, she was less effective as an actor, particularly in the earliest scenes. Maybe it was nerves on her part, and it was also harder for the audience to suspend disbelief when she was dressed in some of her silly-looking early costumes, but Underwood seemed forced in the first part of the performance, like she was shoehorned into the production rather than leading it. But she seemed to relax into the role as the performance gained speed, and by mid-show she was visibly more confident, and more effective in her role as a result, though it should be said that she was, overall, far more effective when singing than when speaking.
Moyer and the other more experienced actors helped carry the production, and with the exception of some truly fake-looking outdoor scenes, the sets were visually impressive, as befits a television event of this magnitude, which reportedly cost NBC $9 million to stage.
One consistent problem in the production was the audio quality -- since this kind of production requires air mics instead of close mics on each actor, while the singing and music were generally captured well, sometimes the speaking parts were either muffled, or had a strange, tinny echo. Since the mics had to be very hot to capture the speaking parts, there was also a persistent hum throughout almost all of those parts. That wouldn't necessarily be a problem in a live theater, with the attendant ambient noise to cover it, but it was surely a noticeable factor in Thursday night's performance.
There are really only two ways to go with a project like this -- the producers could have modernized it, and risked the wrath of longtime fans, or do what they did, which is choose to recapitulate the songs, the story and even the costuming in the more familiar way. As a result, 'The Sound of Music Live!' was a bit of a strange cultural anomaly -- it is, after all, the product of a much-less-cynical era that simply doesn't exist anymore, and as such, the entire thing could be seen as quaint and old-fashioned.
Despite that and whatever limitations Underwood may have as an actor, it worked. The story, the beloved soundtrack, and the obvious care and passion that went into the production on the part of everyone involved acted in tandem to overwhelm any lingering cynicism the viewer might have entertained, and for an improbably magical three-hour window, transported modern-day viewers back to a bygone age of musical wonder that was unlike anything we've seen on American television in decades.