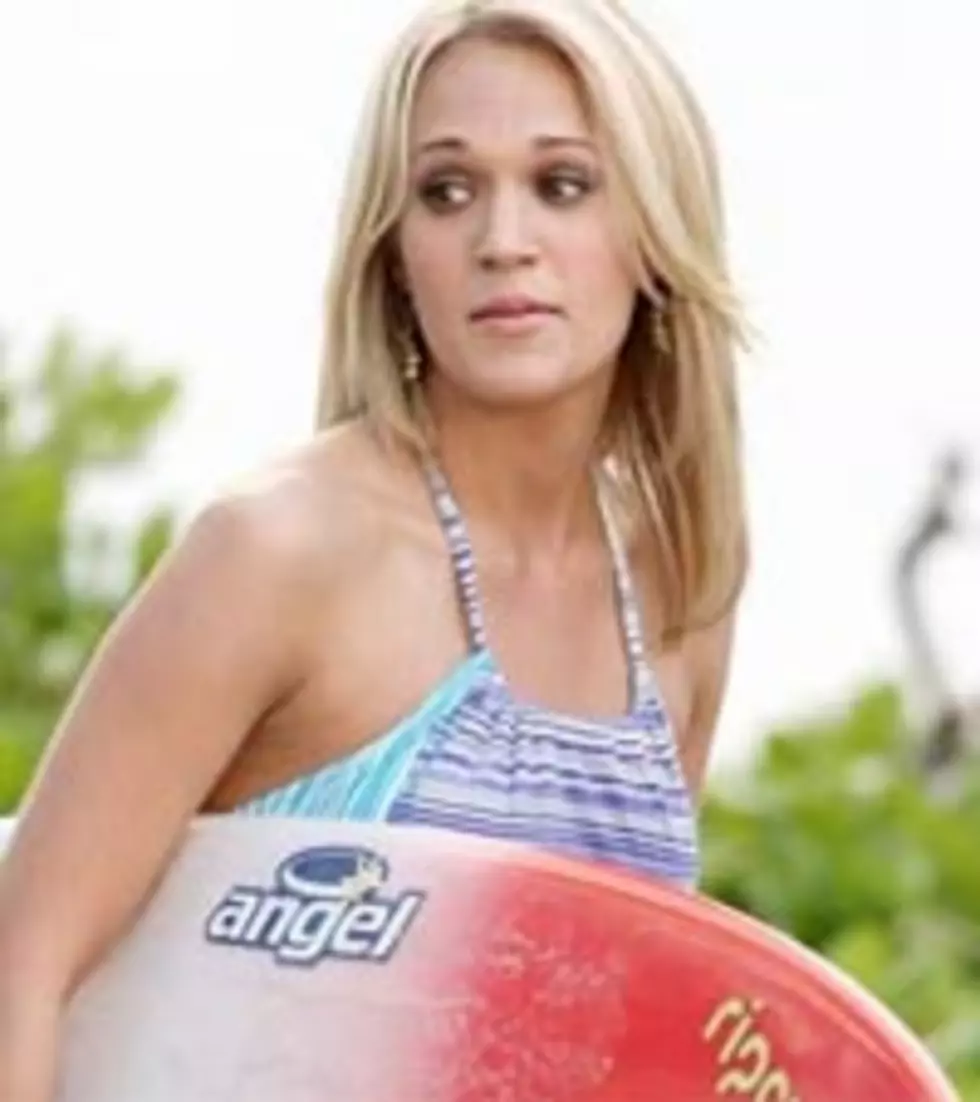 Carrie Underwood Puts 'Soul' Into First Movie Role
PacificCoastNews.com
Carrie Underwood's big-screen debut in 'Soul Surfer' is less than two weeks away, and the superstar admits she is feeling a few pangs of nerves as the release date approaches.
"The most challenging aspect of making this movie is just that I've never done it before," Carrie reveals (quote via MTV). "This is all very new to me. I know how to sing. I know I've got that part down. This is something -- I'm way out of my element. Fortunately everyone on the set has been so nice, and so patient with me, teaching me as we go along. I feel really confident that they wouldn't let me do anything that I'd look bad doing, so I'm really excited to see how it's going to turn out."
The film is based on the true story of Bethany Hamilton, a teenage surfer who lost her arm while surfing in Hawaii. Carrie plays the role of Sarah Hill, Bethany's youth leader, who helped the young girl cope with her devastating accident. [Watch a preview of 'Soul Surfer' below.]
"I could never be the real Sarah Hill, but hopefully for the purposes of this movie it will make sense," Carrie admits. "You can see how much it means to this family, being a rock for the Hamiltons and being a rock for Bethany, just the strength that she has to be able to guide Bethany and the family through this."
The multi-platinum selling singer got to experience Sarah's encouragement first-hand. "The real Sarah is walking around, helping me out," Carrie recalls of the filming. "I'm trying to say things the way she would say them. She's really strong, and I feel like I can get that. We have a lot of things in our personality that are the same."
The 'American Idol' champ starred in the film along several Hollywood heavyweights, including Dennis Quaid, Helen Hunt and AnnaSophia Robb. But she says even the veteran actors cast their egos aside to play their roles. "Everybody has such a great vibe. Everybody here is really nice. I feel like everybody is doing things for the right reason," Carrie says. "They said this movie has been in the making for five years. They've been working on things and trying to get everything just right."
Carrie encourages her fans of all ages to take time out to see the film. "It's impossible to not be impacted when you're a part of this movie, or even read the book, or hopefully go see the movie," she insists. "I cannot wait for people to go to the theater, or go with a youth group. Go with friends, and learn a lot about people we should be more like."
Carrie is spending some time in Nashville, working on a new CD and spending time with her husband, Nashville Predators hockey player Mike Fisher. She can next be found in Las Vegas at the ACM Awards, where she is nominated for Top Female Vocalist and will also perform. The ACM Awards will air live from Las Vegas at 8:00 PM ET on CBS.
'Soul Surfer' hits theaters on April 8.
if(typeof AOLVP_cfg==='undefined')AOLVP_cfg=[];AOLVP_cfg.push({id:'AOLVP_us_799811421001','codever':0.1,'autoload':false,'autoplay':false,'playerid':'61371447001','videoid':'799811421001','publisherid':1612833736,'playertype':'pageload','width':476,'height':357,'videotitle':'Test','bgcolor':''});