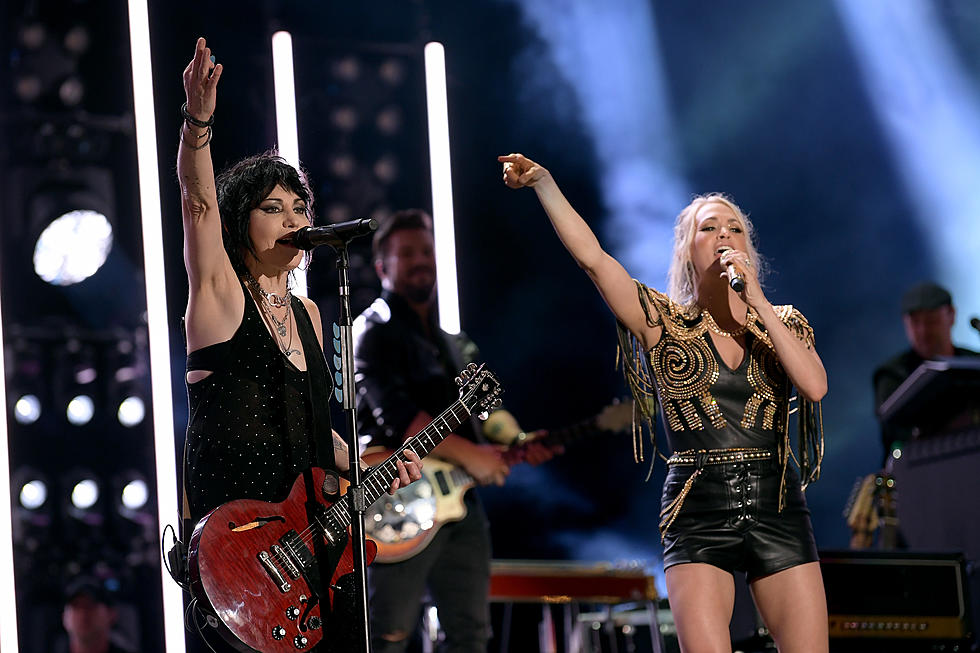 Carrie Underwood + Joan Jett Teaming for 2019-2020 'Sunday Night Football' Theme
Getty Images
Carrie Underwood and Joan Jett are teaming up for the 2019-2020 Sunday Night Football opening theme. The pair will be bringing back SNF's original song, "Waiting All Day for Sunday Night," for the upcoming NFL season.
According to a press release, Underwood -- who will be singing the Sunday Night Football theme for a seventh consecutive year -- was the one to invite Jett to be part of this season's opening video. Jett's song "I Hate Myself for Loving You" is the song on which "Waiting All Day for Sunday Night" is based. The song was used as SNF's theme from the 2006-2007 season through the 2015-2016 season.
"I have always been a huge fan of Joan's, and I'm thrilled that she's joining us for the Sunday Night Football open," Underwood says. "What better way to pay homage to the original SNF opening song than by getting to play with her on prime-time's biggest stage?"
Underwood and Jett will also be joined in the 2019-2020 Sunday Night Football opening video by a number of NFL stars. They filmed the clip at Atlanta, Ga.'s Mercedes-Benz Stadium, which is home to the Atlanta Falcons.
"When Carrie brought us this idea, we immediately embraced it as a terrific way to evolve the performance, while also celebrating the song we used in our first 10 seasons of SNF," says Fred Gaudelli, Sunday Night Football's executive producer. "We were excited when Joan agreed to join us, and we can't wait to debut the finished product."
Fans will get a sneak peek at Underwood and Jett's new SNF opening video during Sunday's (Aug. 25) preseason game between the Pittsburgh Steelers and Tennessee Titans. The full video will debut on Sept. 8, when the New England Patriots and Pittsburgh Steelers play the first Sunday Night Football game of the 2019-2020 NFL season.
Underwood is the third artist to sing "Waiting All Day for Sunday Night." following pop star Pink (2006-2007) and Faith Hill (2007-2013). She sang the song from 2013 until 2016, when she debuted "Oh, Sunday Night" as SNF's new theme song. Another song, "Game On," was used for the 2018-2019 season.
Country Stars Who Have Played Football