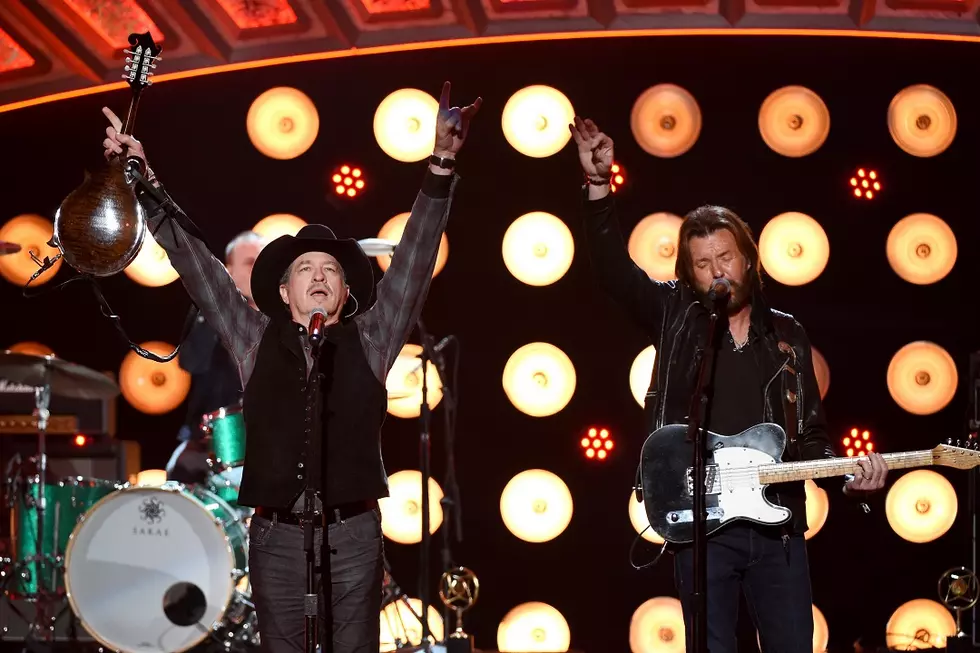 Brooks & Dunn Sing 'Red Dirt Road' to Celebrate Nash Icon Award Win [WATCH]
Ethan Miller, Getty Images
Comprised of Kix Brooks and Ronnie Dunn, the pair is the best-selling duo in country history, with more than 30 million albums sold and 23 No. 1 hits. The duo was presented the award by by frequent collaborator and 2014 Nash Icon Award recipient Reba McEntire, with whom they are currently in residency at Las Vegas' Caesar's Palace.
"I have the honor of being named a Nash Icon, and now it means a lot to me that our new Nash Icons are two people I love with all my heart, the most dynamic duo in country music history," said McEntire before introducing a video montage describing Brooks & Dunn's legacy. Highlights included Brooks & Dunn's four No. 1 singles from their first album and McEntire's own duet with the duo "If You See Her, If You See Him."
"Here's how it goes: Tomorrow I wake up in a parking lot in a brown whiskey haze," said Dunn. "And I think, you ain't no Johnny Cash, no George Jones, no Merle Haggard. You got a long way to go, skinny boy with a record deal."
Brooks added, "Like Ronnie, this is beyond humbling, it's almost embarrassing. For either one of us, if we think about icon, we think about Merle Haggard, it ain't us. But Reba gave us this, so dadgum, we're going to keep 'em."
Next, Brooks & Dunn took to the stage to perform "Red Dirt Road," a track from their 2003 album of the same name.
2016 American Country Countdown Awards Red Carpet Pictures