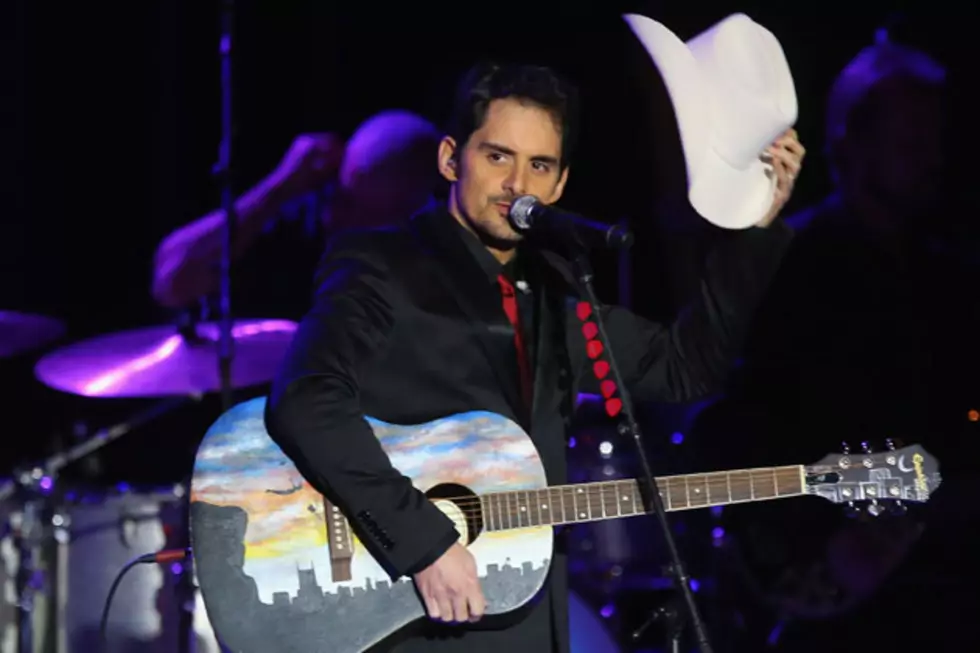 Brad Paisley, 'Wheelhouse' Album Provides Unexpected Twists (Exclusive Interview)
Joe Raedle, Getty Images
If Brad Paisley had the ability to go back in time and play his new album, Wheelhouse, for his 27-year-old self, he admits young Brad would have been surprised. "Not because he didn't like it, but he wouldn't have known what to think," the now 40-year-old country powerhouse tells the Boot. "This is not the kind of album I could have made back then."
With one listen to Wheelhouse, it's obvious marriage, fatherhood and success have not made the West Virginia native at all complacent, but seem to have bred a restless creative spirit that has resulted in his most adventurous album. The 17-track collection is teeming with both the outrageous sense of humor and thoughtful insights that have marked his best work, yet in taking the reins as producer for the first time, he's made his most musically eclectic album ever.
"What kind of an album do you make after you've made ten records? What do you do that could be different? One of the rules that I said was, 'Every song has to have some little twist to it that you don't see coming,'" Brad says. "It could be a lyric where you don't realize the song is about one thing until you get to another point in the song, and it twists. Every song was meant to make you do what my dog's head does when he hears something for the first time. When he hears his name, if I say, 'Holler, don't go over there,' his head goes sideways. Every song is supposed to be not quite exactly what you would expect it to be, and in that sense, I'm very happy with it because that's a scary place to start from."
Brad challenged himself from the beginning of the process by opting to produce himself for the first time and using his band, The Drama Kings, instead of studio musicians. He also converted the yellow farmhouse on his property to a studio, which allowed him to work on the album at all hours of the day and night. "A lot of rock bands will go rent a house for a year and that's their studio," he says. "They don't want to do that in Nashville. In Nashville, we've got places like Blackbird and the Castle, where I've always recorded ... I thought what I need to do is build the funkiest little workable space where I could cut songs."
Once finished, he hung a sign that became a reminder of how unique those sessions would be. "There was a sign above the studio door that said that, 'This place on Earth, this moment in time has never been recorded before, and will never happen again,'" Brad relates, "and that's what I wanted it to feel like and when you hear it."
In addition to the standard edition, Cracker Barrel Old Country Store is issuing a deluxe package that will include three bonus tracks: an acoustic version of the current single, "Beat This Summer" and two additional tunes, "Only Way She'll Stay" and "She Never Really Got Over Him."
In recording Wheelhouse, Brad recruited an interesting cast of special guests to fulfill his artistic vision. The legendary Charlie Daniels joins him on "Karate," a song about woman taking martial arts lessons and plotting revenge on her abusive spouse. Dierks Bentley sings on the party anthem "Outstanding in Our Field," which samples Roger Miller's classic "Dang Me," and features Hunter Hayes on guitar. British comedian Eric Idle is included on "Death of a Married Man." Mat Kearney appears on "Pressing on a Bruise" and LL Cool J raps on "Accidental Racist," a song that has already been generating controversy.
"They are all on purpose and done because of what they do and who they are," says Brad of his collaborators. "I felt like they were each perfect for what I'm trying to say in each of those songs and how I tried to convey it, and they are used as instruments almost additional players."
He got the idea to include Mat when he was driving to the Opry one night and talking to his friend Kelley Lovelace, who co-wrote "Pressing on a Bruise." "I was listening to some music I had in my iPod and I had Mat Kearney and I said. 'What if we had a hip hop verse instead of the guitar solo?' I figured out how to get a hold of Mat Kearney, who lives here [in Nashville] and said, 'Do you want to do something?' He said, 'Absolutely man! I think it sounds fun.'"
Recruiting Mat gave Brad just the vibe he was looking for in the song. "'Pressing on a Bruise' feels like a Waylon [Jennings] song to me and I said, 'If I'm going to stick to my rule -- which is every song takes a twist you don't expect -- how do I make a Waylon song sound like 2013? How do I twist it?"
One of the most unusual collaborations is Eric Idle's guest appearance on "Death of a Married Man." "He drove to a studio in Hollywood and Skyped with me," Brad says. "I watched him do it live on the Internet. He takes you to that place that is the Beatles and Monty Python and Ringo and whatever that is. It's that irreverent British humor that I love and it feels so in keeping with 'I can't see this world unless I go outside my southern comfort zone.'"
In recording each song, Brad says he asked himself: "How can I make these better with these people? There's one that takes it to a whole other level. The song ["Karate"] existed before him and was OK without him, but it became A+ with him and that's Charlie Daniels. At first it was just me saying, 'He threw a punch. She spun around, grabbed his arm, put him on the ground. He grabbed a cutting board on his way down, she kicked it in half,' but that is not the same as hearing the voice that brought you such classics as 'The Devil Went Down to Georgia' and 'Uneasy Rider.' It's hearing the original white rapper do what he does."
The three-time Grammy winner enjoyed blurring the lines between genres on Wheelhouse. "I wanted to do some genre-bending, but not the kind of mash up where you feel violated," he says. "I wanted it to feel like a country band in a house bringing in all these other things they liked without rules or walls."
Musically and lyrically, Brad takes chances on Wheelhouse and admits he's unsure how this album will be received. "'Those Crazy Christians' and 'Accidental Racist' are so unlike anything else; it's a far cry between them and some of the more traditional topics," says the singer-songwriter, who kicks off his tour May 9 in St. Louis. "It's the first record I've made that I don't know what the reaction will be to some of these. I can pretty much always tell you, on any other record I've made, what someone is going to think of each song on there or at least what I hope they'll think. When I did 'Letter to Me,' what people think of that song is what I'd thought they'd think of that song. It's the same with 'Mud on the Tires.' I knew exactly what people would think of that song. I knew exactly what they would think of 'Celebrity,' that they would find that funny and relate to watching what goes on with celebrities in reality shows."
Brad admits he isn't sure how people will react to "Accidental Racist." "I have a feeling it will vary, person to person on what they think of it, but I cannot make it for that reason this time," he says. "I can't say, 'This one is going to get you to feel this.' I don't know. All I can say is, 'This is how I feel. This is what I feel like.' I'm going to represent this side of a very, very delicate situation right now. [LL Cool J is] going to represent the other side of that same situation. We are going to ask the question, not answer, but we are going ask it."
When asked if he was worried about how people would react to the song, Brad replies, "No, maybe I should be, but I'm not because I have been through a journey in the last few months to get to a point where this is done and I'm ready to present it. I'm proud of it. I hung out with LL and he and I were talking about it. We're just so excited for people to have some reaction. We're not sure what that will be, but we welcome the chance to be people who are thrown into a discussion because I think the healthiest thing for our society is the discussion, and in that sense I have to be true to myself as a writer and an artist."
Brad has always featured a gospel song on every album, beginning with his 1999 debut Who Needs Pictures. His latest album continues that tradition, but "Those Crazy Christians" isn't your traditional gospel tune. It's written from the perspective of a nonbeliever who questions what makes Christians do the things they do like risking their lives in Africa and Haiti or sitting at the bedside of a stranger in the hospital. "Somebody asked me the other day if I was worried about 'Those Crazy Christians' and nope, I'm not," Brad says with a smile. "I do think there will be people who say, 'How dare you!' but I think it's the most important gospel song I've ever recorded. I've cut 'How Great Thou Art' and I've cut 'Those Crazy Christians' and 'How Great Thou Art' is a very inspiring song, but 'How Great Thou Art' doesn't make you defend your faith."
Whether he's creating a dialog about racism, defending Christianity or simply sharing a tune about a memorable romance as he does on "Beat This Summer," Brad Paisley's Wheelhouse takes this country music treasure in new directions. It's a journey worth taking.