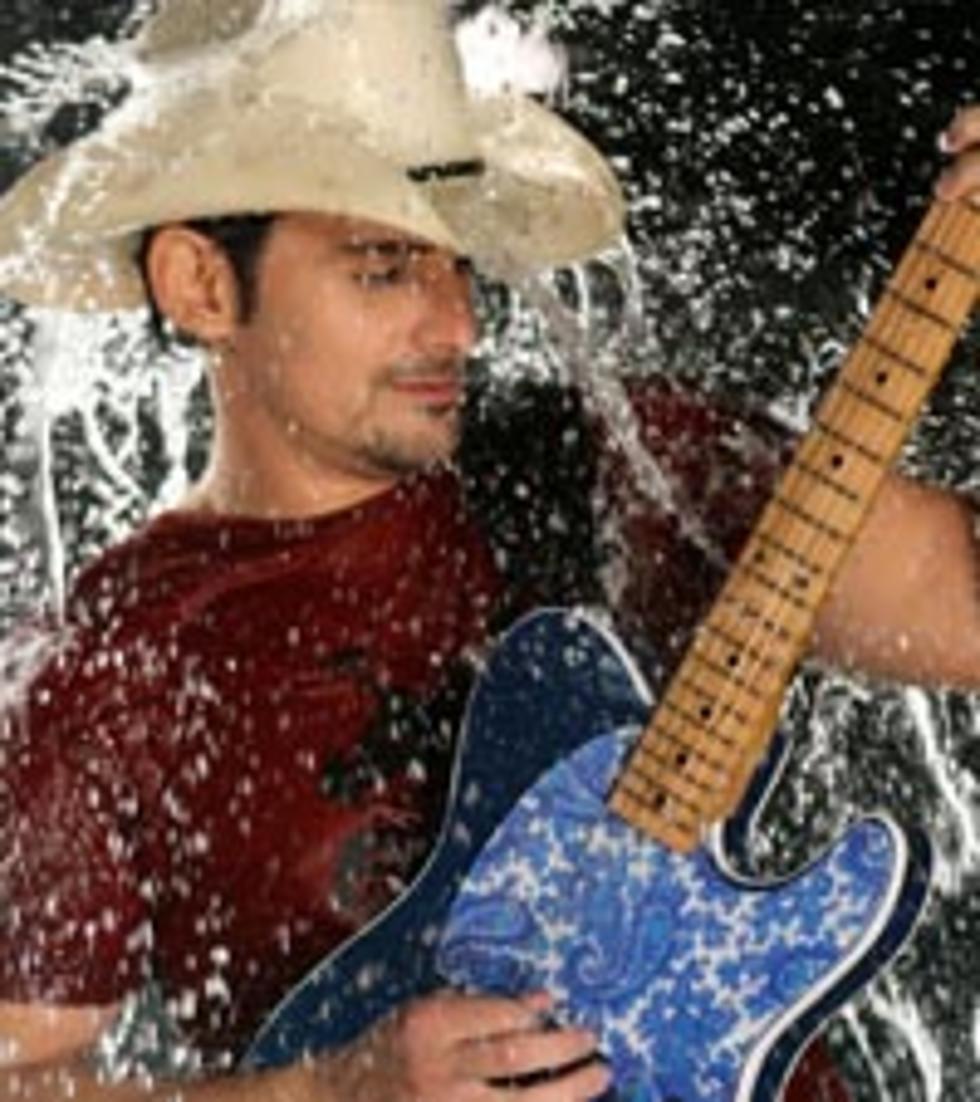 Brad Paisley Announces H20 II World Tour
Arista
On the heels of wrapping his H20 Frozen Over tour in Nashville over the weekend, Brad Paisley has announced dates for his next trek, aptly named the H20 II World tour. He is set to kick off the 33-city stretch May 28 at Heinz Field, home of the Pittsburgh Steelers.
The tour, which includes five stadium shows and a set of dates overseas in England, Ireland, Denmark and Oslo, Norway, will feature special guests Blake Shelton and Jerrod Niemann. Darius Rucker, who opened for Brad on the original H20 trek, will also be featured on select dates.
The second round of the H20 II World tour will bring back the Water World Plaza, which will also feature supporting acts Sunny Sweeney, Edens Edge and Brent Anderson. In addition, the tour sponsor, Chevy, will provide a Corvette driving simulator for fans to test their driving and racing skills against Brad, with the fan having the highest score each day getting to meet Brad prior to his show. The fishing simulator, dunking booth and slip-n-slide will also return, as well.
Last year's initial H20 World tour played to more than 879,000 fans and was the No. 1 country tour for attendance, according to the touring industry publication, Pollstar.
Brad, who was thrilled to headline his first stadium date last year, never dreamed he would achieve the success he has and at the level he is enjoying right now. "My dreams as far as my lifetime goal, early on, was to get to what I call the level of tour musician -- which was to have a tour bus to pile onto it to go play a show somewhere, other than where I lived, and then pile off of it, do the show, get back on it, and go to another town, and really stop there," the reigning CMA Entertainer of the Year told The Boot. "That was what I wanted to do, and have hit songs that people knew. That was really it. I really felt like if I ever reach that league, that league of person, that has a hit song that people know their name, and go see them sing, I would be fine. That was the goal. I'm so far past where I planned to be that I'm here without a road map of any kind. I didn't necessarily ask for directions on the way. So, I'm certainly in more shock today than anybody." Anyone who has seen his show is not shocked nor surprised.
Brad is currently closing in at the top of the country charts with 'This is Country Music,' the title track from his upcoming album, in stores May 24.
The H20 II World Tour Dates:
May 28 Pittsburgh, Pa.***
June 3 Virginia Beach, Va.
June 18 Indianapolis, Ind.
June 24 North Platte, Neb.**
June 25 Manhattan, Kan.**
July 9 Cavendish, P.E.I.**
July 17 Scarborough, Maine
July 23 Darien Lakes, N.Y.
August 4 Detroit Lakes, Minn. **
August 19 Dublin , Ireland*
August 20 Chelmsford, UK*
August 21 Staffordshire, UK*
August 24 Stockholm , Sweden*
August 27 Goteburg, Sweden*
August 28 Copenhagen, Denmark*
September 10 West Palm Beach, Fla.
September 23 Philadelphia, Pa.
September 24 Washington, D.C.
September 25 Raleigh, N.C.
**Paisley, Shelton, Niemann only
*** Paisley, Shelton, Niemann and Darius Rucker